Brunch is a big deal in San Diego. Whether you want delicious breakfast staples like pancakes, a local specialty like a hearty breakfast burrito, or even something avant-garde like breakfast sushi (yes, really!), you'll find it at the many brunch restaurants around San Diego.
The best places for brunch in the Gaslamp Quarter in downtown San Diego
Located in the downtown area, the trendy Gaslamp Quarter is especially well-known for its brunch scene, from French toast to Bloody Marys and everything in between.
Before heading out on a Whale & Dolphin Watching Adventure around San Diego Bay or exploring top attractions, like Balboa Park or the San Diego Zoo, fuel up for the day with a delicious meal from these top brunch spots around the Gaslamp.
1. Cafe 21 Gaslamp
If you're looking to shake up your weekend brunch routine, check out the upscale farm-to-table Cafe 21.
From lamb omelets to meze platters, the brunch menu here highlights Azerbaijani cuisine with a California twist. An extensive array of shareable small plates makes it a great option for a large group open to trying a bunch of different dishes.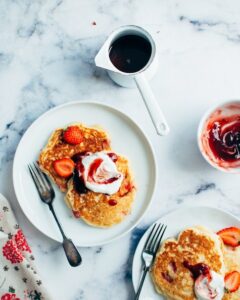 2. Breakfast Republic
Part of a popular local chain, the cozy, family-friendly Breakfast Republic is best known for its pancake flight, which lets you choose three pancakes from options like churro and cinnamon roll. Brunch lovers with food restrictions will love the wide selection of vegetarian, vegan, and gluten-free options, such as chilaquiles.
3. Rustic Root
Specializing in New American comfort food and cuisine, Rustic Root offers a weekend brunch menu that's best enjoyed on the open-air rooftop dining patio.
Brunch classics get zhuzhed up with ingredients like smoked salmon and pork belly on avocado toast or eggs Benedict. If you want a boozy brunch, you'll love the selection of signature and classic cocktails, as well as an assortment of Bloody Marys.
4. Provisional
Prepared with fresh and local ingredients, the daily brunch menu at the Pendry Hotel's elegant Provisional Kitchen, Café & Mercantile offers an elevated take on classic American cuisine.
Along with breakfast cocktails or coffee from the artisanal espresso bar, dine on blueberry pancakes, cacio e pepe toast, or a chef-curated five-course tasting menu.
5. Le Parfait Paris
Part coffee shop and part Parisian boulangerie, the family-run Parfait Paris serves up good food and coffee in a lovely French setting. You can either take your macaroons, fruit tarts, and croissants to go or sit and soak up the atmosphere.
6. Werewolf
If you're looking for excitement, you've come to the right place at Werewolf. This party spot serves a daily brunch that's one of the most popular in San Diego. Offerings include biscuits and gravy, fluffy donut-style pancakes, and breakfast burritos.
Wash it all down with a drink from the brunch cocktail menu, like a breakfast shot (herbal liqueur, butterscotch schnapps, and orange juice with a bacon garnish) or Irish coffee.
7. Garage Kitchen + Bar
With an outdoor seating area and garage-style doors that open up the industrial-chic interior to the San Diego sunshine, this trendy spot offers diners a daily brunch.
Garage Kitchen + Bar is especially well-known for its breakfast sandwich, as well as brunch staples like eggs Benedict and omelets. You can also order bottomless mimosas or try the cold-brew cocktails and breakfast shots.
8. Cafe 222
While Cafe 222 isn't technically in the Gaslamp District (it's only a few blocks off), we would be remiss to leave it off this list. Why? Cafe 222 is a local San Diego institution and is considered one of—if not the—best breakfast spot in the whole city.
While many brunch spots in the vicinity can be on the expensive side, this place prides itself on its reasonable prices and great food. If you're dining here, you have to try the famous pumpkin waffles, which were featured in Gourmet magazine.

9. Lazy Hippo
A laid-back, diner-style place to enjoy comforting breakfast classics, from pancakes to scrambles to heaping breakfast plates, Lazy Hippo also has a good vegan menu, including vegan breakfast burritos and vegan pancakes.
It's not a trip to San Diego without brunch in the Gaslamp District
Brunch. Gaslamp. San Diego. Three terms synonymous with a great time. Best of all, after enjoying brunch at any of these spots, you can then set out to explore the Gaslamp Quarter and the scenic Embarcadero on a Segway tour.