Marcia and Mike's Marina Del Rey Wedding
"Seas the day" has always been Marcia's mantra, and her wedding day was no exception! The lifelong surfer incorporated her love of the water into every aspect of her Hornblower wedding – from her shell tiara and bouquet to the massive yacht in which she said "I do!" Marcia and Michael stepped aboard our Entertainer yacht last year to become first mates for life, and the ceremony was custom-designed to meet all their dream wedding needs. Aside from the nautical theme, the couple celebrated their geeky side with 80's music and themes from Overwatch, World of Warcraft, and anime series. Sounds like a party! Read up for details on their gorgeous water wedding and how they prepared to cruise through life together.
Tell us the story of how you met.
Mike and I actually met for the first time back in 2008 at The Sportsman bar. We hit it off great! (Mostly talking about World of Warcraft related stuff). The only problem? I was with another boyfriend at the time and Mike was in a relationship as well. We were introduced to each other by our significant others, haha!
Mike sent me a Facebook request shortly after and we had been Facebook friends since. Fast forward to June 17, 2013. Mike sent me a Facebook message out of the blue to ask if I wanted to go to the movies to see Man of Steel. I was single at the time so decided, why not? That was one of the best decisions I made. 
What is the story of your engagement?
Mike and I had been living together since 2014 and were constantly being asked when we were going to tie the knot. We discussed it on occasion but nothing came of it. Back in March 2018, Mike was going out of state with his mom to Boise to visit his brother. I had no idea that this is where he would buy my engagement ring. 
When he came back early on March 11, he woke me up and told me he got me a souvenir from Boise. I was half asleep, but wanted to see what he got me. He sat down on the bed next to me and pulled out a tiny ring box. At first, I was kind of confused (blame it on still being sleepy) then he proposed. I said "Yes!!" right away and we hugged each other.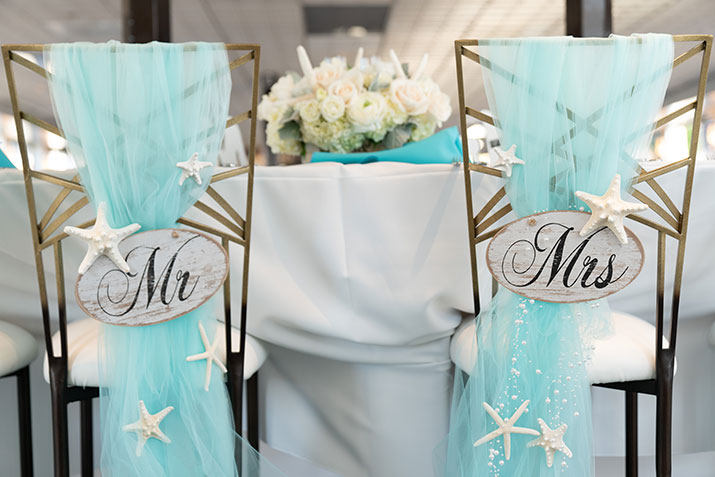 Why did you choose to get married on a Hornblower yacht?
My cousin actually got married on the Hornblower back in 2014 and it was such a gorgeous wedding! I had always wanted to get married either on the beach or the water (I was an avid surfer for 10 years) and that wedding kind of made the decision for me.
Tell us the story of planning your wedding. (We want to know the details, everything from cake tasting to the selection of your beautiful bouquet!) 
Planning the wedding was done mostly by myself, my mother, my mother-in-law and my Maid of Honor (my sister-in-law). Mike really didn't want too much to do with the planning since that's not really his thing. Since it was on a yacht and I love the ocean, we went with a nautical/beachy theme for the wedding. My sister-in-law is very crafty (like myself) and made most of the beachy decorations herself. The colors I chose were my favorite colors: aqua, silver & white. My bouquet – as well as my jewelry – was from Etsy. I had a custom shell bouquet made from Etsy as well as my shell tiara. My dress, while not too beachy was picked because it not only looked GREAT on me… I loved the sleeveless style.
How did you make your wedding unique to you? 
Mike and I are pretty geeky and both love 80's music. For starters, I walked down the aisle to an instrumental version of "Don't Stop Believin'" by Journey. Most of the music was related to World of Warcraft, Overwatch, or anime theme songs. There was also an abundance of 80's new wave played during the reception.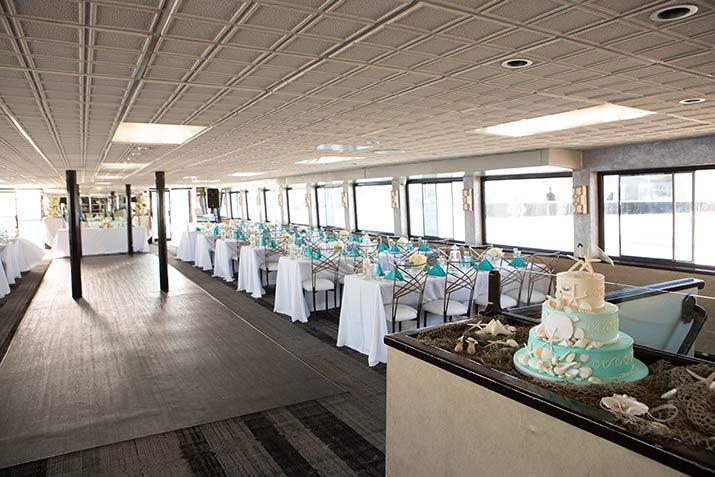 Groom, what went through your head when you saw Bride walking down the aisle?
I was nervous and hoping I didn't mess up because she would kill me, ha!
Bride, what was going through your head when you were walking down the aisle?
Nervousness – and happiness that the big day was finally here, hoping I didn't trip on my own feet. I can be clumsy at times!
Groom, the first look was so sweet. What did you think when you saw Bride in her dress for the first time?
She was so beautiful; I couldn't stop staring at her.
How closely did you work with your coordinator up until your wedding? 
Very closely. Megan (our onboard event wedding manager) was very responsive, and if myself or anyone helping with the planning had any questions, she was there to answer our questions. She was great!
Where did you get your dress & suit from? Also who did hair and makeup? 
My dress was picked out at David's Bridal and Mike's Tux was rented from Men's Wearhouse. My hair and makeup were done by the same lady, Rena from Bright Crystal Wedding. She did an amazing job!
What was your wedding song? 
Our song was "Love Song" by 311. The Cure version that I loved was too fast for our first dance, haha!
What was your favorite part of the day?
Every part was my favorite part, but if I had to choose it would be when I first walked out and down the aisle. Seeing Mike's face made me so happy.
What was the best piece of advice you got from family members about marriage?
Always apologize and never go to bed angry. Also, a real good one from my mom is "pick your battles."
What's one word you would use to describe your wedding day? 
Dream.
What piece of advice would you give to couples planning their own wedding? 
Patience. Not everything will go exactly perfect the way you'd like. Men's Wearhouse messed up 3 out of the 4 groomsmen's tux sizes. As furious as I was, everything got straightened out in the end because we still had some time. Also, speaking of time; DO NOT PROCRASTINATE! I'm lucky that part of my personality is the obsession to get things done right away (as well as cleanliness!)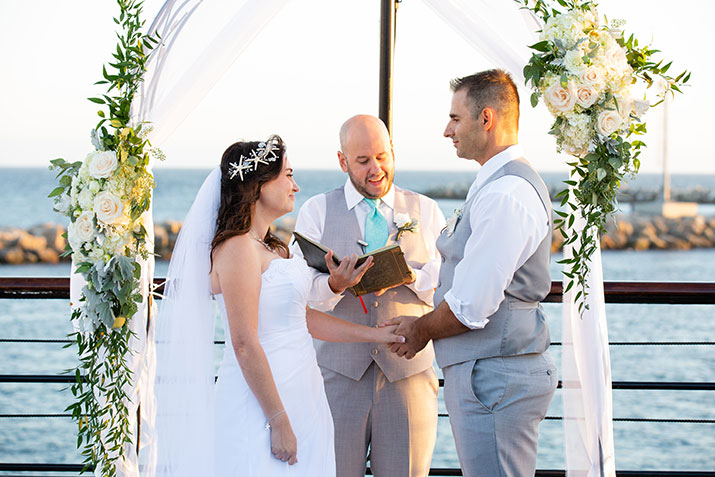 A beautiful wedding for a beautiful couple! Michael and Marcia are now expecting their first child, and will never forget about their dream wedding with Hornblower.
Photography: David England Photography
Dress: David's Bridal
Flowers: Bianca's Flowers
Invitations: LesliesCardart on Etsy 
Hair & Makeup: Bright Crystal Wedding
Cake: Torrance Bakery