Ah…mothers. What's more important than making their designated day something special? (Not much if you know what's good for you.) That's why we think getting a standard card and flowers just won't cut it. Moms deserve a gift that's out of the box and inspirational, and if you're local to Boston, you have a ton of options to choose from. That could mean a luxurious spa day, a fab hair and makeup session at a chic salon, a trip to the theater, gallery hopping, or shopping at her favorite boutiques. Either way, when it comes to presents bound to impress, the real joy is spending time to together, and we've got a couple of suggestions to ensure success.
Start the Day Off Right
Let's face it, even though breakfast is considered by many to be the most important meal of the day, brunch sounds way more fun. While there are plenty of spots in Boston for mimosas, frittatas, and French toast to satisfy what mom might be craving, how many of those places offer delectable dishes a breathtaking backdrop of the city? Not only does the two-hour City Experiences' Early Brunch Cruise provide chef-inspired, buffet entrees, salads, and desserts, plus a selection of Champagne, classic cocktails, and wine, but it also boasts spectacular views of the Boston Harbor skyline and local landmarks from the outdoor decks as well as live entertainment.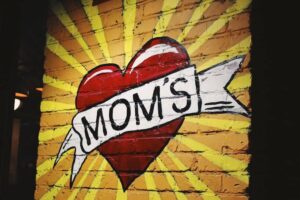 Get Your Art On
Mothers have parenting down to a fine art, so it only stands to reason that they deserve to experience masterpieces on par with themselves—and there are several museums in Boston with artistic treasures worth seeing. Three of our favorites include the Isabella Stewart Gardner Museum, renowned for its gorgeous Courtyard, botanical gardens, 7500 paintings, sculptures, furniture, ceramics, and more, including objects from ancient Rome, Medieval Europe, Renaissance Italy, Asia, and the Islamic world; the Museum of Fine Arts, revered for its collection of 500,000 artworks from past to present day, including its highly regarded Art of the Americas Wing; and the Institute of Contemporary Art, celebrated for its cool waterfront location and views, interior and exterior space, and its cutting-edge modern architecture, film, sculpture, painting, and photography.
Shop Till You Drop
Bulgari. Chanel. Marc Jacobs. What do they have in common? You'll find them all—with lots of other chic brands—in the shopping district of Boston's famed Newbury Street. International icons and designers abound here, featuring everything from accessories and apparel to home décor and health and beauty. Additionally, there are locally owned shops, arts, and culture offerings, food and drink options, plus popups and salons. Of course, Newbury Street isn't your only choice. The high-end mall of Copley Place has its advantages and top designers too. From Louis Vuitton and Neiman Marcus to David Yurman and Tiffany & Co., luxurious items are easy to find here (but beware…because something's bound to catch mom's eye). Then there's Beacon Hill, which is a bit quieter but just as impressive, with the charm of Charles Street, a historic setting, clothing boutiques, salons, a chocolatier, and other discoveries that await.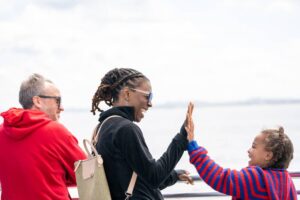 Say Ahhh…
What's Mother's Day without some pampering? Pretty lackluster if you ask us. Moms deserve some quality spa time for all they do. Whether it's a facial or a body treatment, a blow-out, or mani/pedi, whatever will make her feel amazing is exactly what you should aim for—and there a number of spots in the city where serenity and revitalization are at the ready. First up is The Spa at Encore Boston Harbor, where the 19,000-square-foot space is designed with tranquility in mind. A soothing tea sets the mood, and a wave of calm overtakes you as you select your indulgence from a range of body treatments and specialty massages ideal for relieving all stress. Next is a relaxing Back Bay excursion to The Spa at Mandarin Oriental, which is housed in peaceful, warm surroundings with lavish treatment rooms where Eastern traditional therapies are on the menu (facials, mani/pedis, massages) that all begin with a comforting foot bath. Last but not least, there's Bella Santé, one of the city's oldest and most acclaimed spas. Situated on Newbury Street, it's known for its top-quality massages, mani/pedis, and cutting-edge treatments (including the HydraFacial and lactic acid cleansing) and for taking care of client's head to toe.
End the Day in a Meaningful Way
If brunch isn't your thing (no judgements), we know at least dinner—and making one memorable for Mother's Day—could be a deal breaker because finding the perfect place to please mom isn't as easy as you think. While some restaurants have gorgeous décor and furnishings, they may not include sights with a "wow" factor. But when you opt for a Mother's Day Premier Dinner Cruise, you get it all—two hours of dazzling skyline views, a plated dinner with freshly prepared entrees, salads, and desserts, plus live entertainment (dancing optional). There's also a selection of Champagne, classic cocktails, and wines to toast the event in style. Overall it's the ideal way to bring the family together and show mom how much she is loved, adored, and appreciated.