If there's one thing everyone loves to do, it's eat. And, while getting dressed up and going out to restaurants is great, in a beautiful coastal city such as San Diego, there's really no substitute to eating outside.
Of course, a backyard barbecue, a bistro patio, or a sidewalk table all sound divine — but sometimes there's no better way to enjoy dining in the great outdoors than by going on a leisurely picnic. And San Diego has plenty of great parks and beaches for families and couples to spend an afternoon. Oh, and if you're heading out for a picnic, don't forget to bring some layers (it might get chilly in the evenings!) along with anything you might want to sit on, such as towels, tarps, or lawn chairs. Let's check out a few of our favorite spots below — we can already smell the charcuterie!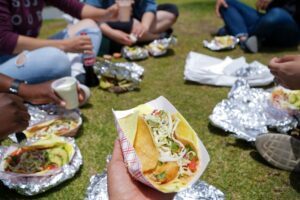 Centennial Park
In the market for some views of the city skyline? Head to Centennial Park, directly across the water from downtown San Diego, for a picnic with an unparalleled vista. After you eat, head over to Coronado Brewing Company Pub for a flight or to watch the game. (Pro Tip: Get to Centennial Park early in the evening to watch the sunset!)
Trolley Barn Park
In University Heights, you'll find Trolley Barn Park, named after the old trolley car barn that used to be there. There are a few picnic benches if you're hoping to stay off the ground, but otherwise, the soft grass is perfect for kicking back and relaxing. At the edge of the park, there are a bunch of benches that overlook Mission Valley — a great spot to put your feet up with a view. It's also pretty close to many bars, shops, and cafes for after you're finished eating.
Grant Hill Neighborhood Park
Ample street parking is just one of the many reasons to head to Grant Hill Neighborhood Park for a picnic. With a large hill that leads to an area without trees, you'll get an unbeatable, unblocked view of Downtown San Diego and the Coronado Bridge. Bring a blanket or some lawn chairs to really make the place your own, and once you're done fueling up, head over to the tennis court or take the kids to the playground.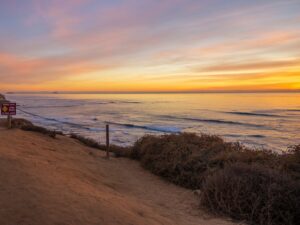 Sunset Cliffs Natural Park
For a lovely place to spend an afternoon dining outdoors, especially if you're interested in a scenic ocean view, there's no better place than Sunset Cliffs Natural Park. (There's something about staring out at the water that just makes the food taste better!) Find a bench to sit with some snacks and take in the sunset or lay out some chairs and a towel on the ground for a lovely picnic on the bluffs.
Kate Sessions Park
If you're looking for some great views of Mission Bay, look no further than Kate Sessions Park. There are picnic tables at the bottom of the hill if you're bringing the whole family, but we think the best way to enjoy this park and its scenic vista, gentle grassy slope, and terrific sunsets is by laying out a towel with a loved one. (Fun fact: The park is named after noted local horticulturist and the "Mother of Balboa Park," Kate Sessions.)