Bridal showers are all about celebrating the bride-to-be, but making the event memorable and fun shouldn't break the bank—or the spirit of those who host it. That's why we're making the case for a bridal shower on a boat because there are several advantages to experiencing the occasion on the high seas for the bride, her bridesmaids, and the event guests. First, you'll get breathtaking views you won't find anywhere else. Second, you'll have everything you need at your disposal including the venue, food, drinks, entertainment, and doing something so special that the bride will treasure the trip and all the memories she makes. But let's not get ahead of ourselves just yet. Before you begin dreaming of the ultimate yacht bridal shower, we need to break down a range of essential aspects that will make the journey a once-in-a-lifetime experience. So, consider this your guide packed with tips and tricks on how best to navigate a nautical bridal shower.
All Aboard… For the Best Bridal Shower Ever
When you typically think of bridal shower venues, most people expect it to be held at a restaurant or at the house of a member of the bridal party. That's fine of course, but for those who want to up the ante for the occasion, a waterfront bridal shower is your best bet—especially when you're traveling with us. Because we feature boat party venues and locations, including yacht clubs and marinas, in some of the most popular cities across the U.S for Wedding Related Events. These destinations offer incredible views of iconic landmarks as well as natural beauty. Think Boston, Chicago, New York City, Philadelphia, San Francisco, and Washington DC. In fact, we offer several options for bridal parties, so check out Weddings on the Water for details on what can be done for the ultimate fun. Or, fill out this form today and an Event Planner will contact you!
Practical Bridal Shower Party Tips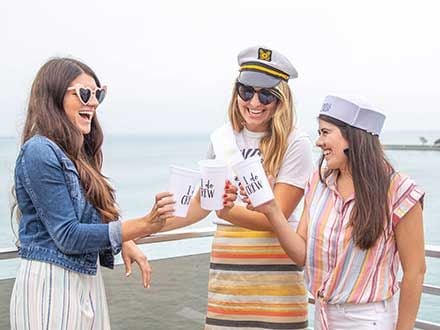 When it comes to boat party ideas for a water-bound bridal shower, there are plenty of things to take into consideration that must be part of careful planning. We're talking about boat party decorations and themes, how to select the right boat for the big event, ideas for activities and experiences on board, menus, and drinks, plus managing guest attendance and transportation. Yes, it's a lot to take in but nothing you can't handle, so let's tackle boat party decorations and themes first because this is where the fun begins. Since your venue is on the water, decorations and themes can run the gamut from nautical to sea creatures (we see you mermaid enthusiasts!) to items related to the city you're celebrating in (New York state of mind, anyone?). Floral arrangements can coincide with colors that match the decorations and theme, like coral for coral reefs, seafoam green for the water, and brilliant bright yellow and orange hues to signify the sun. Lighting coincides with that as well, whether it's bright and bubbly or more subtle and mysterious, it will all depend on the mood you want to reflect during the festivities. Don't forget that much of what's decided will be based on the size, style, and amenities offered on the boat you select. So when choosing the right cruise, keep in mind the following: the number of attendees, their age range (are their young children or babies present?), and any mobility issues a guest might have; the style of event you are hosting—is it slightly formal or a casual vibe (more friends than family, or vice versa?); and what amenities you'd like (drinks, food, entertainment, maybe even a guide to the sights?).
Fun Bridal Shower Activities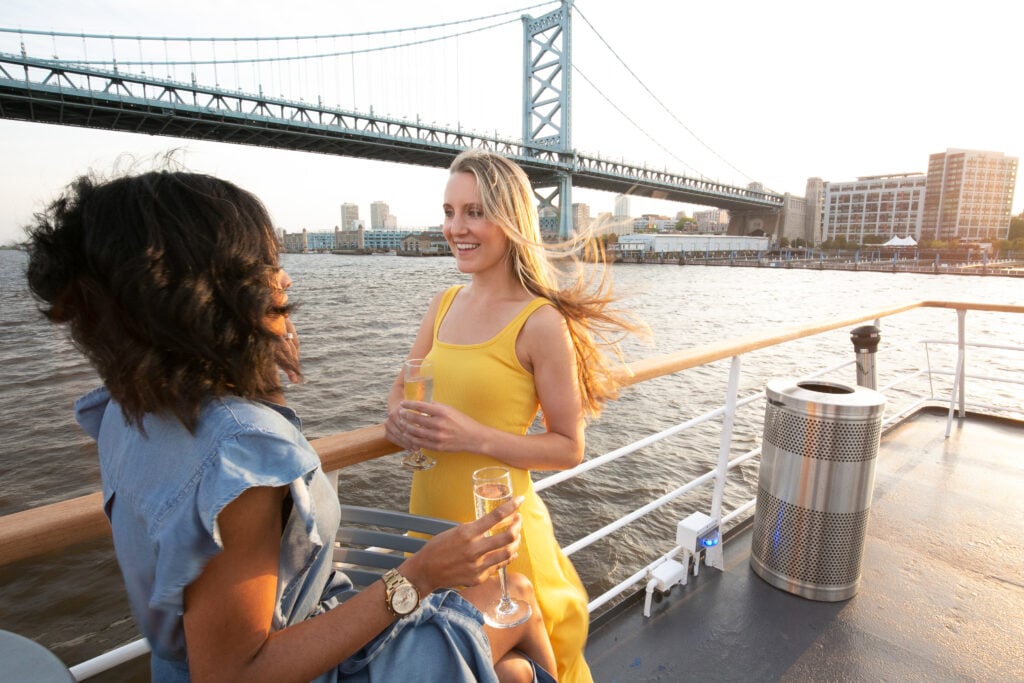 Now let's talk bridal shower activities and experiences because the event isn't complete without games, crafts, and entertainment. Whether it's interactive or non-interactive, single or multiple players, there are a host of games to play to bring the fun for all. We're keen on bridal shower bingo, couple's trivia, wedding Mad Libs, and the ring game. For crafts, making a garland for the bride or decorating cups or napkins is a creative way to personalize the event. As far as onboard entertainment, music is always a welcome addition and that could be provided by a DJ, singer/songwriter, or a prepared playlist.
Last But Not Least, Food!
Once you decide on what you'll do at the bridal shower, you'll also need to select the bridal shower menus and drinks. Boat-friendly food and beverages range from small sandwiches and appetizers if you're keeping things light, to fuller meals (salads, fish) if you want something more substantial like a formal seated event. No bridal shower would be complete without raising a glass to commemorate the occasion, and sparkling wines and champagne cocktails are always a crowd pleaser. They can both come with or without alcohol and make a great accompaniment to other wines, spirits, soft drinks, water, coffee, and tea. Items that are low maintenance and uncomplicated are the best bet for boats. That way minimal cleanup is required, and there won't be too much preparation involved in pulling everything together.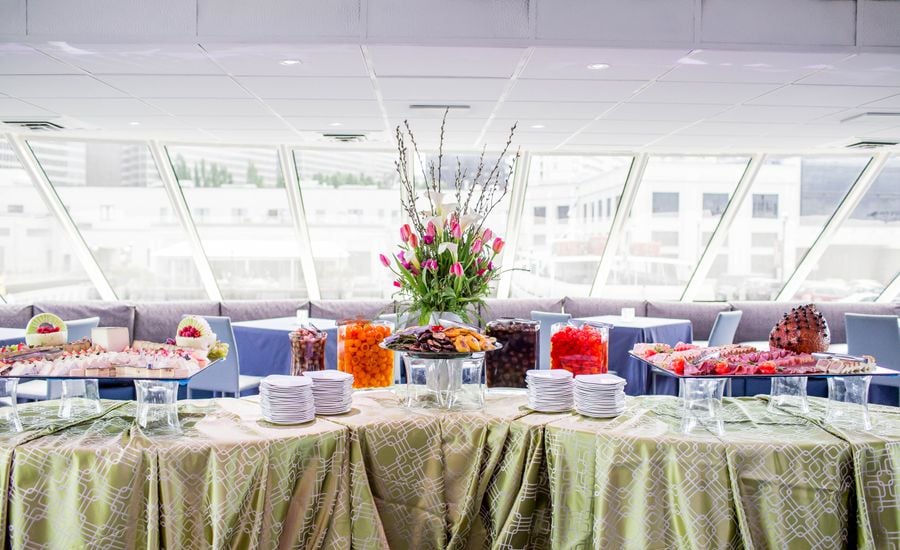 Finally, when managing guest attendance, it's important to consider whom the bride would like to attend, how much budget there is for the occasion, and keeping a careful list of invites, responses, the contact information of the event organizer(s) and those attending, and any special dietary or mobility needs for anyone in the group. It's best to give one point of contact for the RSVPs so that everything is accessible in one place. Knowing who is in the bridal party—as well as VIPs like the bride and groom's family—is another important part of ensuring that things go smoothly. As far as transportation on the boat, this soothing ride doesn't move too fast and furious. It travels at a comfortable pace, so unless any guests suffer from seasickness in general, there is no need for concern about the journey ahead. The only thing you'll want to concentrate on is making the bridal shower the best experience for everyone involved, and because it's so unique, that's easy to achieve….
Erkundigen Sie sich noch heute!
Infos anfordern
Um eine Gruppenveranstaltung zu buchen, kontaktieren Sie uns bitte.
Formular anzeigen