His name is Bond, James Bond.
While the name hasn't changed, the iconic spy has faced the test of time. 2022 is the 60th Anniversary of the 007 franchise! You may have your favourite Bond (Is it Connery or Craig?) but each has left their mark. Then there are the classic Bond girls and villains, all of which have made the franchise what it is and what we know today!
With the most recent James Bond film, No Time to Die, having hit the big screen in 2021, this got us thinking about how you can have your own Bond experience right here in London!
From seeing the SIS building up close to speeding along the river on a Thames speedboat, this article will look at some of the top James Bond filming locations in London that will get you geared up for the launch of the newest film of the franchise.
TOP JAMES BOND FILMING LOCATIONS IN LONDON
Somerset House
Sông Thames
Phòng trưng bày Quốc gia
Whitehall
The Reform Club
SIS Building (MI6)
Rules Restaurant
Westminster Bridge
St Pancras Station
Millennium Bridge
City Hall
London Marriott Hotel County Hall
SOMERSET HOUSE, STRAND
Films: Tomorrow Never Dies and Goldeneye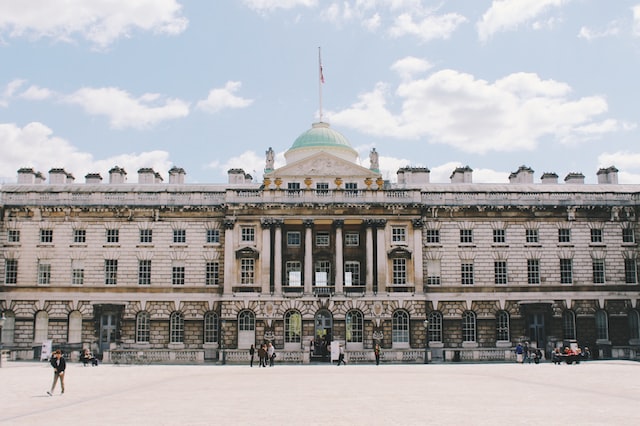 In Tomorrow Never Dies, watch James Bond pull up outside Somerset House in his super sleek Aston Martin DB5. This Neoclassical building has a different purpose in the movie, instead housing the War Office. The large and lavish courtyard also makes an appearance in Goldeneye, as a make-believe courtyard in St Petersburg.
Frugal Flexitarian blogger Fiona told us why Somerset House is such a standout building in London.
"Stunning from every direction, 18th Century Somerset House looks out across the Thames to the East of Waterloo Bridge – and to the Strand just a little East of the Savoy. It's a beautiful building close up, with an ice rink in the central courtyard in winter and fountains in the summer. Excellent exhibitions and some fabulous restaurants make this a must-visit historic building."
THE RIVER THAMES
Films: The World Is Not Enough, Spectre
The River Thames has made an appearance in a couple of Bond movies, with the most notable being The World Is Not Enough. The movie sees a high-speed chase between Bond and the Cigar Girl, beginning at MI6 before hurtling past the Houses of Parliament, through Towerbridge, to docklands and the O2.
You can have your own James Bond adventure on our exhilarating Thamesjet Bond Package, which features a 50-minute London speedboat ride as well as a 10-minute helicopter ride over the capital.
THE NATIONAL GALLERY, TRAFALGAR SQUARE
Film: Skyfall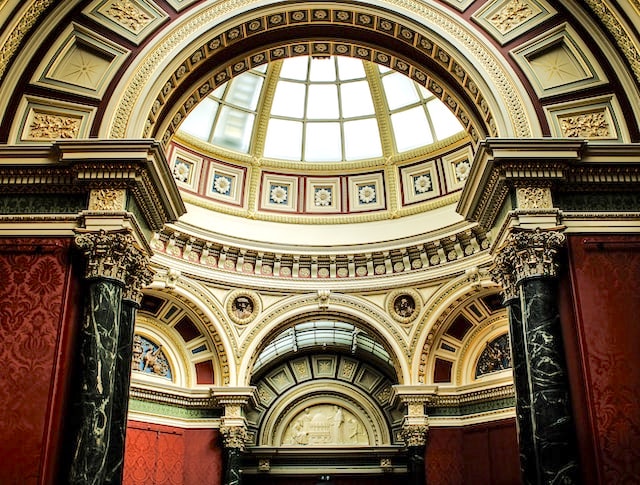 Making its debut in Skyfall was The National Gallery. Here, in Room 34, James Bond first meets Q while he is looking at Turner's The Fighting Temeraire painting. Was this painting chosen at random, or was there a deeper meaning behind it? You decide.
WHITEHALL, WESTMINSTER
Films: Octopussy, A View of Kill, License to Kill, and Skyfall
Whitehall, the actual home of the British government, has been featured in a handful of James Bond movies, with Bond having been briefed for various missions 'inside' its walls. In Skyfall, the area outside was closed for filming, where we see Bond running down the road past the buildings. Towards the end of the movie, Bond is also seen on a rooftop gazing over the district before he meets Moneypenny.
SIS BUILDING (MI6), VAUXHALL
Films: Goldeneye, The World is Not Enough, Die Another Day, and Skyfall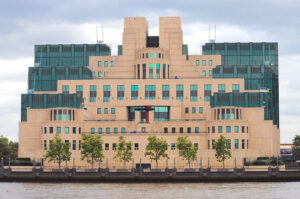 Image credit: Mark Wordy, Flickr
The actual home of the Secret Intelligence Service (MI6), the Vauxhall Cross building has made it into a number of Bond movies. It made its first cameo in Goldeneye; however, it was also featured moments before the aforementioned Thames River boat chase in The World Is Not Enough. In Skyfall, M's office here was blown up, however, it had been 'rebuilt' in time for Spectre.
THE REFORM CLUB, PALL MALL
Films: Die Another Day and Quantum of Solace
In Quantum of Solace, The Reform Club, a private members club in Pall Mall, plays the home of the Foreign Office. However, in Die Another Day, this grand building is used as a fictional fencing club called 'Blades'. Madonna also has a cameo appearance, with the Queen of Pop playing a fencing teacher.
RULES RESTAURANT, COVENT GARDEN
Film: Spectre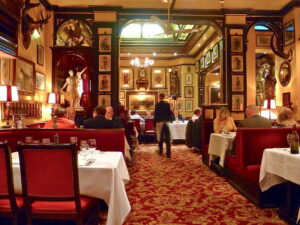 Image credit: Herry Lawford, Flickr
Quy tắc is London's oldest restaurant, having been established in 1798. This sophisticated restaurant makes an appearance in Spectre with M, Q, Moneypenny and Bond all sitting down to discuss business. Why not visit yourself for some good food and a martini like the real Bond? Just don't forget to order it 'shaken, not stirred'.
Fiona explains what makes Rules a fantastic restaurant for Bond fans as well as foodies: "If you ever want to understand English food, Rules is somewhere you need to visit. Most of the food reminds me of the sort of things my mother used to cook – and you'll feel as if you are part of the set of Downton Abbey when you eat there. It has a slightly haphazard feel to it but if you crave dishes like potted shrimps, roast rump of Lake District lamb and steamed Golden Syrup pudding, head to Maiden Lane on the edge of Covent Garden and step back in time."
WESTMINSTER BRIDGE, WESTMINSTER
Films: Die Another Day, Spectre
One of the most notable bridges in London, Westminster Bridge has been featured in many blockbuster movies. It makes a cameo in James Bond's Spectre, with Bond running down the steps of the bridge wielding a gun.
ST. PANCRAS STATION, KINGS CROSS
Film: Goldeneye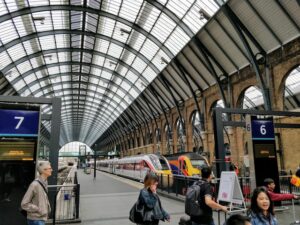 In Goldeneye, London's much-loved St Pancras Station was re-invented as St Petersburg Station. After arriving on a train at platform 5, Natalya makes herself scarce to avoid being caught by the authorities.
Samara, blogger at Gift Goonie, told us what makes this station one of London's best: "I go to St Pancras station when travelling to visit family and I have to say it's my favourite station. Not only is it beautiful to look at, but it's also got a great deal of shops and lovely places to eat while you wait for your train. It's also a great place to pick up little gifts for family just before boarding."
CITY HALL
Film: Spectre
An unusual-looking building, City Hall only made its debut in the Bond franchise in the 2015 movie, Spectre. Its curved iconic spiral staircase was re-imagined as the interior of the MI5 data centre.
A Virtual Postcard blogger Sage told us what makes this unique building so impressive: "City Hall is well worth a visit when exploring London's South Bank. It's not just impressive outside, the seemingly never-ending spiral staircase inside is pretty extraordinary too. It's a great demonstration of a sustainable and virtually non-polluting office building in the city too!"
MILLENNIUM BRIDGE, THAMES EMBANKMENT
Film: Spectre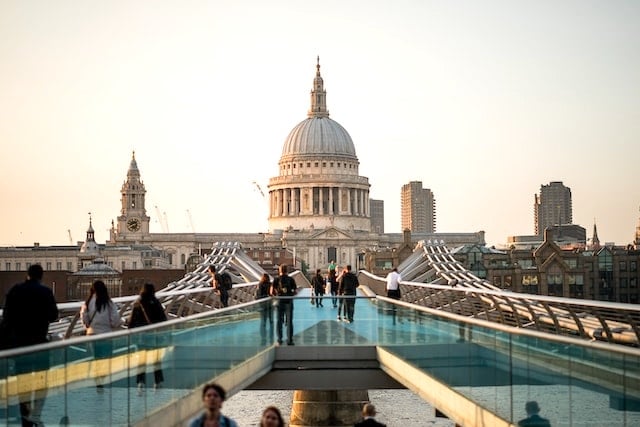 On London's 'wibbly-wobbly' footbridge, Moneypenny and Bond meet near the ending of Spectre. "The Millennium Bridge is my favourite bridge in London, as you can walk across it without fear of traffic, and get a spectacular view of the Thames from either direction," Says Becky from Pinks Charming. "It's a beautiful bridge architecturally, and provides the perfect crossing between Saint Paul's Cathedral and the South Bank, bringing you straight to the Tate Modern gallery."
LONDON MARRIOTT HOTEL COUNTY HALL
Film: Spectre
This opulent, five-star hotel was featured in Spectre. With luxurious views of Big Ben and the Houses of Parliament, the hotel offers the perfect setting for the suave James Bond. Step into their steakhouse, Gillray's, for some of the most distinctive views of London (martini optional).
"I stayed in the London Marriott Hotel County Hall for my 40th and it was fantastic," says Joanne, blogger at Opposable Thumbs. It's a former council office so the rooms and the architecture are all very distinct and fascinating to explore. You can sit in the bar and see Big Ben across the river or work out in the gym and see the people up close riding the London Eye as they go round in their pods. It also has one of the biggest swimming pools to be found in a central London hotel. I loved it and wouldn't hesitate to go back."
Has reading about these Bond filming locations made you want to go on your own spy adventure? Join us for a thrilling speedboat ride, including a tour of some of the above filming locations and places associated with the franchise. Our Shaken Not Stirred adventure is also worth looking into if you'd like to complement your speedboat experience with a visit to ICEBAR London for a cool cocktail in -5°C temperatures.
The Global Stage
As every James Bond fan knows, 007 maneuvers his way out of tight spots all over the world. In your travels, here are other places where you can walk in Bond's footsteps. If you're a 007 buff, then perhaps you are familiar with the Himeji Castle in Japan and the Costa Smeralda in Sardinia. These sites are breathtaking and often serve as great filming locations.
Himeji Castle
One of the most beautiful castles in Japan is Himeji Castle. This centuries-old structure is near the Shinmoe-dake volcano, home to Spectre's criminal mastermind Blofeld. Visitors will enjoy exploring the castle's imposing size and intricate details.
Sardinia's Costa Smeralda
Sardinia's Costa Smeralda is also a must-see! In the film Spectre, James Bond is on his way to saving the world from the Russian and British submarines hijacked by the terrorist Karl Stromberg. The two actors are on the run from the Russians, but they manage to escape in a white Lotus Esprit.

Cairngorms in Scotland
The filming took place on the scenic loch Laggan in the Aviemore area of the Cairngorms National Park, which was reportedly the location for Bond 25. Security was tight, but lucky walkers caught a glimpse of a car chase in progress. The production crew also used a helicopter and a camera drone to film the chase.
Jamaica
There are many locations in Jamaica in which James Bond was filmed. They include:
Laughing Waters Beach
Swamp Safari
Port Antonio
Dunn's River Falls
San San Bay
Half Moon
Rose Hall Great House
Boundbrook Wharf
If you're planning a vacation to Jamaica, you'll want to rent a car and visit all the Bond filming locations. While there's little public transportation in Jamaica, renting a car is easy and you can hop around to the island's best-known spots. (Rental cars are largely brand-new Japanese vehicles.) The roads are good in the island's northern part, but outside of tourist areas the roads can be dangerous. So be mindful when you are touring around Jamaica. Additionally, driving on the left side of the road can be a real challenge. It's a good idea to practice on the hotel grounds before you visit Jamaica but remember to carry good insurance for your trip.
Nobody was more adept than James Bond when it came to swerving out of harm's way during those classic car chases. But you should take it slow and easy while you're visiting all the fabulous locations that 007 helped make famous.