New contract comes as travel to the Statue of Liberty and Ellis Island approaches pre-pandemic visitation levels
New York, NY — Statue City Cruises, the authorized provider of ferry service to the Statue of Liberty National Monument and Ellis Island, announced today that the ten-year contract with the National Park Service has been awarded to Statue City Cruises. Statue City Cruises, part of the City Experiences portfolio of water and land-based experiences, has operated the service for more than 15 years. The new contract begins March 1, 2024.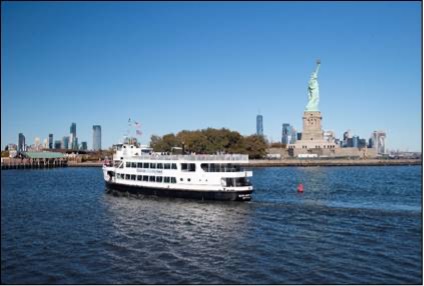 Visitation on board Statue City Cruises is currently at 87 percent of pre-pandemic levels with several days so far this year exceeding pre-pandemic levels. Historically, visitation has averaged more than four million annual visitors, including an all-time high 4.6 million visitors in 2016.
"On behalf of Statue City Cruises, we appreciate the opportunity to continue to deliver first rate hospitality and create amazing experiences for guests on board our vessels to the Statue of Liberty and Ellis Island," said Mike Burke, COO of Concessions & Park Services for City Experiences.  "We sincerely thank the National Park Service for their continued trust and confidence."
Statue City Cruises will continue to provide world class experiences to locals and visitors from two convenient departure points at Battery Park in lower Manhattan and Liberty State Park in Jersey City, New Jersey. Visitors will enjoy the rich culture and history of the Ellis Island National Museum of Immigration and the Statue of Liberty Museum. The pedestal and crown of the Statue of Liberty completely reopened in October 2022.
For more information about Statue City Cruises and City Experiences, please visit https://www.cityexperiences.com/new-york/city-cruises/statue/.
Over de Hornblower Groep
Hornblower Group is a global leader in experiences and transportation. Hornblower Group's corporate businesses are comprised of three premier experience divisions: American Queen Voyages®, its overnight cruising division; City Experiences, its land and water-based experiences as well as ferry and transportation services; and Journey Beyond, Australia's leading experiential travel group. Spanning a 100-year history, Hornblower Group's portfolio of international offerings includes water-based experiences (dining and sightseeing cruises), land-based experiences (walking tours, food tours and excursions), overnight experiences (cruises and railways) and ferry and transportation services. Hornblower Marine, a subsidiary of Hornblower Group, provides vessel outhaul and maintenance services at Bridgeport Boatworks in Bridgeport, Connecticut. Additionally, Anchor Operating System, LLC, a subsidiary of Hornblower Group, provides reservation, ticketing, and website integration services for clients in the transportation, tourism and entertainment industries. Today, Hornblower Group's global portfolio covers 114 countries and territories, 125 U.S. cities and serves more than 22 million guests annually. Headquartered in San Francisco, California, Hornblower Group's additional corporate offices reside in Adelaide, Australia; Boston, Massachusetts; Chicago, Illinois; Fort Lauderdale, Florida; London, United Kingdom; New Albany, Indiana; New York, New York; Dublin, Ireland; and across Ontario, Canada.  For more information visit hornblowercorp.com.
Over City Experiences
City Experiences vertegenwoordigt de uitgebreide portefeuille van Hornblower Group van water- en landbedrijven en omvat twee submerken: City Cruises en City Ferry. City Cruises bedrijven exploiteren diners, sightseeing en privé evenementen op 22 bestemmingen in de VS, Canada en het Verenigd Koninkrijk. City Cruises-bedrijven verzorgen ook cruises namens de National Park Service en de Niagara Parks Commission en hebben momenteel dienstcontracten om veerdiensten te verzorgen naar het Statue of Liberty National Monument en het Ellis Island National Museum of Immigration, Alcatraz Island en Niagara Falls. City Ferry bedrijven bieden gespecialiseerde kennis en expertise die nodig is om passagiers, voertuigen en andere vracht veilig over binnen- en kustwateren te vervoeren, onder andere als operator van NYC Ferry en Puerto Rico ferry systeem. City Experiences' portfolio van bedrijven biedt ook een scala aan water- en landervaringen, waaronder excursies aan wal, door partners aangeboden ervaringen en multi-havenpakketten, met bedrijven als Venture Ashore, Walks en Devour Tours. Ga voor meer informatie naar cityexperiences.com.
Media Contact:
Josh Knoller, [email protected], 201-294-9586
Shin-Jung Hong, [email protected], 617-413-7880