New contract comes as travel to the Statue of Liberty and Ellis Island approaches pre-pandemic visitation levels
New York, NY — Statue City Cruises, the authorized provider of ferry service to the Statue of Liberty National Monument and Ellis Island, announced today that the ten-year contract with the National Park Service has been awarded to Statue City Cruises. Statue City Cruises, part of the City Experiences portfolio of water and land-based experiences, has operated the service for more than 15 years. The new contract begins March 1, 2024.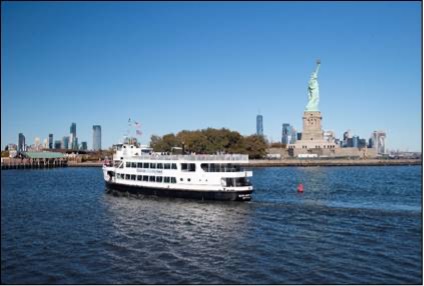 Visitation on board Statue City Cruises is currently at 87 percent of pre-pandemic levels with several days so far this year exceeding pre-pandemic levels. Historically, visitation has averaged more than four million annual visitors, including an all-time high 4.6 million visitors in 2016.
"On behalf of Statue City Cruises, we appreciate the opportunity to continue to deliver first rate hospitality and create amazing experiences for guests on board our vessels to the Statue of Liberty and Ellis Island," said Mike Burke, COO of Concessions & Park Services for City Experiences.  "We sincerely thank the National Park Service for their continued trust and confidence."
Statue City Cruises will continue to provide world class experiences to locals and visitors from two convenient departure points at Battery Park in lower Manhattan and Liberty State Park in Jersey City, New Jersey. Visitors will enjoy the rich culture and history of the Ellis Island National Museum of Immigration and the Statue of Liberty Museum. The pedestal and crown of the Statue of Liberty completely reopened in October 2022.
For more information about Statue City Cruises and City Experiences, please visit https://www.cityexperiences.com/new-york/city-cruises/statue/.
Om Hornblower Group
Hornblower Group is a global leader in experiences and transportation. Hornblower Group's corporate businesses are comprised of three premier experience divisions: American Queen Voyages®, its overnight cruising division; City Experiences, its land and water-based experiences as well as ferry and transportation services; and Journey Beyond, Australia's leading experiential travel group. Spanning a 100-year history, Hornblower Group's portfolio of international offerings includes water-based experiences (dining and sightseeing cruises), land-based experiences (walking tours, food tours and excursions), overnight experiences (cruises and railways) and ferry and transportation services. Hornblower Marine, a subsidiary of Hornblower Group, provides vessel outhaul and maintenance services at Bridgeport Boatworks in Bridgeport, Connecticut. Additionally, Anchor Operating System, LLC, a subsidiary of Hornblower Group, provides reservation, ticketing, and website integration services for clients in the transportation, tourism and entertainment industries. Today, Hornblower Group's global portfolio covers 114 countries and territories, 125 U.S. cities and serves more than 22 million guests annually. Headquartered in San Francisco, California, Hornblower Group's additional corporate offices reside in Adelaide, Australia; Boston, Massachusetts; Chicago, Illinois; Fort Lauderdale, Florida; London, United Kingdom; New Albany, Indiana; New York, New York; Dublin, Ireland; and across Ontario, Canada.  For more information visit hornblowercorp.com.
Om City Experiences
City Experiences repræsenterer Hornblower Groups omfattende portefølje af vand- og landbaserede oplevelsesvirksomheder og omfatter to undermærker: City Cruises og City Ferry. City Cruises-selskaberne tilbyder spisning, sightseeing og private arrangementer på 22 destinationer i USA, Canada og Storbritannien. City Cruises-selskaberne driver også krydstogter på vegne af National Park Service og Niagara Parks Commission og har i øjeblikket servicekontrakter om færgefart til Frihedsgudinden og Ellis Island National Museum of Immigration, Alcatraz Island og Niagara Falls. City Ferry-selskaberne tilbyder den specialiserede viden og ekspertise, der er nødvendig for at transportere passagerer, køretøjer og anden last sikkert over indre vandveje og kystnære vandveje, bl.a. som operatør af NYC Ferry og Puerto Rico-færgesystemet. City Experiences' portefølje af virksomheder tilbyder også en række vand- og landbaserede oplevelser, herunder udflugter på land, oplevelser, der tilbydes af partnere, og pakker med flere havne, med virksomheder som Venture Ashore, Walks og Devour Tours. Du kan få flere oplysninger på cityexperiences.com.
Media Contact:
Josh Knoller, [email protected], 201-294-9586
Shin-Jung Hong, [email protected], 617-413-7880