As the largest city in Canada, Toronto has something for everyone. Toronto is the capital of the province of Ontario, and is one of the true melting pots of North America, being home to a large immigrant population. People from all over the world come to Toronto and call it their home, making it easy for the city to stand up to its nickname, "Diversity Our Strength." It's warm and welcoming to all.
This city has so much to offer tourists and residents alike. From entertainment to cultural activities, there's a long list of things to do, from the exciting to the relaxed. There's a great nightlife and art scene, plus there are many sporting events for those who love sports.
Not only is Toronto a perfect city for its many offerings and its breathtaking and spectacular skyline, but it's also a city big on business and finance, and also known as having a strong economy. Plus, it's a growing and competitive city, perfect for businesses of all types and people of all walks.
As Canada's financial capital, the city of Toronto continues on a growth spurt, with businesses ranging from technology and life sciences to food and beverage, as well as TV production and fashion. With so many corporations and local businesses, the city is sure to host numerous corporate holiday events!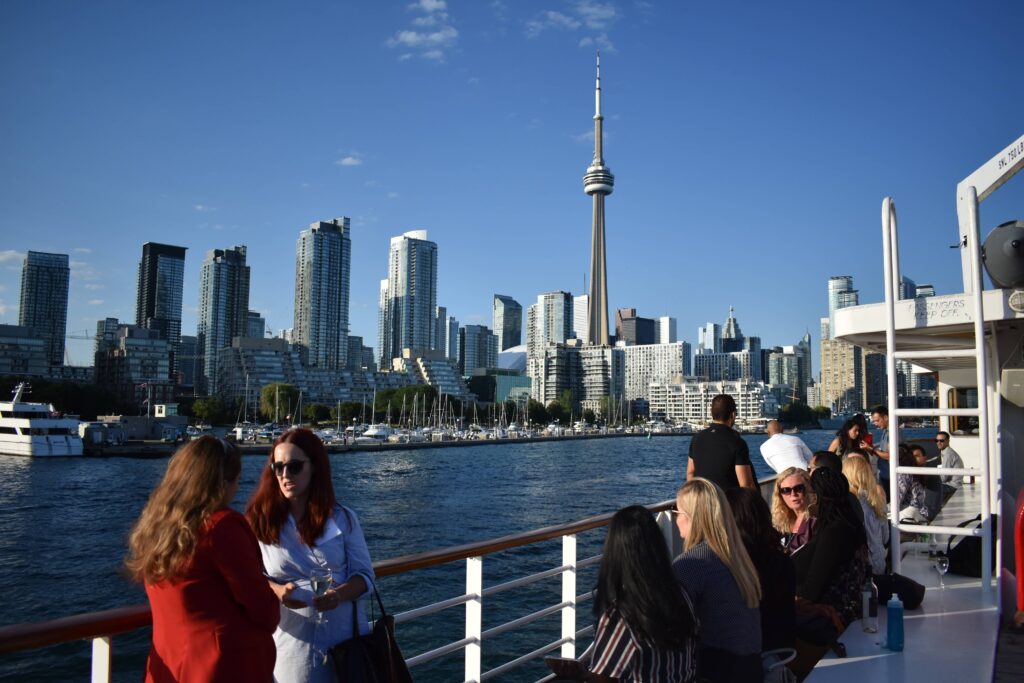 Corporate Holiday Events in Toronto with City Cruises
For all the excitement of Toronto, including the many things to do, places to visit, and venues for parties and events, there's an even better place for your next corporate holiday gathering, and that's on the water!
Host Your Group Event on the Water with City Cruises Toronto, featuring all-inclusive packages for holiday parties that include chef-prepared menus, full bar options, and entertainment that is customized for what you want and need for your corporate holiday party. You and your employees will enjoy the warm hospitality of the caring staff onboard the yacht you choose from City Cruises' Toronto Fleet. All you have to do is fill out this form, and an Event Planner will contact you and begin working to plan your perfect party.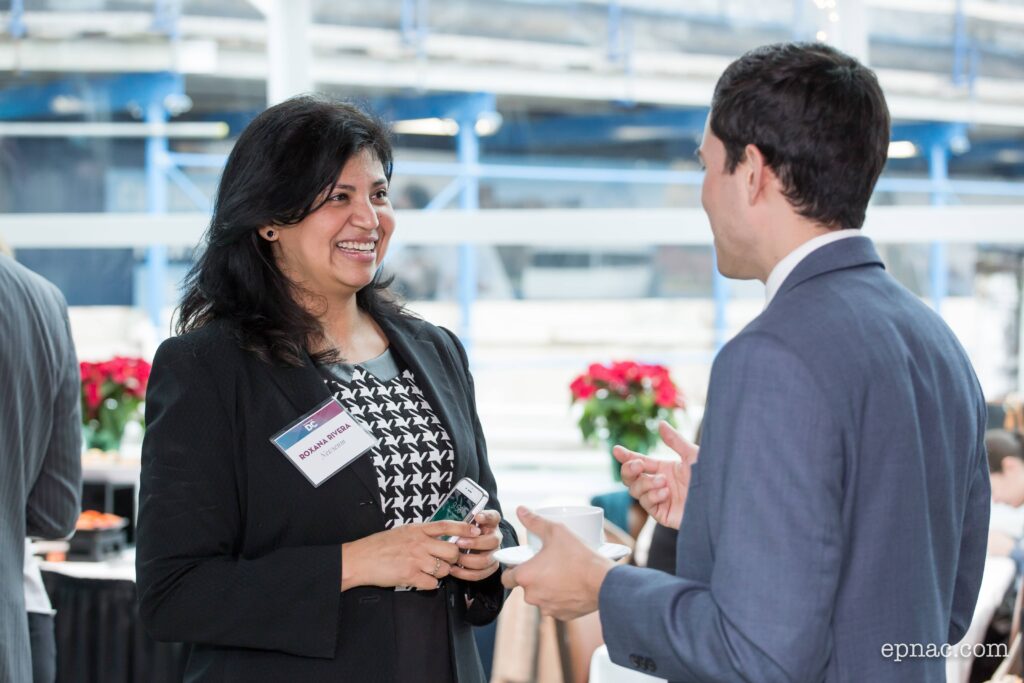 City Cruises Toronto has everything you need to ensure your next holiday party is taken care of without you having to worry about the details. Hold on tight because your next company holiday party is waiting to happen on City Cruises' yachts, and it's going to be an exciting occasion.
Everyone at your company will be cutting loose while enjoying the holiday celebrations on the water. The party will feature amazing views that guests will gaze at from climate-controlled interior decks and open-air outdoor decks. Everything about a City Cruises yacht event is just what you need for cheerful holidays this season.
Toronto Fleet and Venues for Your Corporate Holiday Party
While City Cruises Toronto is waiting for your holiday party to set sail, it wouldn't be a true party without the right venue. City Cruises' Toronto fleet includes four distinct venues from which to choose to make your holiday event amazing.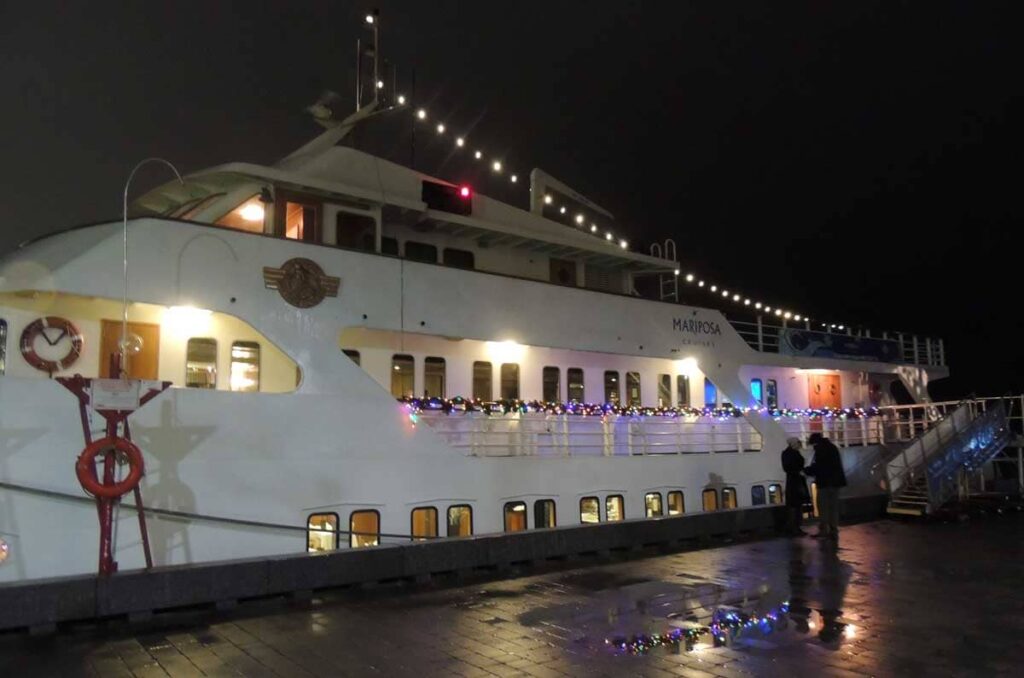 For a corporate holiday party of a larger size, the Toronto Odyssey, which has a capacity of 450 people, is the latest addition to the fleet. This contemporary, three-level yacht-style dining vessel has two spacious dining decks as well as a beautiful rooftop cocktail deck featuring indoor and outdoor space. It's the perfect venue for a holiday party featuring dining and dancing as well as a bar on the first two decks of the yacht. It's the only way to celebrate the holidays in big style.
The Toronto Elite, with a capacity of 92 guests, is one of the luxury yachts of the fleet. This classic-style vessel is a great venue for warm and intimate holiday gatherings. While more classic in style, you still have the modern amenities of any first-class venue, including a full bar, onboard kitchen, dining area, dance and lounge areas, custom LED lighting, covered awning, and outdoor decks and seating to take in the sights while you celebrate the holiday season with your coworkers.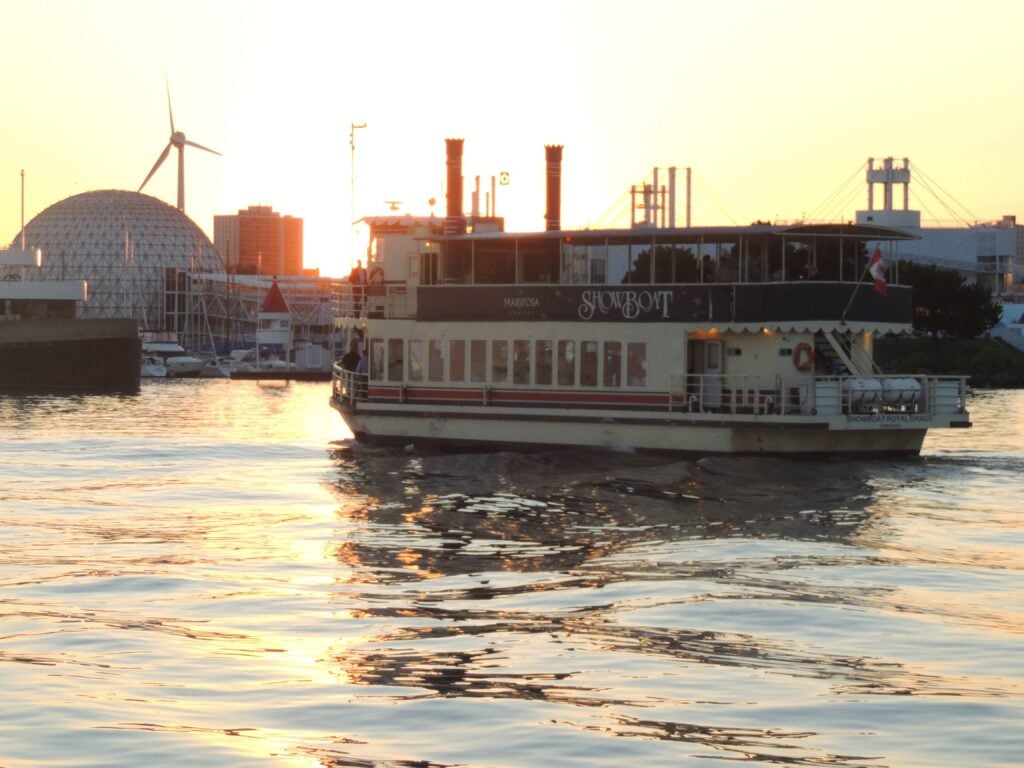 With a capacity of 140, Showboat is a stunner in the City Cruises' Toronto fleet. Add a little twist to your corporate holiday event on a two-level paddle-wheeler replica. This venue not only has the look of yesteryear, but it is also fully climate-controlled with a dining deck and an open-air observation deck. Delight in a holiday meal on the main deck, then take it up to the outdoor deck for breathtaking views of Toronto.
How about a fascinating holiday party to remember? Book City Cruises' 560-capacity Northern Spirit. It is just the venue on the water that you need and the largest of the Toronto fleet. This three-level yacht-style dining venue has two dining decks and one observation deck. The onboard holiday party experience includes buffet-style dining and a live DJ for your entertainment. Throw in some holiday songs and bring on the cheerful toasts.
Other Corporate Events on the Water in Toronto
If your Toronto business means working with clients, show them another side of the city by hosting them on the water.  Show your hospitable side to clients while you impress them with dinner, drinks, and breathtaking views. You can also host an employee outing to build team morale because everything is better on the water! Try your next meeting, conference, or tradeshow on one of City Cruises Toronto's hospitable venues. Also, keep this option in mind when celebrating a number of private events such as birthdays, wedding-related events, reunions, and other parties.
City Cruises is helpful and kind when it comes to holiday and corporate events on the water. They also know how hectic it can be around the holiday season, but they are the pros, and they know just how to put it all together. Work with an expert from the venue who will help plan your perfect corporate holiday party on the water. Then kick back and relax and enjoy the party. Book your corporate holiday event today! Fill out this form and an event planner will contact you.