There's no better feeling than being out on the water – and Berkeley, California has some of the most breathtaking views of the Bay to enjoy the mix of old buildings and new development. This Northern California town sits just east of San Francisco, with its vibrant arts and culture, trendy downtown area, and ten unique districts within city limits, each with its own fun and funky side to discover is an ideal spot to host your next meeting in one of the most exciting and creative ways – out on the water! Hop aboard a City Cruises yacht today to kick it up a notch and generate a sense of excitement and interest for your guests on the San Francisco Bay with a unique and innovative meeting space for your venue. Imagine the conversations that will take place when attendees embark on their adventure while soaking in the picturesque backdrop of the calming water and skyline views. Guests will love this experience and the amenities including chef-prepared menu options, full bar service, and lively entertainment. You will love our all-inclusive packages to fit your budget and party size and our selection of boats to choose from in our amazing fleet. Let the event begin!
Book a Beautiful Boat in Berkeley for Your Next Meeting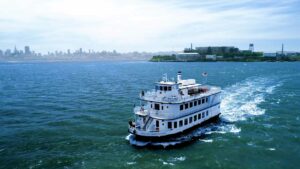 City Cruises soars above all with its unique and exciting floating meeting venues. We offer more than just a location. Redefining meeting spaces is what we do. Our cruises blend comfort, excitement, and novelty to set the tone for a successful meeting. Throw in exceptional views of the San Francisco Bay and the Berkeley skyline and you have a recipe for success. You and your guests will feel inspired and refreshed while getting away from the confines of four walls and the stuffiness of being indoors. Take advantage of the beauty surrounding you in Berkeley and impress your guests with an unconventional meeting space that gives everyone a break from the mundane conference rooms, and gives them a chance to mingle onboard a luxurious yacht. Climate-controlled indoor lounge spaces are arranged to spark conversations, and outdoor decks are perfect for enjoying the fresh Pacific Ocean breezes. We can accommodate various budgets and meeting sizes without compromising quality. Rent a table, a deck, or a whole yacht. We can turn your vision into reality. Our professional and dedicated event planners will help you get started.
Navigating Towards a Successful Meeting in the Bay Area
At City Cruises, we can host a variety of corporate meetings, each providing an amazing view of Berkeley and San Francisco's skyline. Experience Berkeley from the Bay and take in the scenery of some of the Bay area's iconic sights such as the Golden Gate Bridge, Alcatraz, and the Bay Bridge, all while building your team, entertaining clients, hosting a special event, or whooping it up at a holiday party. You and your guests will love our superior hospitality, climate-controlled interiors, and open-air outdoor decks. While onboard, you will enjoy an unforgettable dining experience with customized menus, all-inclusive packages, and spectacular views. Want to host an event that is lively and fun? We have the entertainment to make that happen. Want to capture this all with photos? We can handle the photography too. We will take care of all the details so that planning is a breeze.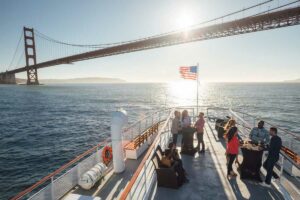 Wave Goodbye to Boring Meetings and Hello to City Cruises
If you want to give your guests something to talk about, we have an unbeatable fleet to do just that. If you're hosting a smaller to mid-sized meeting, then you will want to check out the Sunset Hornblower with interiors as impressive as the vistas outside. Polished hardwood columns and exposed overhead beams emphasize her charm and new plush, neutral-toned carpets and rich mahogany woodwork round out her fresh and updated look. Spacious upper decks boast gorgeous French doors that open to unparalleled views and create a stylish backdrop for your event.
Hosting a large event? Classic charm and style await you onboard the Empress Hornblower, resembling a turn-of-the-century riverboat. Her two interior decks feature art deco-inspired brass chandeliers, wall sconces, rich mahogany bars, and plush carpeting that furbish the dining areas for a simple and elegant ambiance. The wraparound outer and top decks allow guests to step out and take in the sights of the bay from any level and her spacious sundeck opens to capture Instagram-worthy shots of the Bay. If you really want to give them that wow factor, then hosting your next meeting aboard a City Cruises Berkeley luxury yacht is a safe bet! Ready to book your private event? Fill out this form and one of our event planners will contact you to plan the perfect meeting in the San Francisco Bay area.
FAQ
Wat is inbegrepen bij een bedrijfsuitstap in Berkeley?
While it depends on the package you choose most of our corporate cruises include food, drink, music, and décor. You can also add on extras like a private deck, a photographer, or even fireworks. We make it easy to customize your event so that it is perfect for your group.
How much will it cost to host a corporate meeting event in Berkeley?
The cost of your event will depend on the size of your group, the length of the cruise, and any add-ons you choose. Contact our team to get a custom quote for your event. Create the perfect cruise package to take all your guests out on the water.
How many people can City Cruises accommodate on a cruise?
We have varying vessel sizes which you can choose from. We can also rent out a table or a deck for your next meeting venue. Our team will take care of all the details for you so you can sit back, relax, and enjoy your event.
Zonsondergang Hornblower: 100 gasten
Pacific Hornblower: 130 gasten
Empress Hornblower: 250 gasten