As the holiday season approaches, it's time to start planning an extraordinary Christmas party that will leave a lasting impression on your colleagues and friends. Imagine celebrating amidst the picturesque charm of York, surrounded by the festive spirit and a touch of elegance. In this blog, we'll explore why City Cruises York is the ultimate destination for hosting the best Christmas party in town. Get ready to embark on a journey filled with enchantment, stunning views, and unparalleled festivities.
Christmas in York: A City of Festive Charm
York transforms into a magical wonderland during Christmas, exuding an irresistible charm that captivates all who visit. The historic city comes alive with sparkling lights, charming markets, and the delightful aroma of roasted chestnuts wafting through the air. From the iconic York Minster to the cobbled streets adorned with festive decorations, York creates an enchanting backdrop for your Christmas celebration. It's the perfect time to immerse yourself in the festive spirit and create unforgettable memories.
Why City Cruises York is the Perfect Christmas Party Venue
When it comes to choosing the ideal Christmas party venue, City Cruises York shines above the rest. The panoramic views of the city from the comfort of our vessels provide a breathtaking setting that will awe your guests. The vessels themselves are meticulously designed to offer a blend of elegance and warmth, creating a welcoming ambiance for your festive gathering. With top-quality services and a team dedicated to ensuring your event is a success, City Cruises York sets the stage for a truly memorable Christmas party.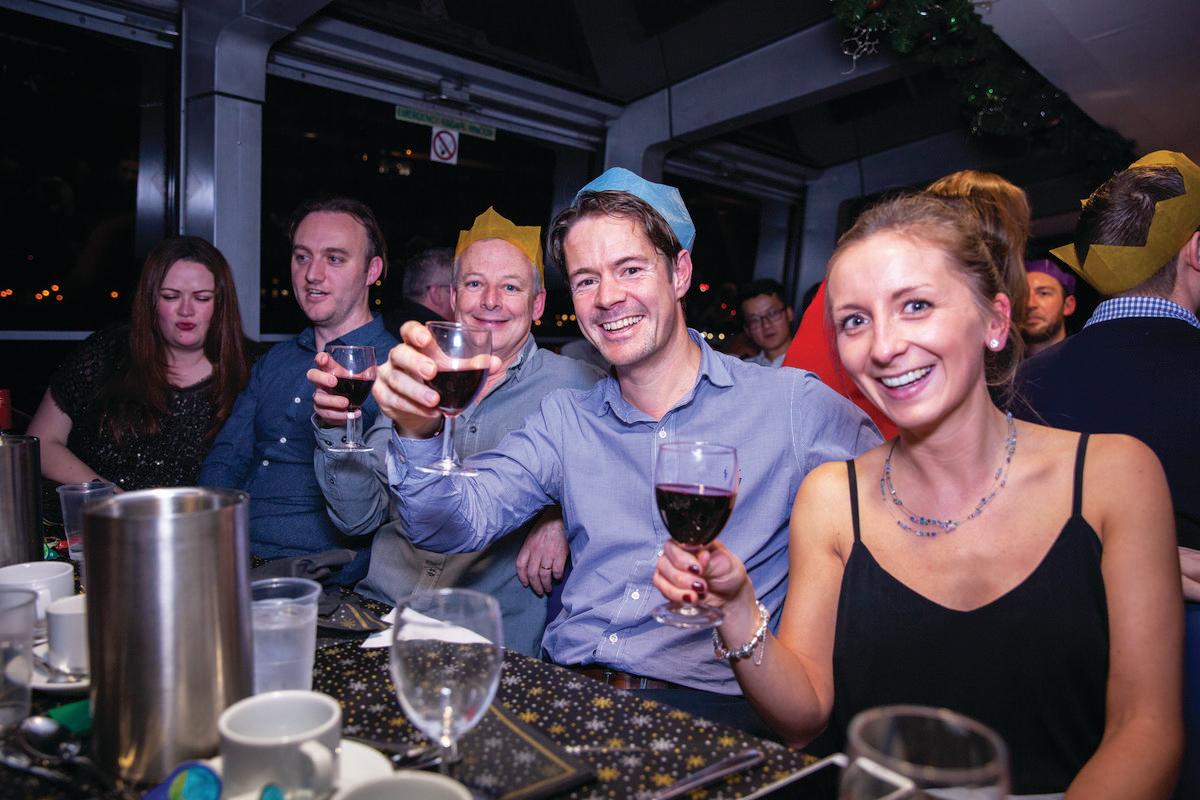 A Unique Christmas Experience: Celebrating on the River Ouse
Picture this: You and your guests sailing along the serene waters of the River Ouse, surrounded by the architectural splendor of York's historic landmarks adorned with twinkling lights. Celebrating Christmas on a boat elevates the experience to a whole new level of elegance and sophistication. The unique combination of stunning views and the gentle sway of the boat creates an atmosphere that is both enchanting and unforgettable. Let the magic of the river embrace your Christmas festivities, creating cherished memories for years to come.
Tailored Christmas Party Options with City Cruises York
City Cruises York offers a range of Christmas party options to suit different group sizes and preferences. Whether you're hosting a corporate Christmas party or a more intimate gathering, we have the perfect package for you. The flexibility to customize every aspect of your event ensures that it aligns with your vision and caters to your specific needs. From themed decorations to entertainment choices, City Cruises York goes above and beyond to create a Christmas party that is uniquely yours.
Festive Indulgence: Food, Drinks, and Decorations Onboard
Indulge in the festive spirit with our exquisite Christmas menu, designed to tantalize your taste buds and satisfy your culinary desires. From traditional favorites to contemporary delights, the carefully crafted dishes are made with the finest ingredients, ensuring a feast that delights the senses. Raise a toast to the season with our wide selection of drinks, including local beers and fine wines. Additionally, the charming onboard decorations create a cozy and cheerful atmosphere, setting the perfect tone for your Christmas celebration.
How to Plan Your Unforgettable Christmas Party with City Cruises York
Planning your Christmas party with City Cruises York is a seamless process. Begin by selecting the package that suits your needs, considering the number of guests, preferred date, and desired activities. Our experienced event planning team will guide you through every step, from choosing the right menu to coordinating entertainment options. With our expertise and attention to detail, your Christmas party will be flawlessly executed, allowing you to relax and enjoy the festivities with your guests.
FAQs – York Christmas Party Venue
What makes York a good place to host a Christmas party for work?
York is a city brimming with festive cheer during the Christmas season. Its medieval architecture, cobbled streets and old-world charm provide a magical backdrop for a holiday celebration. Plus, the city offers a variety of venues and entertainment options that can cater to diverse preferences and budgets.
How can a Christmas party on a City Cruise in York be special?
A City Cruise offers a unique and memorable venue for your Christmas party. Cruising the River Ouse, you and your colleagues can enjoy York's beautiful scenery from the water. Our boats are equipped with modern facilities, comfortable seating, a dance floor and a bar to ensure a festive and fun experience for everyone.
What services does City Cruises offer for a Christmas party?
City Cruises offers a variety of services to ensure your Christmas party is a success. These include customisable food and drink options, entertainment facilities like live music or DJ, and a dedicated events team to help plan and execute your event.
Can City Cruises in York accommodate large Christmas parties?
Yes, City Cruises in York can accommodate large Christmas parties. We have several boats of varying sizes in our fleet, enabling us to cater to both small gatherings and larger corporate events.
Is there a menu selection available for Christmas parties on City Cruises in York?
Yes, at City Cruises we offer a range of menu options for Christmas parties. Whether you prefer a sit-down dinner, a buffet, or a selection of festive canapés, our team can cater to your needs. All our menus are thoughtfully crafted by our chefs to provide a delicious dining experience.
How can I book a Christmas party with City Cruises in York?
To book your Christmas party with us, you can get in touch with our events team via our website or over the phone. They will guide you through the booking process, help with menu selection, and answer any questions you may have.
---
Celebrate the magic of Christmas in style by choosing City Cruises York as your Christmas party venue. With the stunning views, vessels, customizable options, and exceptional services, City Cruises York ensures that your festive gathering will be an unforgettable experience. Don't miss the opportunity to create cherished memories with your colleagues, friends, and loved ones. Book your Christmas party with City Cruises and embark on a journey of enchantment and joy this holiday season.