Cosa vi viene in mente quando si parla di Chicago? Cibo, cultura, architettura? E ai mafiosi? Con una storia ricca e diversificata, la Città del Vento ha tutto questo, e questo è qualcosa di cui Hollywood non sembra avere mai abbastanza.
In addition to numerous TV shows set there (Chicago Fire, Chicago, P.D., Chicago Med, Chicago Justice—you get the drift!), a slew of classic films have also featured some famous (and infamous) spots in the city that have become an indelible part of each story. Let's face it: Chicago and everything it offers is a main character in its own right. So, whether it's Harrison Ford hitting the Chicago Hilton for the ultimate showdown in The Fugitive or Matthew Broderick & Co. perusing paintings at the Art Institute of Chicago during Ferris Bueller's Day Off, you'll find iconic scenes and locations wherever you go when you visit.
Soddisfare i sensi
Chicago is synonymous with tasty food and drinks. After all, it's home to more than 40 James Beard award–winning chefs and restaurants, and the actual ceremony for the food industry's Oscars (as they are affectionately known) is held annually at the Lyric Opera of Chicago. Aside from the latest foodie obsession in the form of Hulu's hit series "The Bear," it comes as no surprise that a host of full-length films have featured local restaurants, from Emmit's Pub making appearances in some of the best heists (Ocean's Eleven), dramas (Backdraft), and comedies (Uncle Buck) to Twin Anchors' supporting role in the superhero reinvention of Batman (The Dark Knight) and the sweet love story rated highly by romantics loyal to Return to Me.
Also, let's not forget to toast the star turn of The Green Mile Cocktail Lounge in High Fidelity, a film many music aficionados place on their top 10 movie list, and Kelly's Pub for the quintessential 80's rom-com About Last Night, which features Demi Moore and Rob Lowe in their prime.
But of course, Chicago offers a great feast for your other senses too—namely, a range of sights and awesome boat scenes that moviegoers are totally on board with during The Break-up and My Best Friend's Wedding. To get the best of both worlds (and guess what?) it's possible: Check out the Prix Fixe Dinner Cruise on Lake Michigan.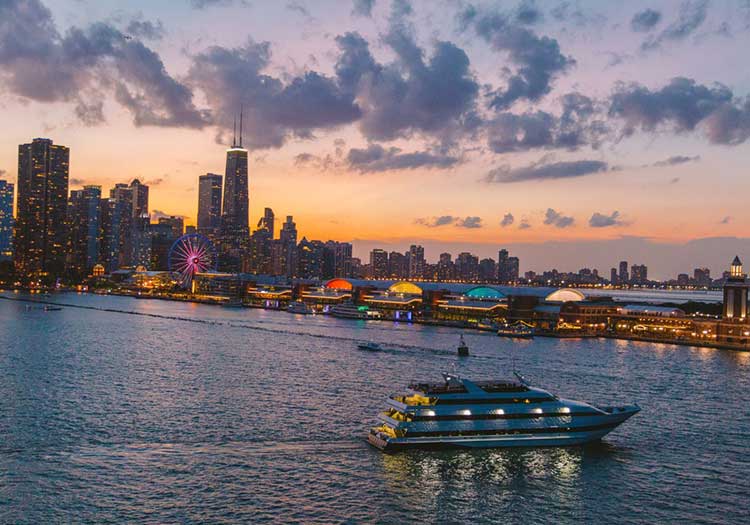 Camminare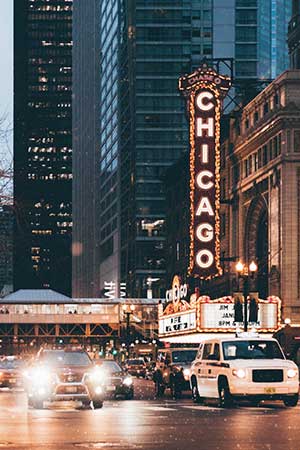 Parlando di arte, uno dei principali esempi che mostra Chicago in tutto il suo splendore - Ferris Bueller's Day Off -non è solo un'esilarante avventura cinematografica, ma dimostra anche quanto possa essere divertente visitare i siti di Chicago (Wrigley Field, anyone?) e quanto possa essere memorabile una visita al museo numero uno del centro con la sua vasta gamma di opere contemporanee.
Naturalmente, questa esperienza è un'ottima occasione per visitare la città a un ritmo confortevole e per fare i vostri passi quotidiani, e anche se molti dei più famosi film adrenalinici di tutti i tempi hanno lasciato tracce indelebili nel centro di Chicago - stiamo guardando Il fuggitivo, Il cavaliere oscuro e The Blues Brothers -non c'è bisogno di affrettare i tempi. Assaporate i passi, assaporate ogni boccone e sentitevi liberi di perdervi tra le opere d'arte.
Colpi di mafia
Al Capone. John Dillinger. Frank "The Enforcer" Nitti. That's just a few of the infamous names associated with organized crime in Chicago. Their exploits are rich with drama and intrigue, so it's no wonder some of the most celebrated actors in the world have been drawn to portraying them on screen, and the results have been films that define the genre. From the unforgettable turn of Robert DeNiro as Capone in The Untouchables to Johnny Depp's transformative performance as Dillinger in Public Enemies, there's no shortage of memorable moments, and seeing the actual locations where some of this history occurred offers unique drama of its own. Yet getting inside the underworld of notorious mobsters, crime bosses, and gangsters isn't as dangerous as it sounds on the Crime & Mob tour. You'll head to areas such as the Gold Coast, Lincoln Park, and Old Town and hit up sites like The Biograph Theatre, Holy Name Cathedral, and the St. Valentine's Day Massacre (to name a few)—all while relaxing in a comfy couch, complete with a guide who'll reveal the underbelly of it all.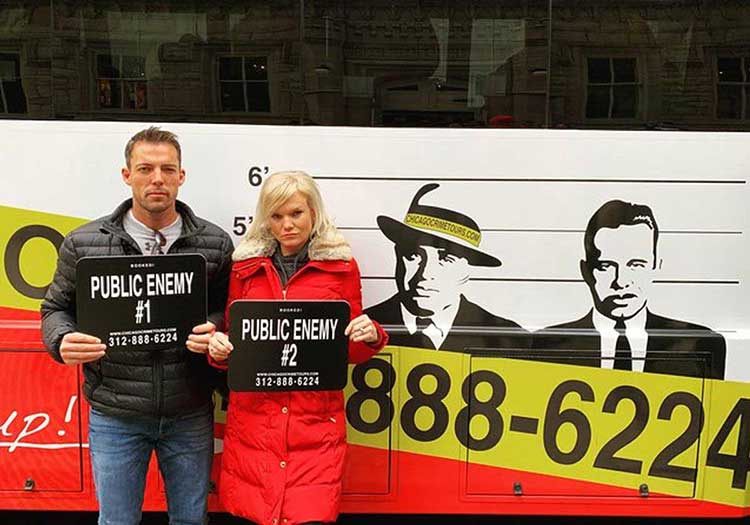 Posizione, posizione, posizione
We'd be remiss not to mention some Chicago-adjacent movies that take place in its metropolitan area and feature one or two scenes in the city too…which are some of the most beloved films moviegoers cherish that the late director John Hughes brought to the screen. Whether it's Home Alone, The Breakfast Club, or Planes, Trains, or Automobiles, it's obvious Hughes' loyalty to his adopted home shows where his heart was, and with all of the attractions Chicago has to offer, it's not surprising why.
Original Post Date: February 8, 2023