When people talk about iconic Chicago architecture, buildings, and historic must-see sites, the Chicago Theatre inevitably enters the conversation—and for good reason. Celebrated as one of the first large and luxurious cinemas in America, it was a prototype for many others that came after its smashing debut in 1921. According to a brief biography on the Chicago Theatre website, this majestic structure was built for $4 million by theater owners Barney and Abe Balaban and Sam and Morris Katz and was their chain's flagship property. Designed by Cornelius and George Rapp and constructed in French Baroque style, the grand dame features an elegant lobby, a magnificent staircase, and a gorgeous auditorium that includes 10 breathtaking, intricate murals on the ceiling and above the stage. A miniature replica of the Arc de Triomphe of Paris is featured on the theater's exterior, which is sculpted directly above its marquee on State Street. The window within the Arc includes a massive circular stained-glass panel bearing the Balaban and Katz chain coat-of-arms and two horses holding ribbons of 35-mm film within their mouths.
Making History in Chicago and Worldwide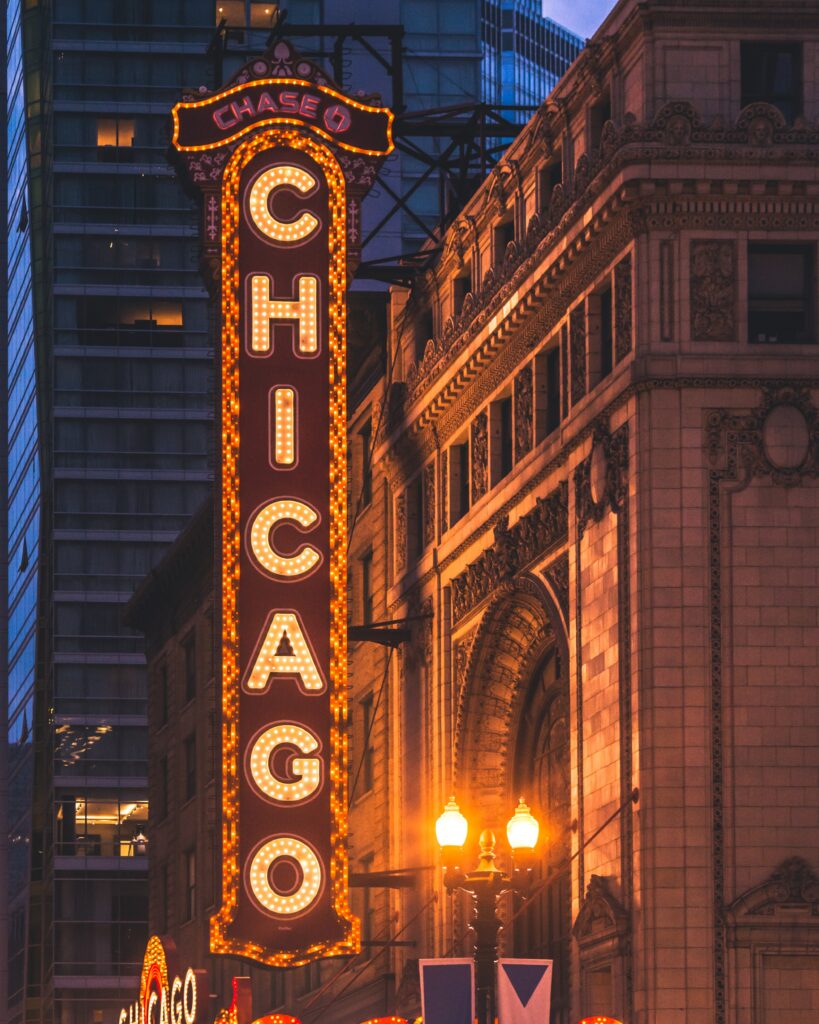 When it first opened, the Chicago Theatre was promoted as "the Wonder Theatre of the World," and there's no doubt that as a 3,600-seat auditorium at seven stories high measuring over one half a city block wide (and almost as long), it was a sight to behold. Of course with its signature vertical sign, which measures approximately six stories high, it still is today! Symbolic of Chicago and State Street themselves (as well as iconic elements of beloved Chicago architecture), the Chicago Theatre marquee and sign are treasured landmarks—as is the 29-rank Wurlitzer theater pipe organ still inside, which is notably the oldest in existence and the first musical instrument to achieve landmark status.
Some of the world's most celebrated artists played performances at the Chicago Theatre during its first four decades (think Duke Ellington and Jack Benny), and while it has undergone changes in ownership, has been modernized through the years, and was almost on the verge of closure, the theater has survived. In fact, it continues to thrive after undergoing a nine-month, multimillion-dollar restoration in 1986. Chicago architects Daniel P. Coffey & Associates, Ltd. and Los Angeles–based interior design consultants A.T. Heinsbergen & Co. helmed the project supported by the Chicago Theatre Restoration Associates with assistance from the City of Chicago. The theater's reopening later that year was marked with a historic performance by Frank Sinatra, and since then, it's continued to host performances from global entertainers including Kelly Clarkson, Dolly Parton, Prince, Aretha Franklin, Robin Williams, and David Letterman (among others).
In Good Company, Culturally and Architecturally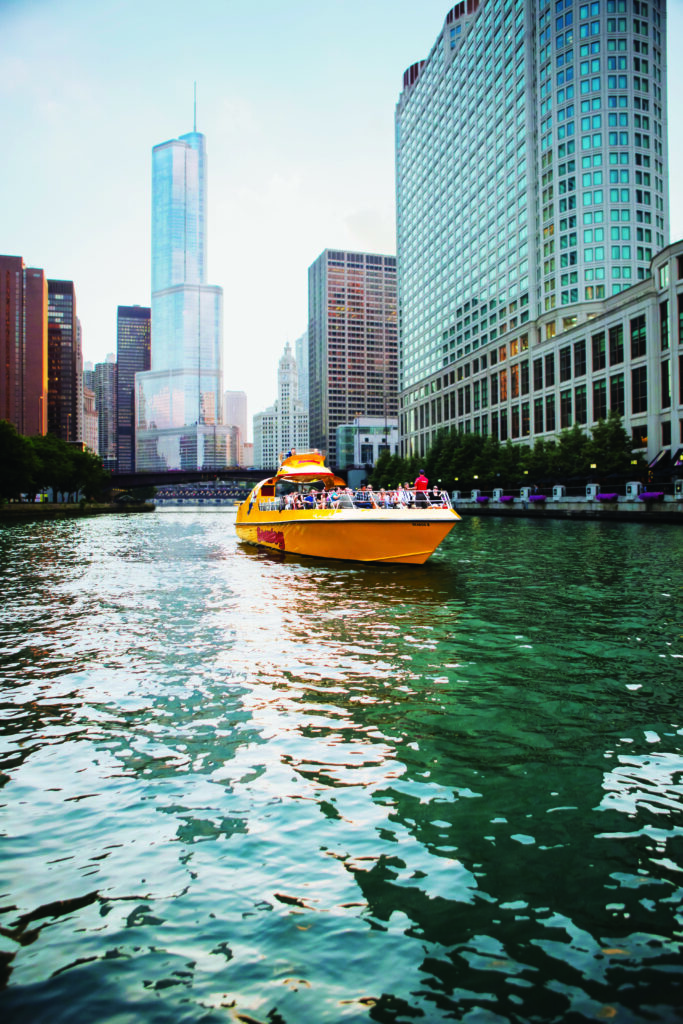 While seeing a performance at the Chicago Theatre should definitely be on your Chi-Town bucket list, there's also additional Chicago architecture sights you won't want to miss either. Whether it's the Willis Tower, the Rookery Building, or the Chicago Cultural Center, deciding what to see is much easier than it sounds. But don't worry, we've got a cheat sheet right aquí for you in the form of the ultimate guide to get you started. And actually, that's just the beginning—since we also have two additional architecture-related cruises that you'll want to consider as well. Because let's be honest: In a city celebrated for waterside sightseeing, what better way to take it all in than via an unforgettable experience up-close and personal on a beautiful boat?
First up, let's look at the Chicago Seadog River & Lake Architectural Tour. Over the course of 75 minutes, this narrated cruise brings the city's iconic skyline right into your sightline as you depart from Navy Pier and set sail on the Chicago River. Unique architecture abounds and famous landmarks are all around you and your fellow travelers (which can also include Fido if he's up for it….). Journeying from the lakefront, through the locks, along the river, and all the way to the celebrated Willis Tour, this ride also includes a short speedboat excursion on the lake. You can bring your own drinks to enjoy while on the water as well—just note that no glass containers are permitted.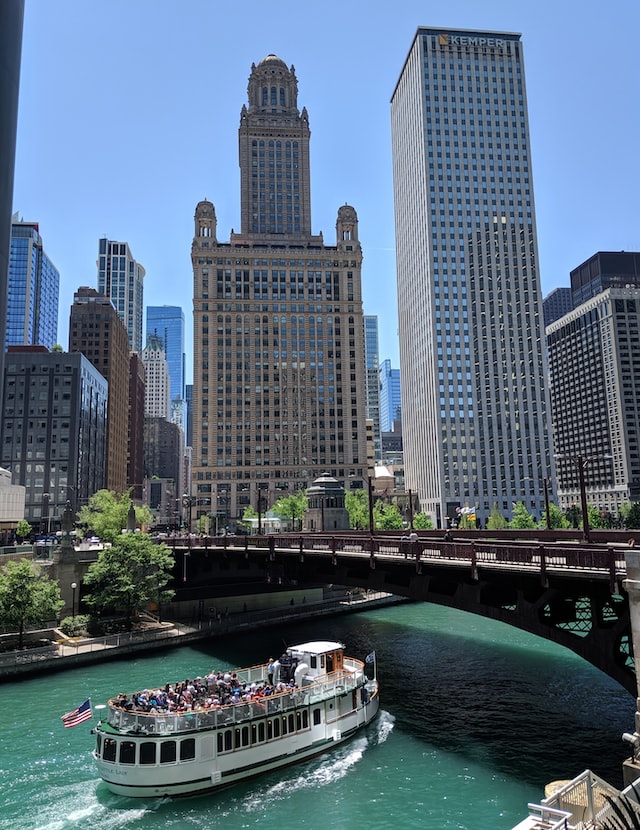 Next for your consideration is the Premier Plus Architectural Brunch Cruise on the Chicago River. This two-hour dining experience includes a three-course, chef-prepared plated menu with bottomless mimosas (for those over 21…) as you cruise along the river surrounded by breathtaking, picturesque views of the city's architecture. If there was ever a time to post to Instagram, this would be it! Featuring a narrated historical architectural tour with ambient music playing in the background between landmarks, distinctive service, a climate-controlled interior deck, and an open-air outdoor deck, the package also provides a guaranteed table for your party size and complimentary coffee, hot and iced tea, and water. You can also opt for upgrades such as innovative cocktails, wine, and beer for purchase at the fully stocked bar and snag window table reservations for killer views. Plus, additional options to customize your journey are always available at checkout.
No matter what cruise you choose, paired with a trip to the Chicago Theatre will no doubt make your visit to the city more than memorable. Of course, taking in Chicago architecture without having to do a ton of research is always an added bonus, and if you can do that via a boat adventure and with the help of the resources we've provided that just makes our jobs totally worth it!