Lake Michigan is an ideal place to spend a holiday or weekend getaway. Lake Michigan boasts over 1,600 miles of shoreline as well as many fun activities to partake in! One of the most exciting locations to enjoy Lake Michigan is no other than the windy city of Chicago, Illinois.
History of Lake Michigan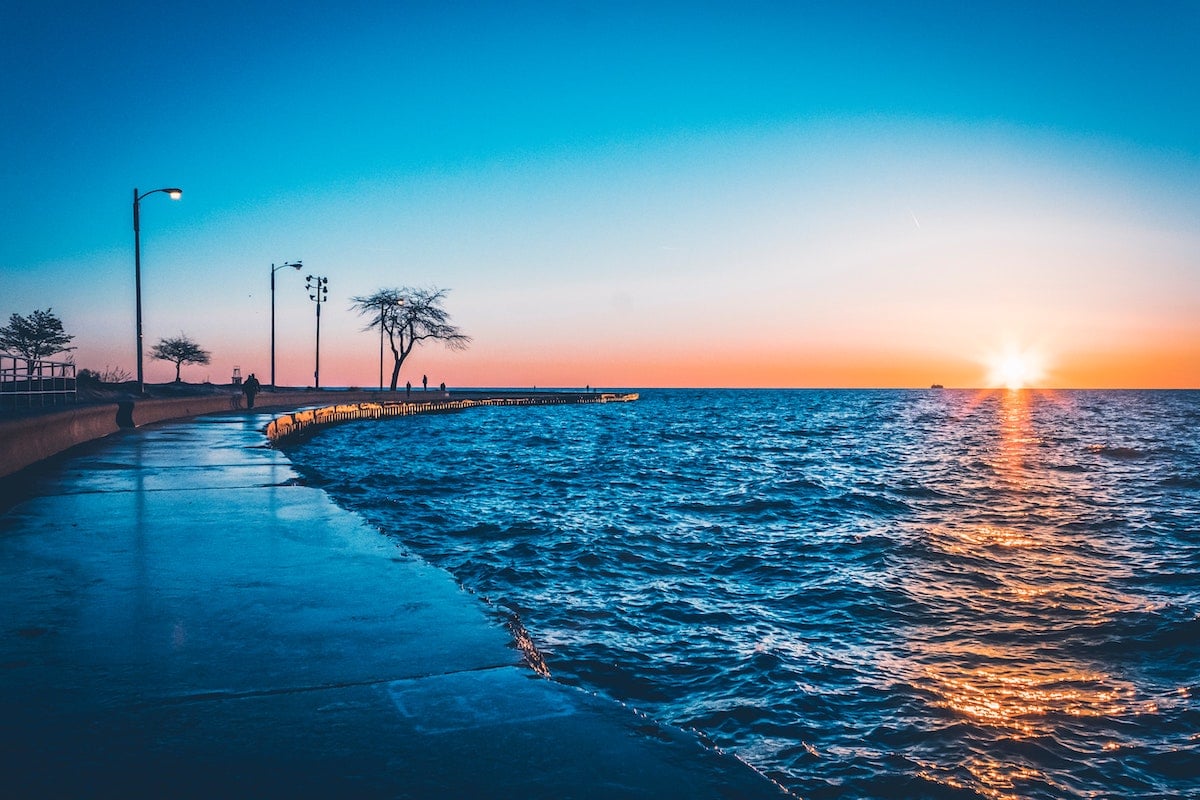 Lake Michigan hasn't always been Lake Michigan. Around 1.2 billion years ago, the Midcontinent Rift caused two tectonic plates to move in opposite directions, leaving a giant scar. This giant basin, or scar, was later flooded with water due to melting glaciers, with a maximum depth of 925 feet. Lake Michigan is now the 7th largest lake in the world by water volume!
The lake itself has had various names over the years due to the settlements and various purposes of the lake. This includes Lake of Stinking Water, Grand Luc, Las de Illinois, Lake of Puans, and Michi Gami. Finally, after the United States received its own independence, Lake Michigan was settled as the name.
The bottom of Lake Michigan also holds a lot of history that's only been recently discovered. While searching for shipwrecks below the surface of the water, archeologists discovered something much more interesting. Deep below the depths of the water, lies a prehistoric boulder with mastodon carvings, in addition to a Stonehenge-like structure of stones.
Lake Michigan Landmarks
While enjoying time out on the lake, there are many amazing landmarks laid out on the banks across the city of Chicago. While both the city and the lake offer their own uniqueness, experiencing both together is the ideal scenario. Sights that be seen from Lake Michigan, or are located in very close proximity include: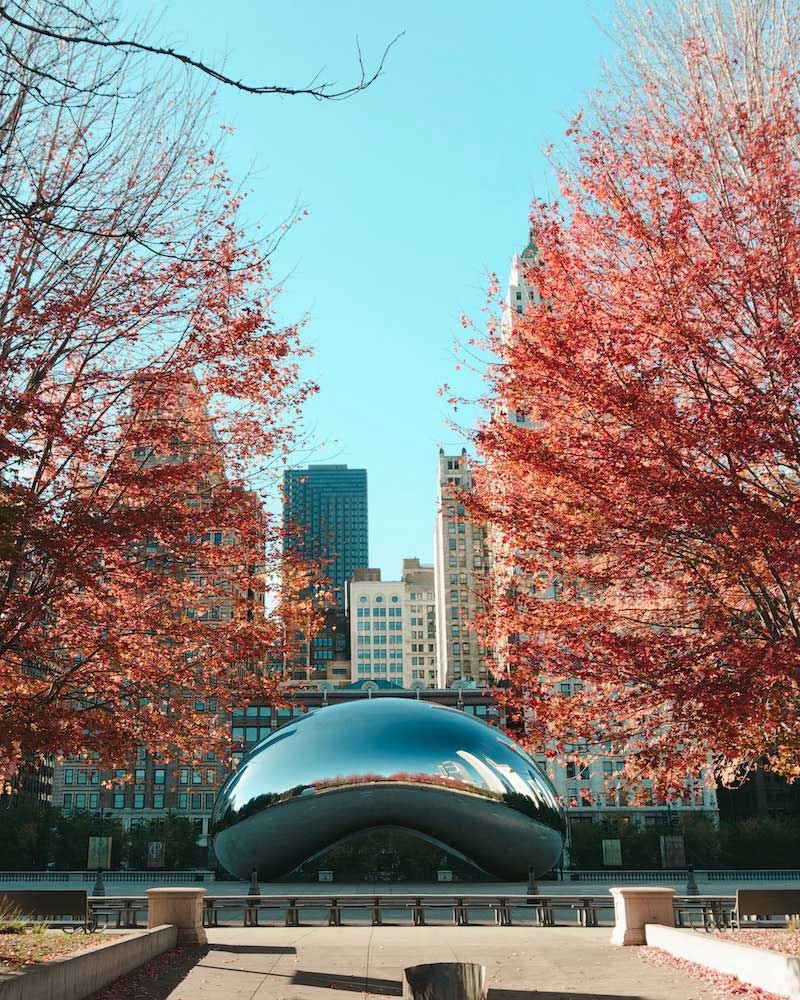 Shedd Aquarium: Gifted to the city of Chicago by John Shedd, the aquarium is famous in Chicago for housing over 32,000 species of marine life and is designed with neoclassical architecture.
Navy Pier: The Navy Pier is one of the most popular places in the city and is an honor of naval veterans around the country. Visitors can fill up a whole day here enjoying a wide variety of shopping, restaurants, attractions, and more.
Grant Park: Home to many famous landmarks in the city on the banks of Lake Michigan such as Millennium Park and The Bean.
875 Michigan Av: The location of the tallest skyscraper in Chicago at 1,128 feet tall. The building includes a large observation deck for scenic views of the city and Lake Michigan.
Field Museum of Natural History: One of the premier natural history museums in the world sits here on the banks of Lake Michigan and is perfect for education and history buffs.
Fun Things To Do Around Lake Michigan
There are so many fun things to do on and around Lake Michigan while in the Chicago area. If you are into yoga, give it a go by the water! Enjoy a bike ride along the lake or walk around Navy Pier to experience what the city has to offer there. While you can look to swim around Lake Michigan, take it to the next level and experience a boat tour to view the city from a whole new perspective!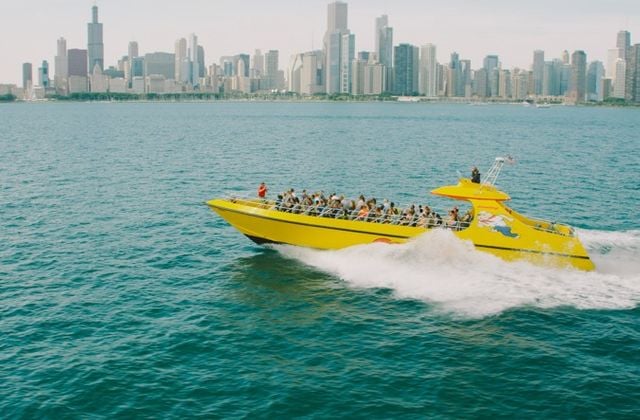 Speedboat Tour on Lake Michigan
The City Cruises Chicago Seadog Speedboat Tour is an attractive option for enjoying Lake Michigan. Hop onboard this high-speed jet boat and get ready for some spins out on the water! It's very likely that you will get wet on this tour so plan accordingly. You can also bring your own drinks to enjoy on the water! For the thrill seekers, check out the Seadog Extreme for exhilarating speeds and 360-degree spins.
Dinner Cruise on Lake Michigan
City Cruises Premier Dinner Cruise on Lake Michigan is perfect for a romantic dinner for two, a family outing, or an exciting night out on the water with friends. Take in the city skyline from the boat while sailing around the banks of Lake Michigan. The cruise provides specialty menu options, various drink options, live music and plenty of space to dance the night away. After dinner you can go up to the open-air rooftop deck!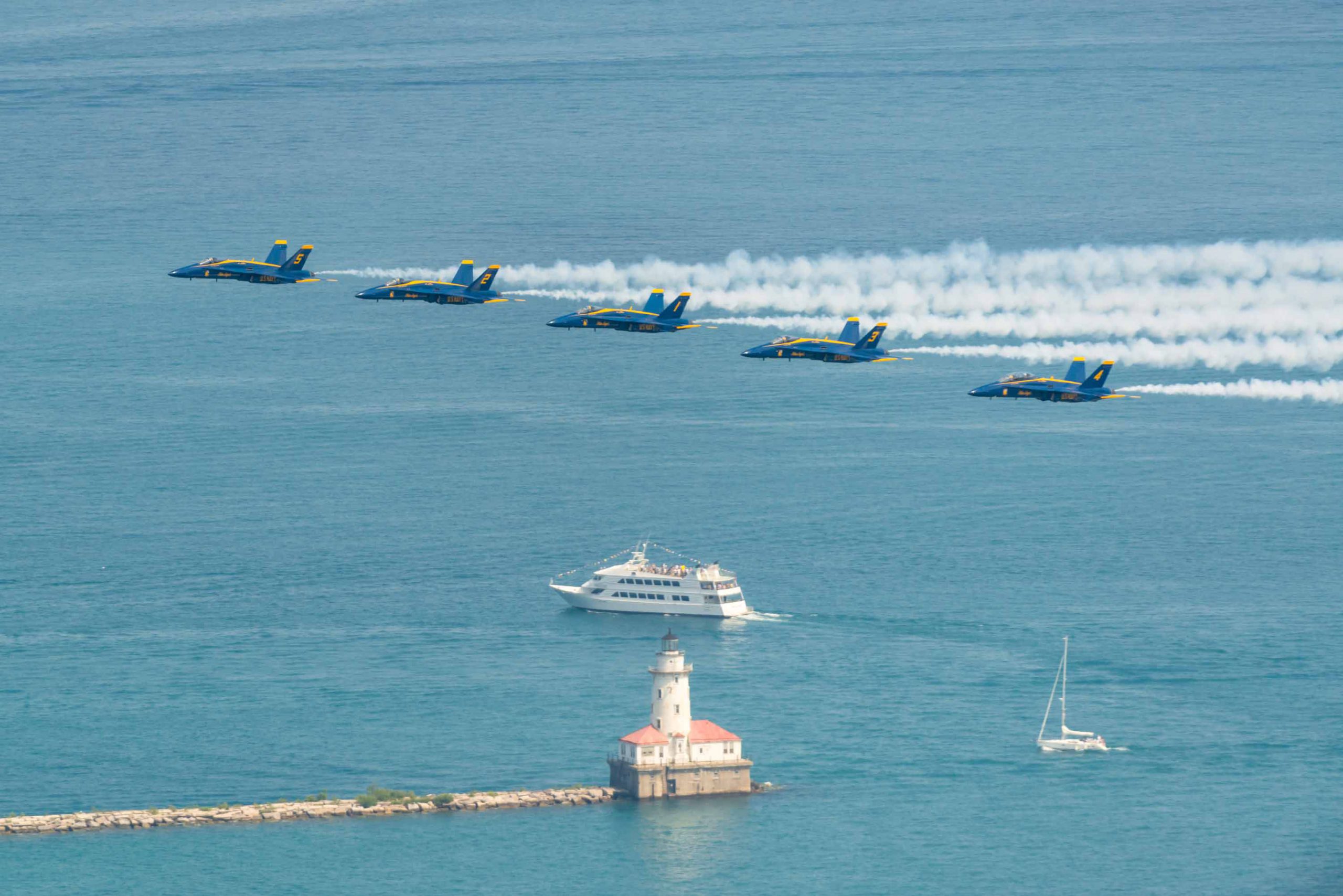 Lunch Cruises on Lake Michigan
A lunch cruise around Lake Michigan is such a fun way to experience the city while enjoying a delicious afternoon meal. There is also lots of other fun entertainment onboard, including games to play and live music to dance to! 
Brunch Cruise on Lake Michigan
The Signature Brunch Cruise is an ideal way to experience Chicago and Lake Michigan in a more setting. The cruise provides passengers with a specialty dinner cuisine, a fully stocked bar, live music, and an unforgettable afternoon of memories. The 2-hour cruise sails past various Chicago landmarks and offers jaw-dropping views of the skyline.
Afternoon Air & Water Show Signature Lunch Cruise on Lake Michigan 
City Cruises offers the best seats in the city for the signature Navy Air and Water Show. Be treated to a 3-course meal, rooftop games and activities, drinks, live music, and an unobstructed view. The show includes both ships and jets for an amazing and incredible event.

FAQs – Lake Michigan Things to Do
What is Lake Michigan Best Known For? 
Lake Michigan is best known for being one of the five Great Lakes of North America. It is also the second largest of the Great Lakes by surface area, and the third largest by volume. Additionally, Lake Michigan is home to a large number of freshwater beaches, making it a popular destination for swimming, boating, and other water-based activities. Finally, the lake is also known for its scenic beauty, with a number of popular tourist destinations located along its shores.

How deep is Lake Michigan? 
The average depth of Lake Michigan is 279 feet (85 meters). The deepest point in the lake is 925 feet (282 meters).
What are other things to do around Lake Michigan? 
There are many things to do around Lake Michigan. Some popular activities include swimming, biking, hiking, fishing, and boating. There are also several large cities located on the lake, such as Chicago and Milwaukee, which offer a variety of cultural attractions and activities.
How do you plan a visit to Lake Michigan? 
Do your research first! When visiting Chicago and trying to enjoy Lake Michigan, be aware of what you want to do. Book Lake Michigan tours in advance and make sure you pack the appropriate clothing! Also, be sure to do your research of the best restaurants in the area so you can enjoy a great meal after a day of fun.
Why do people visit Lake Michigan?  
People visit Lake Michigan for many reasons. Some come to enjoy the freshwater beaches, others come to fish or boat in the large lake, and still others come to see the sights of the nearby cities. Whatever the reason, Lake Michigan is a popular destination for tourists and locals alike.