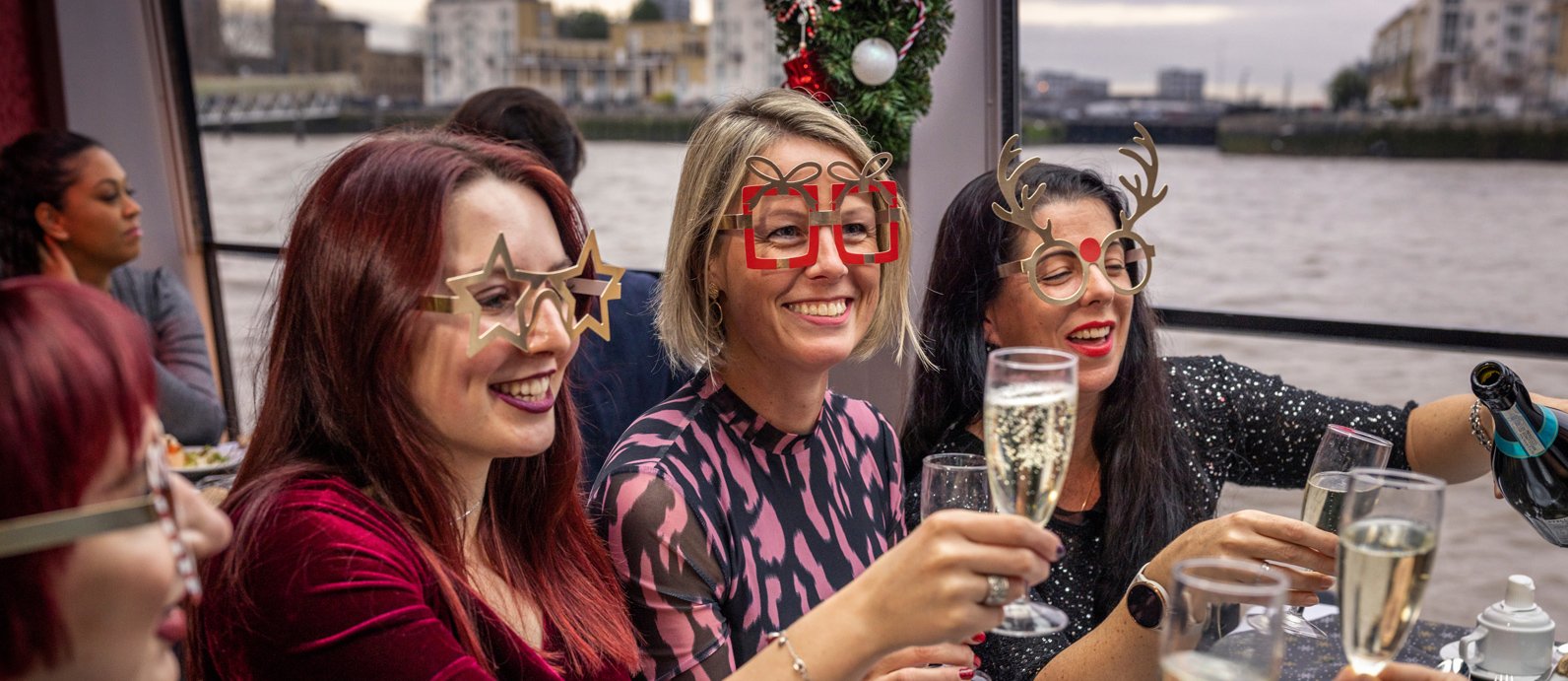 London Christmas Private Hire
Looking for a memorable way to celebrate this festive season in London? Look no further! City Cruises invites you to embark on a magical journey along the iconic River Thames, where you'll create and evening you won't forget! Immerse yourself in the spirit of Christmas with live onboard entertainment, delicious food and a private space to celebrate the season – whether you're planning an intimate family gathering, a festive office party, or a romantic escapade, our private hire packages can be tailored to your preferences..
Vertel ons over uw evenement
Na het indienen van het formulier ontvang je een offerte op maat van een ervaren Account Manager die past bij de visie van jouw evenement.
Corporate & Company Christmas Parties

Dazzle your employees or clients this Christmas on board one of the most unique Christmas party venues in London. Our dedicated private hire specialists work with you to deliver a truly unique and unforgettable festive event, with a range of options on food, drinks and entertainment, that will take your Christmas party to the next level!

Private Christmas Parties

Host a festive celebration that will simply stun, delight and have friends and family talking about your Christmas event for years to come! Our specialists work with you to find the right vessel, catering, and entertainment options, to make your festive event truly one of a kind. Enquire today to secure your magical festive event on the Thames.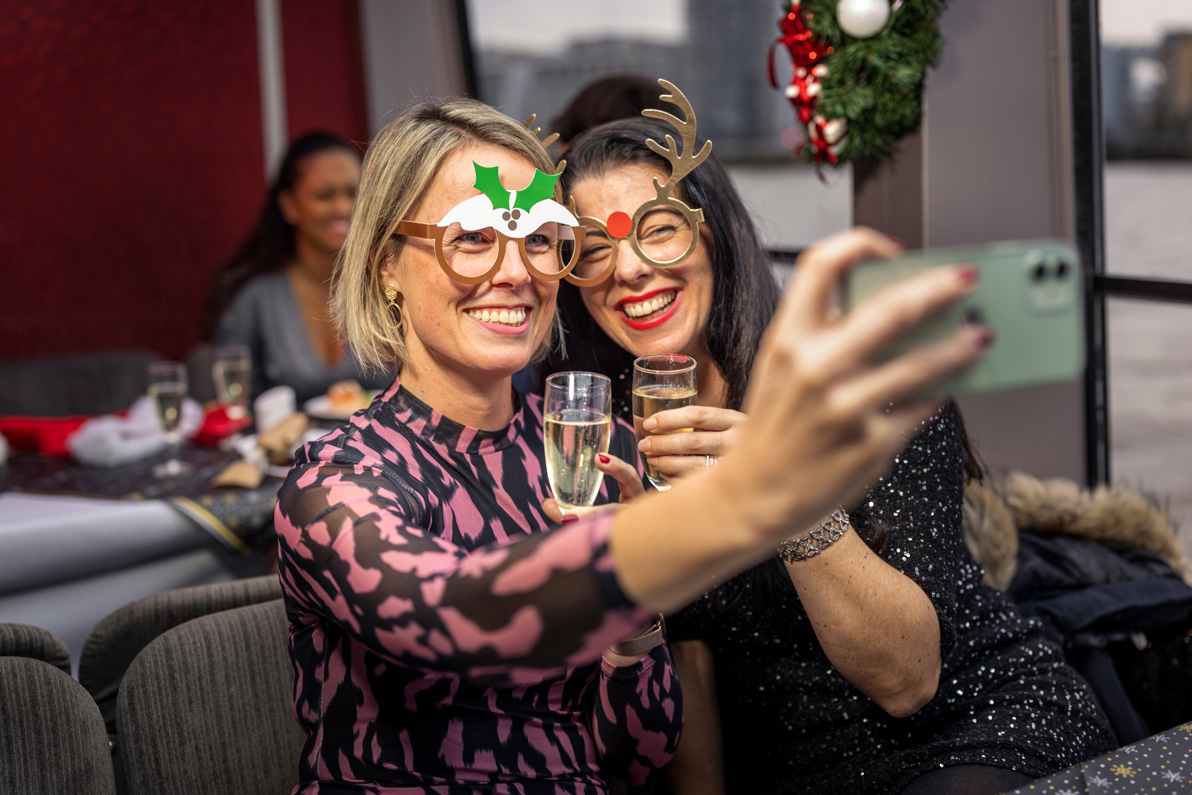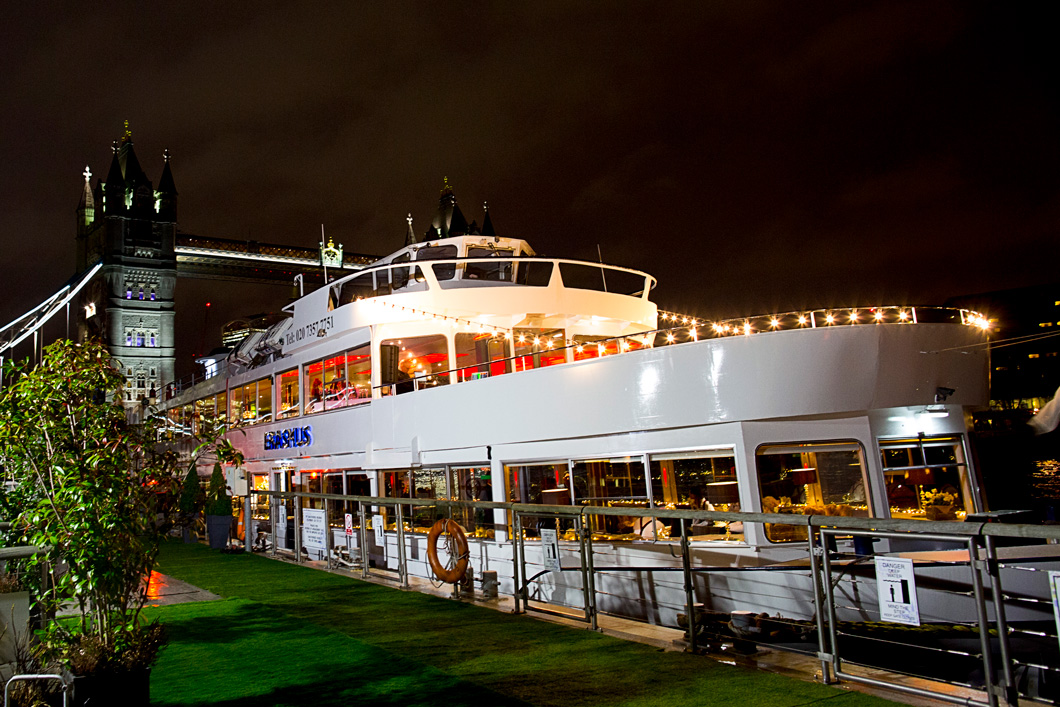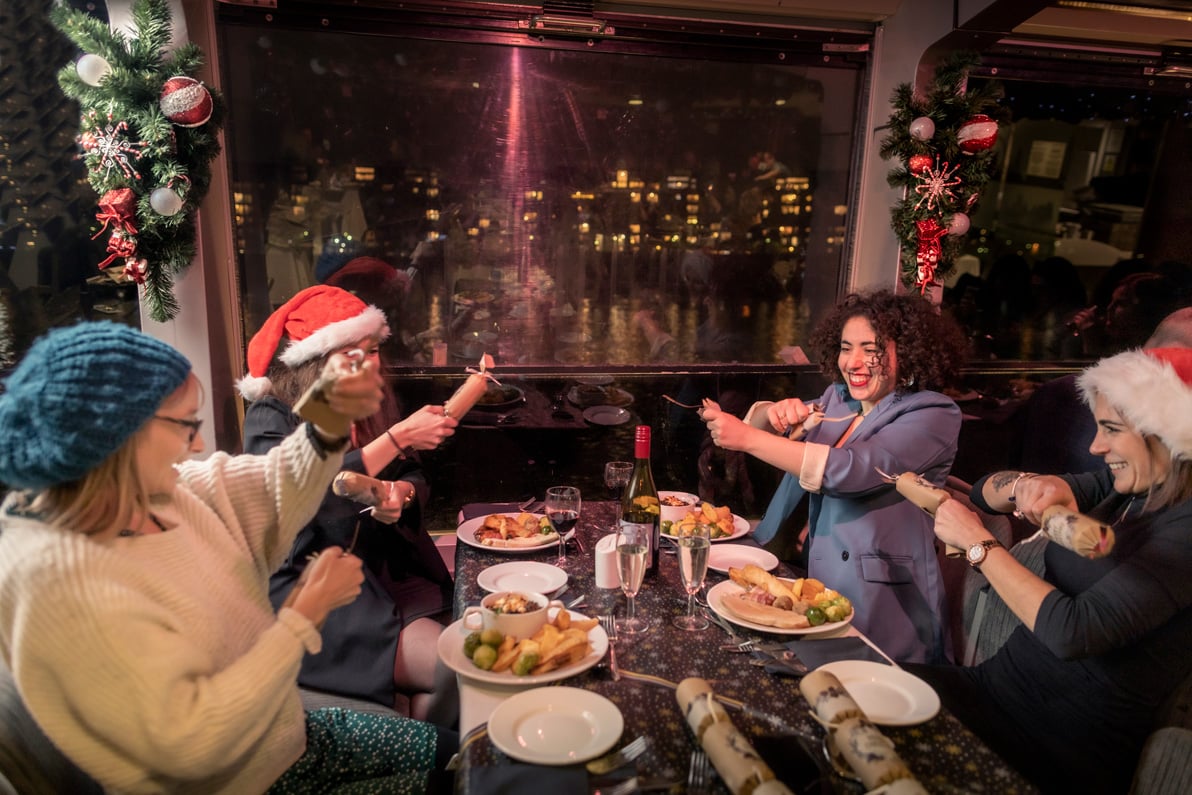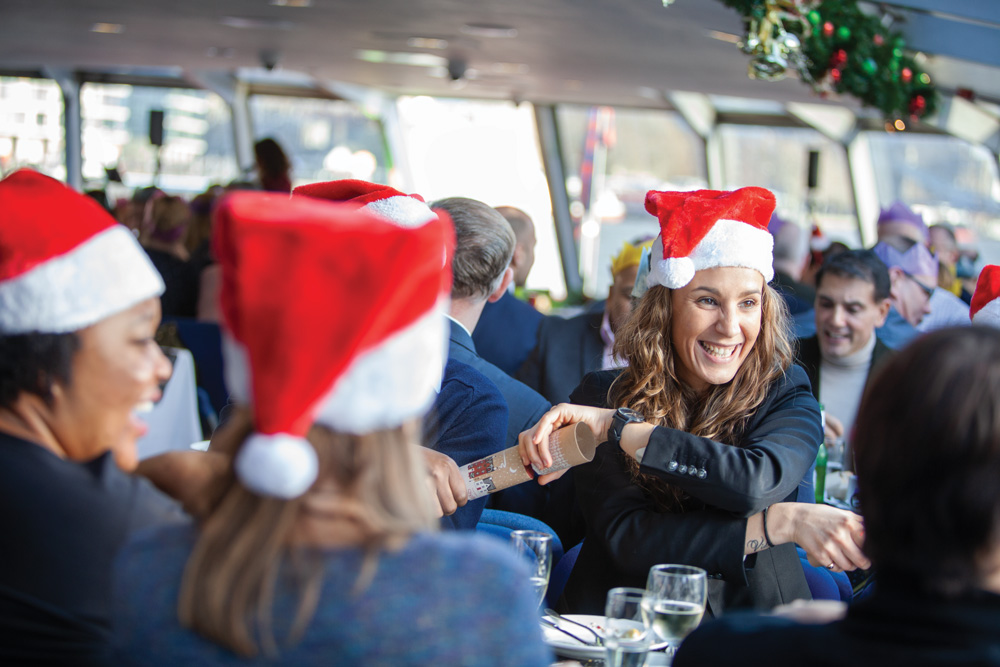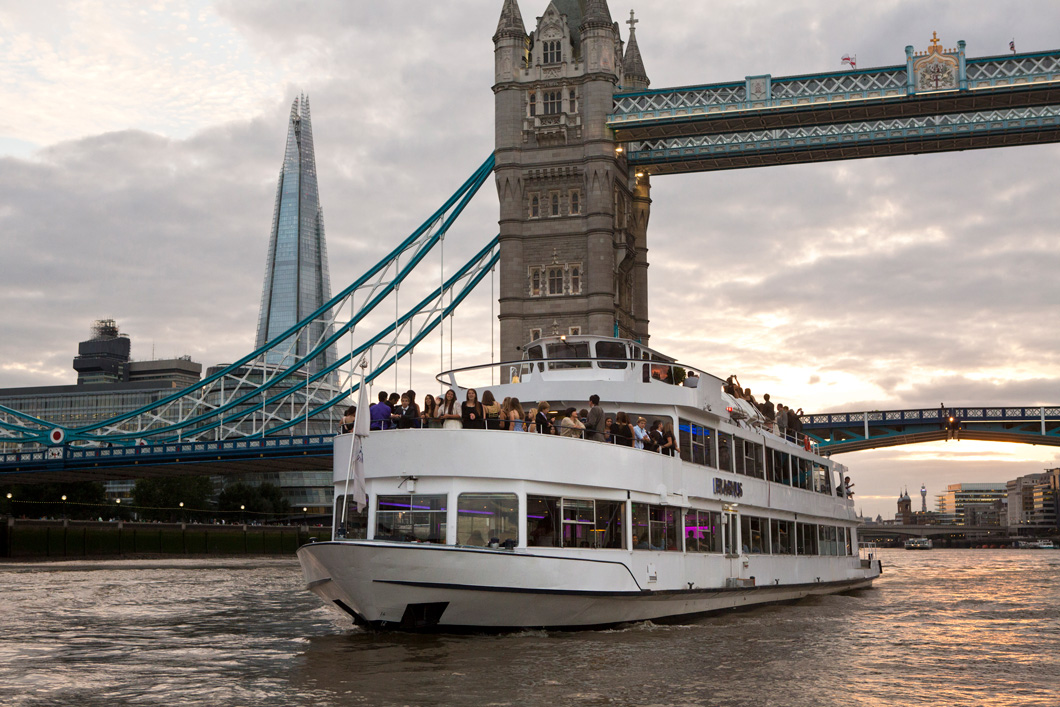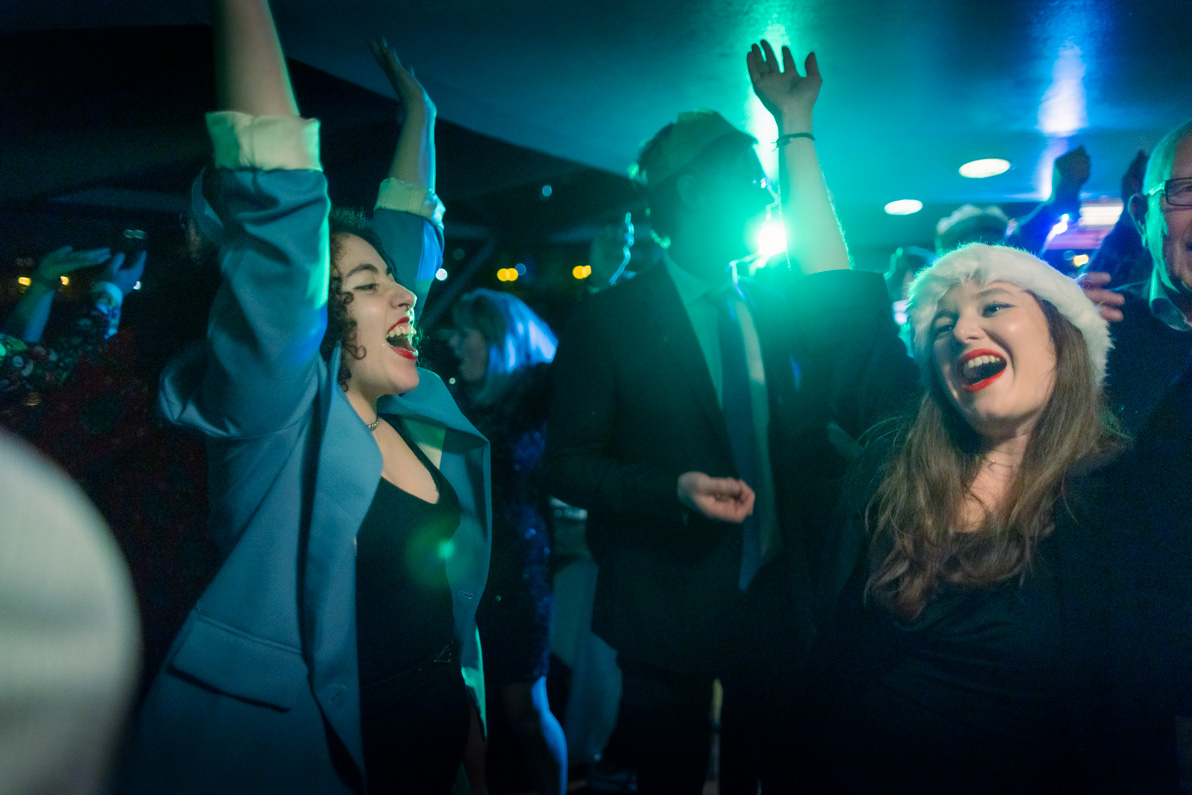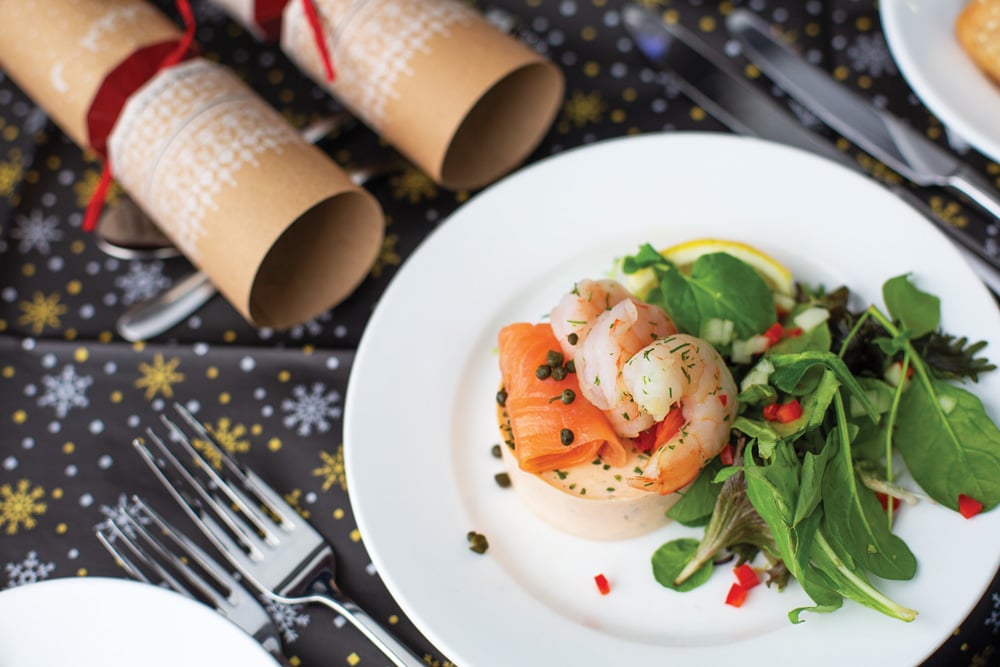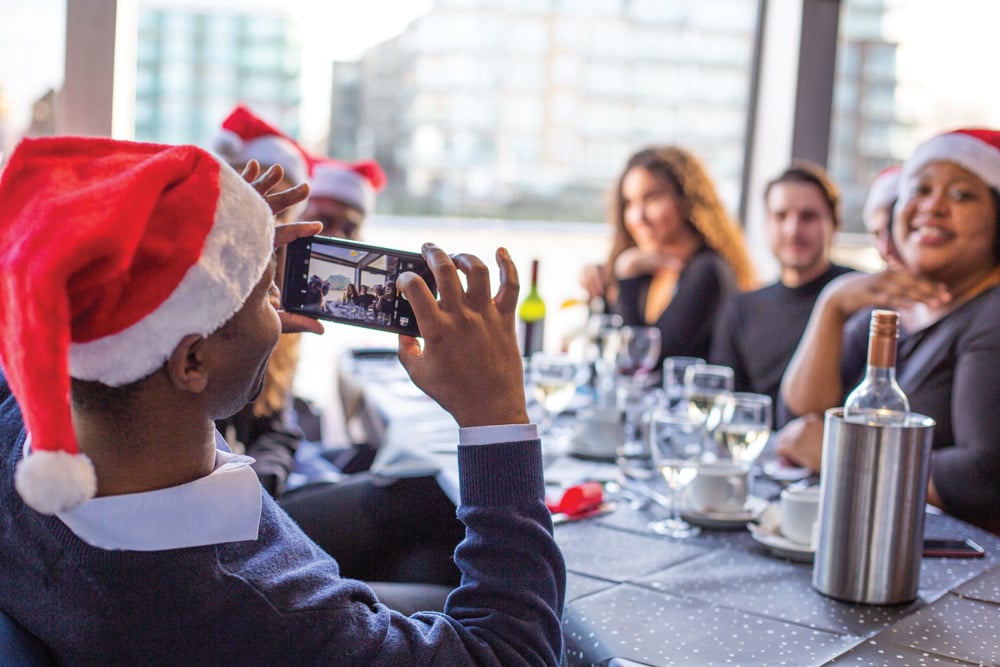 More Christmas Tours & Experiences
Corporate and Private Christmas Venue Hire FAQs
How many people can our Christmas party venue accommodate?
Our fleet of vessels can accommodate parties from 1 to 250 people depending on the style of event and boat availability.
Do you offer Christmas party packages?
We do offer Christmas party packages, combining private venue hire of one of our vessels, drinks, food, and entertainment. Complete our enquiry form for a tailored quote.
How much does your Christmas party venue cost to hire?
Our private venue hire rates start at £1,400, which covers the cost of hiring one of our vessels. In addition to this you can then add, food, drinks, and entertainment packages to make your Christmas event one to remember! We also require minimum spend on certain dates during Christmas.
Waar gaat de Londense privé bootverhuur heen?
Our private hire cruises in London will take you and your guests from your chosen embarkation pier, up and down the river so you can see all the sights of London and then will drop you back at your chosen disembarkation pier. Our unique Christmas event venues (our exclusive fleet of river boats) would typically cruise to Greenwich, through the City to Westminster, but may go further depending on timings and river tides. Meaning your event will have landmarks like, the O2 arena, the London Eye, Tower Bridge, the Shard, Big Ben, HMS Belfast, and the Houses of Parliament as the backdrop to your private Christmas event.
What sights will I see on my private Christmas event in London?
Typically guests can expect to see Westminster Abbey, Big Ben, The London Eye, Tate Modern, St. Paul's Cathedral, Shakespeare's Globe, The Shard, HMS Belfast, Tower of London, Tower Bridge, the skyscrapers at Canary Wharf, Cutty Sark, Greenwich, and The O2 London. All depending on the timings, tides and where you embark/disembark.
How long is a private London charter boat cruise?
Our average exclusive Christmas party or event hire in London would be for 4 hours. 4 hours is the minimum hire rate, or you could cruise for longer at an additional cost. Shorter cruises are possible, but chargeable at the minimum rate.
Wat is het maximum/minimum aantal gasten dat we aan boord van jullie Londense privéboot mogen hebben?
Je kunt tussen de 1 gast en 300 gasten aan boord van je privé boot huren op de Theems hebben. Afhankelijk van je aantal gasten en wensen, kunnen we je privé boot huren op de boot die het beste bij je past.
Do your boats have an outside deck?
Yes, all our boats available for private Christmas events in London have outside decks so you can get some fresh air and see the beautiful sights of London. Some London charter boats have completely open spaces, some have fixed seating, and some have outdoor furniture. We can discuss which suits your Christmas event best.
Are kids allowed on board private London Christmas parties?
Ja natuurlijk! Ze moeten alleen wel begeleid worden door een volwassene.
Can we have Christmas or festive decorations on the London charter boat? Yes of course!
You can decorate your Christmas party boat in whichever way you wish, ie. Balloons, banners, flags, bunting etc. However, some items are not allowed such as glitter, confetti, small streamers or open flames such as candles.
Is de Londense charterboot rolstoeltoegankelijk?
We do have wheelchair accessible vessels. If you have any accessibility requirements, that's no problem just let us know and we can arrange to provide most suitable boat for you.
Which pier can we embark/disembark our Christmas event at?
You can embark and disembark at whichever pier you like (subject to availability and is tide dependent). The most popular piers we use are Westminster Pier, London Eye Pier, Blackfriars Pier, and Tower Pier. Depending on where you are based or which area of London you will be in, we can work with you to advise on which pier would be best for you.
Kunnen we onze Londense privé bootverhuur tot na 23.30 uur laten doorgaan?
Yes, your corporate or private Christmas event can go past 11:30pm. There will be a late finish surcharge applied. Submit your enquiry today and we can discuss the specifics.
Zijn alle dieetwensen mogelijk?
Yes, do we cater for a number of dietary requirements, including gluten free. The only dietary requirement we wouldn't cater for would be Kosher. If you would like Kosher meals please speak to our friendly sales team. We would need to know the dietary requirements no later than 7 working days prior to your event.
Heb je ook vegetarische en veganistische opties?
Yes, we have vegetarian and vegan options across all of our menus. If you see a dish on our menu that isn't vegetarian or vegan, we can discuss it with our talented chefs and see if we can make them vegetarian or vegan.
Eten jullie halal?
Ja, al ons eten is halal, behalve de gerechten met varkensvlees.
Can we bring our own food and drinks on board our Christmas party?
If your event is off peak, you may be able to bring your own food onboard. This would need to be with a licensed caterer, and we would need to discuss their requirements and see proof of insurance. You wouldn't be able to bring your own soft drinks or alcohol. The only exception would be for specialty drinks we cannot supply. There will be a corkage fee in these cases.
Wanneer moet je de definitieve cijfers weten?
We moeten de definitieve aantallen minstens 2 weken voor het evenement weten.
Wanneer heb je de laatste betaling nodig?
We would need final payment at least 2 weeks prior to your festive event also.
Sta je evenementen met tickets toe?
We staan geen evenementen van derden toe waarvoor tickets worden gepromoot. Als het evenement als zodanig wordt beschouwd, kan het op elk moment worden geannuleerd, ook tijdens het evenement.
Is roken toegestaan op de Londense charterboten?
Yes, we allow smoking on board London private hire boat in the designated outdoor smoking areas only.