Chicago is our kind of town. It's exciting, entertaining, architecturally distinctive, and bold with true Midwest charm. It's a city with a rich history, numerous attractions, defining skyscrapers, a vibrant arts and music scene, restaurants offering mouthwatering cuisine, and, of course, that deep-dish pizza. People from all over the world visit the Windy City for all of the above and because it's simply one of the country's true hot spots for tourists.
This city is also home to many small and large companies; many top companies have their headquarters in Chicago. "There are close to 100,000 different businesses licensed in the City of Chicago as diverse as retail or grocery stores, bars, restaurants, public vehicles, taxicabs, manufacturing and industrial plants," according to the City of Chicago. Companies often need an event venue for holiday parties, where it's not just about celebrating, but about reconnecting with employees.
Chicago Holiday Parties and Events with City Cruises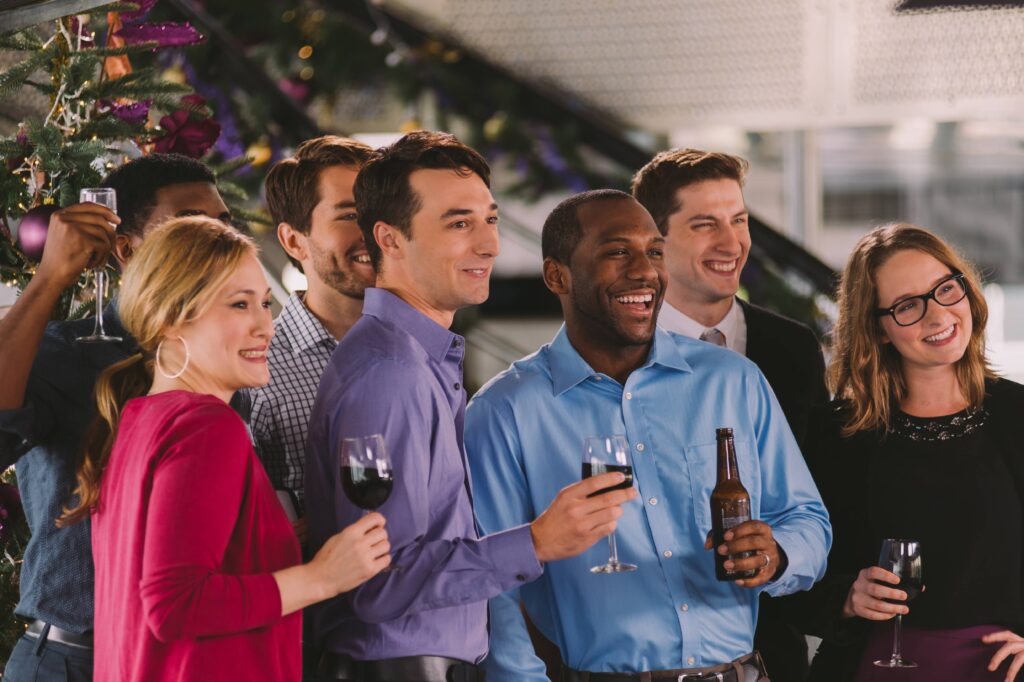 Companies looking for unique company holiday party venues should look no further than City Cruises and Chicago Feestdagen. There's no better time than holiday get-togethers to reconnect with employees and build team morale while also relishing the magnificent views of the iconic Chicago skyline.
City Cruises offers all-inclusive packages that are easily customized for your company's party size as well as your budget. Your guests will love the chef-prepared menu options, full-service bar, and distinctive hospitality in the climate-controlled interior and open-air outdoor decks offering amazing views from the water.
Holiday party cruises include:
Tables, linens, flatware, and chairs
Event manager, stewards, captain, and bartenders
Freshly prepared cuisine
Cash or hosted cocktail and wine bar
Customizable entertainment and photography
Packages include a two-hour signature lunch cruise, three-hour signature dinner, private charter (choose lunch, cocktail, or dinner cruise), two-hour premier lunch, three-hour premier dinner, and two-hour premier cocktail.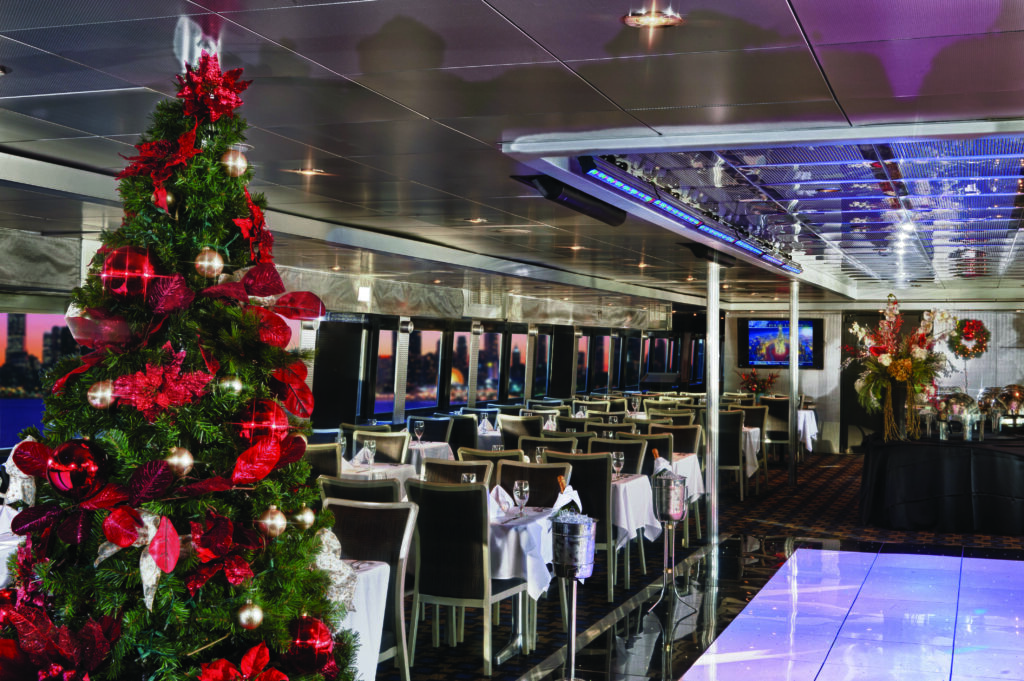 Have Your Next Corporate Event on the Water
Chicago is big on business so your company should do it up right with its next corporate event. Everything companies need for the perfect corporate event can be found at City Cruises'  Chicago Corporate Events on the Water.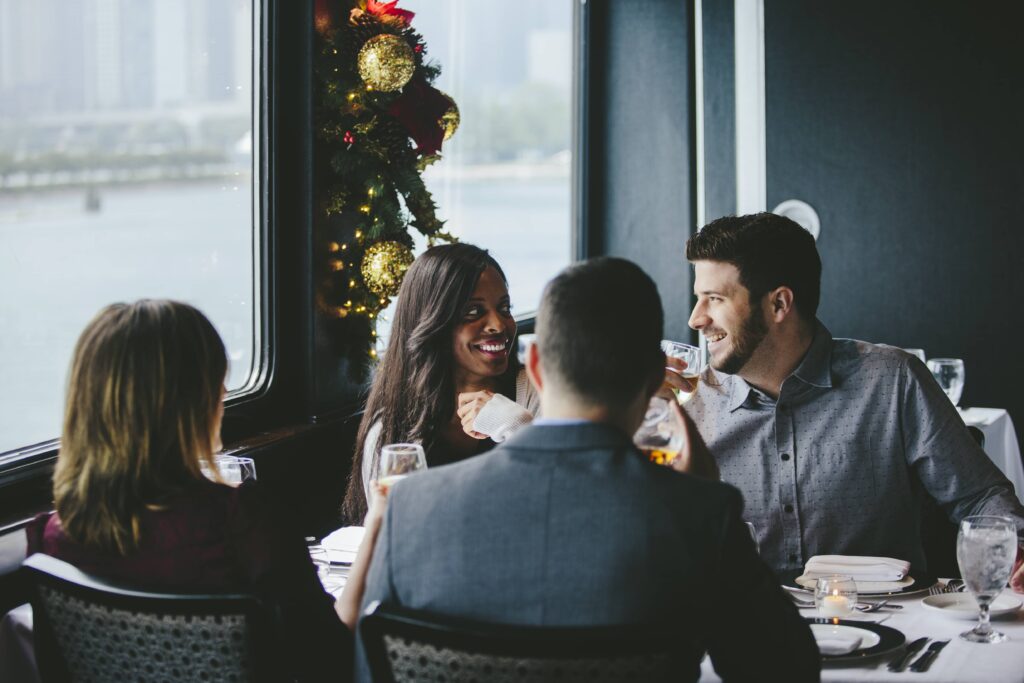 Why not host your next event aboard a unique floating venue on the water that offers spectacular views of the iconic skyline of the Windy City? You and your employees will experience Chicago like never before, from Lake Michigan or the Chicago River where the views of Chicago's architecture are stunning. The famous skyline is the perfect backdrop for any corporate event.
City Cruises has a host of offerings for your next corporate event including chef-prepared menu options, full bar service, and all-inclusive packages customized for the number of people in your party and your budget. Whether you are hosting an employee outing, having a meeting or special event, booking a holiday party or even entertaining guests, City Cruises is perfect for your needs. Hospitality is No. 1 at City Cruises and guests will feel it from the minute they board. They will also enjoy the climate-controlled interior and the open-air outdoor decks to watch the views.
If you're entertaining clients, City Cruises is the perfect way to show them a different side of Chicago by impressing them with dinner, drinks, and a view of the city like they've never seen. Your clients will experience Chicago from the water in a totally new way in a unique venue. Our all-inclusive packages, hospitality, and chef-designed and prepared menus are perfect for toasting the close of a business deal, entertaining new clients, celebrating a product launch, or hosting a business meeting.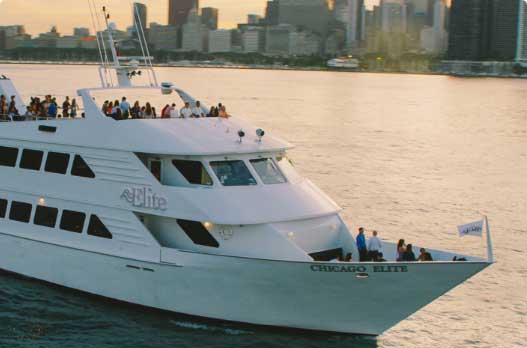 Employee outings on the water in Chicago are the perfect way to bring everyone together. You can host your next employee outing or celebration on one of City Cruises' unique floating venues while indulging in the views of Chicago's breathtaking skyline. Your employees will enjoy an unforgettable dining experience featuring customized menus. We offer all-inclusive packages for outings including team-building experiences, summer outings, company cocktail events, retirement celebrations, and holiday parties.
Meetings and events can be exciting. Say goodbye to the typical stuffy meetings by taking your team on a City Cruise floating venue for a business experience that's different from any other business meeting setting. You will all be on the water with amazing views of Chicago as your backdrop. Everyone will be thrilled with the chef-designed menus, extraordinary hospitality, and climate-controlled interior and open-air outdoor decks. It's perfect for company celebrations, post-meeting dinners, product launches, conventions and tradeshows, and sales summits.
Chicago's Fleet for Your Next Company Event
When in Chicago and planning that business itinerary on the water, there are many venues from which to choose. Explore Our Chicago City Fleet to find a venue that's perfect for your corporate event.
The Odyssey Lake Michigan is a four-level dining vessel featuring three interior climate-controlled dining decks and two exterior observation decks, with a capacity of 749. Choose from the Topaz Deck for dinner and views, Sapphire Deck for elevated views and a dance floor and bar, Amethyst Stern and Amethyst Bow for an intimate cruise with a private bar and upper-level views of Chicago's skyline, and the Observation Deck where you can head topside for the fresh air and stunning views of Chicago.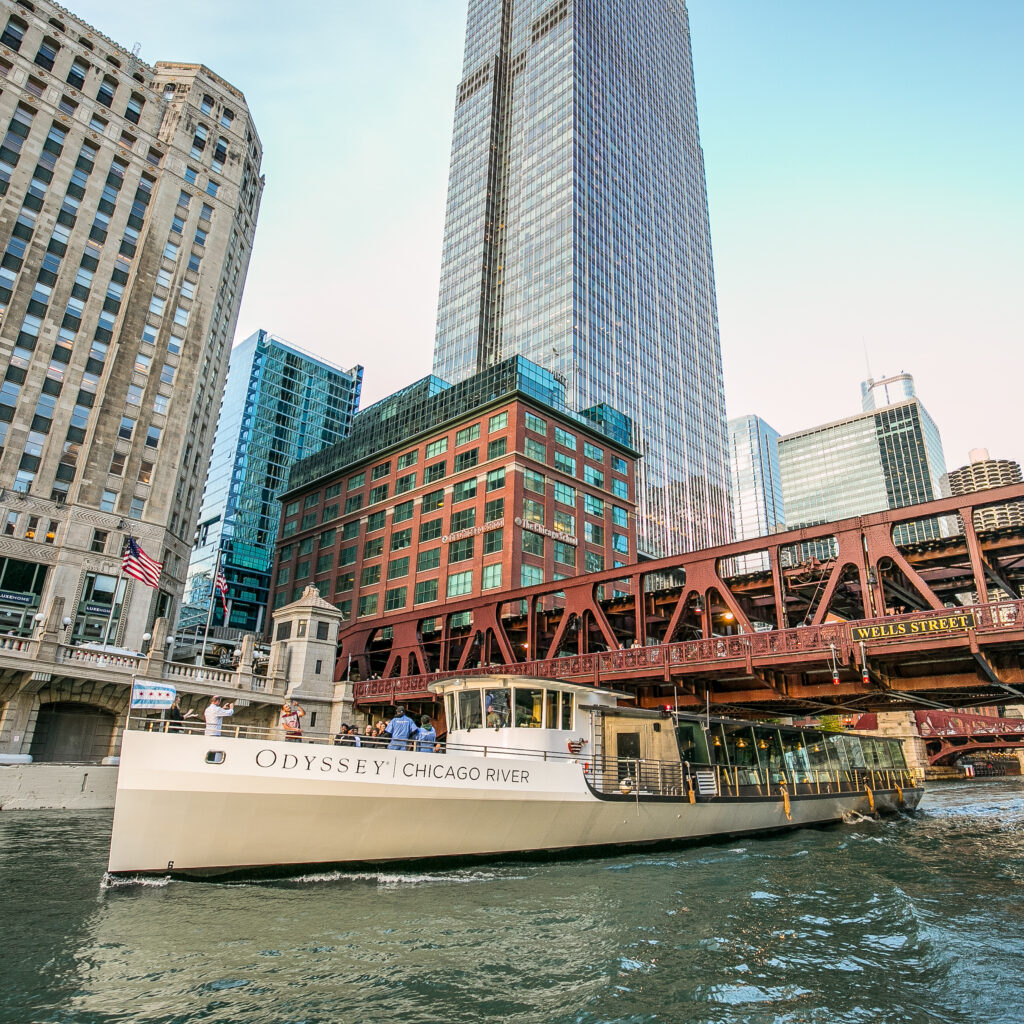 With a capacity of 200, Odyssey Chicago Rivier is a single-level climate-controlled, glass-enclosed dining vessel that will take your guests cruising on the Chicago River. Guests will enjoy elegant views of Chicago's landmark architecture.
The Spirit of Chicago holds up to 600 people. This four-level dining vessel has three interior climate-controlled dining decks and two exterior observation decks. Fiesta Deck is an atrium-style deck that is a dining deck with outdoor access; the Jubilee Deck is another elegant dining deck with outdoor access; Celebration Deck offers an atrium-style second story, elevated views, and access to the dance floor. The Observation Deck is the perfect spot to sit back, relax and enjoy the breathtaking views of Chicago.
Check City Cruises newest four-level dining vessel called the Spirit of Navy Pier has three interior climate-controlled dining decks and two exterior observation decks. Enjoy an outing from the Horizon Deck, Escapade, or Vista Deck. Spirit of Navy Pier can hold up to 500 guests.
Contact City Cruises Today for Your Next Chicago Holiday Party!
City Experiences has everything you need in Chicago for your company holiday party, event, outing, or business meeting on the water. The perfect water venue coupled with spectacular views of Chicago, along with the perfect dining experience and fine hospitality are the added touches. Ready to book your private event? Fill out this form and one of our event planners will contact you!