New York City mag dan bekend staan om zijn torenhoge wolkenkrabbers, Broadway-theaters, bruisende trottoirs en de beste pizza's en hete pretzels, naast vele andere dingen. Maar het is ook een van de meest romantische steden ter wereld.
Daarom moeten jij en je geliefde jullie speciale, romantische Valentijnsdag plannen in de stad die nooit slaapt.
Whether you're flying or driving in from out of town or a diehard New Yorker, make sure to start planning. With so many choices, you'll want to get a jumpstart on everything Valentine's Day in New York City. So do a little thinking outside of the heart-shaped candy box, and really wow your partner with an experience they won't forget.
Vaste waarden voor Valentijnsplezier in New York City
Pak je schaatsen of huur ze in het Rockefeller Center. De ijsbaan is iconisch. Hoewel het tijdens de feestdagen een hotspot is om te schaatsen, neemt de drukte na begin januari af. Valentijnsdag is dus het perfecte moment om kaartjes te kopen. In februari is het misschien wat frisser, maar je kunt hand in hand met je partner over het ijs glijden, overdag of onder de nachtelijke hemel van New York met het waakzame oog van de gouden Prometheus boven je.
Feel like having some indoor fun? When was the last time you went bowling? No matter how long it's been, it's time to get out the bowling shoes and dust off the ball because bowling is again all the rage. And it makes a perfect date for Valentine's Day. If you don't have the equipment, no worries. Head on over to Bowlmor Chelsea Piers; they have everything you need. Whether you're a bowler who throws many strikes or some gutter balls, it's sure to be a blast, especially with some tasty bites and drinks, and a little romance in between games.
Baby, it's cold outside, but there's nothing that compares to riding up to the top of the Empire State Building. If you've never been to the top of the "World's Most Famous Building," now is the perfect chance for you and your Valentine's date.  Check out the observatories and exhibits before you journey to the top to catch a kiss with your loved one. Reservations are required.
Whether you're a New Yorker or just visiting, tour Grand Central Terminal. This place is New York, and you'll learn all about its history, architecture, and how it was saved by none other than Jacqueline Kennedy Onassis and eventually deemed a landmark. Your English-speaking tour guide has lots of secrets to unveil about this truly historical and magical gem of New York, plus you and your Valentine can ask questions to find out more.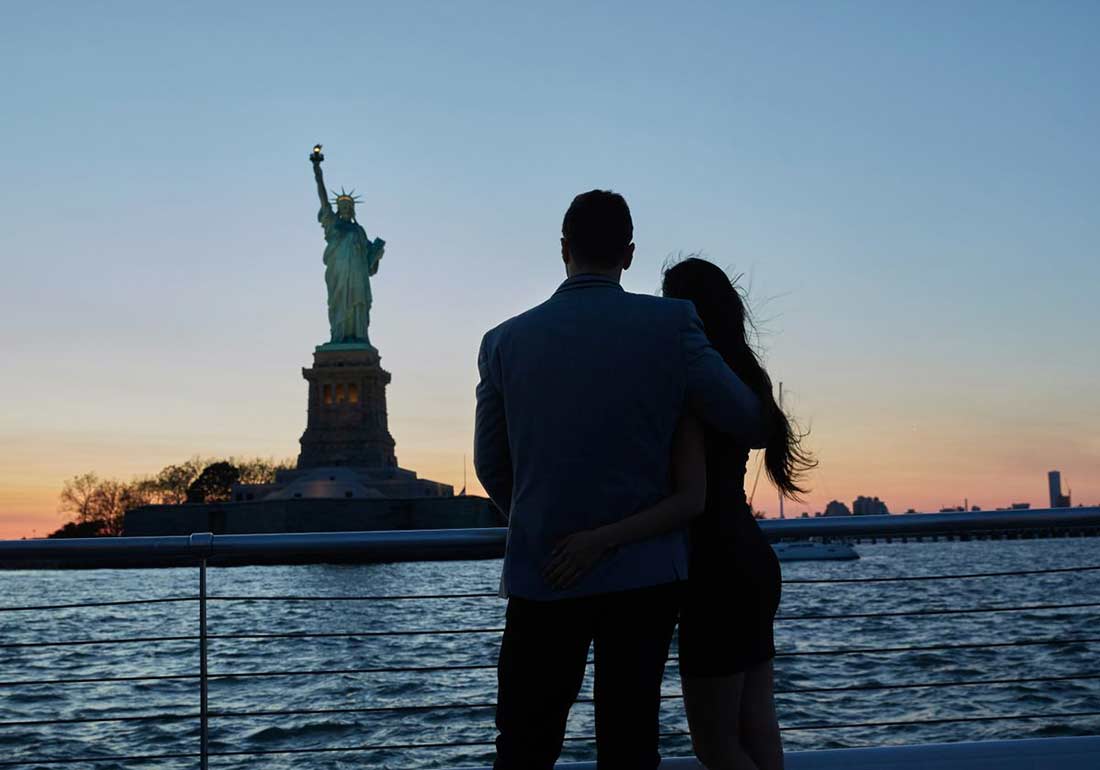 Zorg voor romantiek
Transport yourself to another era at the TWA Hotel at JFK Airport in Queens, only 12 miles from midtown Manhattan. The hotel, which opened in 1962, was originally the TWA Flight Center at the airport and was designed by architect Eero Saarinen. "No matter where you stand in the 392,000-square-foot TWA Hotel today, Saarinen is right there with you," says Curbed. "For starters, Chili Pepper Red—the fiery hue he developed for the Flight Center—is everywhere, from the upholstery in the Sunken Lounge to the hallway carpeting in the hotel buildings." The red makes it perfect for a romantic Valentine's getaway night with a 1960s flair. Check out the Twister Room, an entire space to play the 1960s game.
Before the night is done, head over to the McKittrick Hotel. Here you'll find The Hideout at Gallow Green, a rooftop bar and restaurant that is one of New York City's divine secrets.  "Prepare to be transported to the magical mountainside of the French Alps with blankets and plush sheepskin accents at this winter hideaway," says Secret NYC. "Guests will enter through a forest of pine trees upon arrival that will lead them to the cozy little escape from the hectic city streets." Enjoy everything from hot cider to spiced wine as well as comfort foods.
Romantisch dineren a la Valentijnsdag
Een intiem diner wacht op u en uw date bij Kyma. "De klassieke Griekse smaken in dit Flatiron-restaurant geven u en uw date het gevoel alsof u zojuist een romantische taverna op het eiland Mykonos bent binnengestapt," aldus Time Out magazine.
Maak je klaar voor wat romantiek op het water en neem de New York Signature Valentine's Day Dinner Cruise met je speciale iemand. Een diner, cocktails met op de achtergrond de skyline van New York en entertainment. De drie uur durende cruise biedt drie verschillende pakketten - kom meer te weten en schrijf je hier in voor de tickets.
Just imagine how impressed your date will be when they are boarding a New York City Signature Brunch Cruise Pier 15! Dazzle them with magnificent views of the city and a chef-prepared buffet. The backdrop of famed landmarks like the Statue of Liberty, the Empire State Building, and the Brooklyn Bridge will put you in a New York state of mind. Get nice and cozy with open-air roof decks and dance along to DJ music and unlimited mimosas.
If you're romancing on a budget, try taking your sweetheart on a Statue of Liberty & Liberty Island Guided Tour. If you are a native New Yorker or visiting the city, this experience will be unexpected and will make you fall in love with New York for the first time or all over again. On this tour, you will see the famed NYC skyline with beautiful views of the harbor and Lady Liberty with your local expert providing you with stories to hear history come alive.
There's always something special to do in New York City for Valentine's Day. From outdoor daytime activities to a romantic dinner spot that is hidden away, New York brings love.
FAQ
Is New York a good place to spend Valentine's Day?
To get the sparks flying, New York is a fabulous choice for Valentine's Day. The city offers a bevy of choices, including romantic cruises or sightseeing tours, indoor and outdoor activities, and fabulous restaurants to choose from.
Is it expensive to celebrate Valentine's Day in New York?
Although New York is known to be pricey, there are many options if you are on a budget. Taking a guided tour on the water won't break the bank and it will be both romantic and fun. February is also a good time because the hotel prices are lower, and the crowds are smaller.
What is New York like in February?
The weather in New York will be slightly warmer in February than in January, but still pretty chilly (the average temperature is around 42 degrees) so make sure you are prepared. There is plenty to do indoors when it's cold or take advantage of the cold weather and partake in outdoor activities like ice-skating where it will be less crowded than the holidays.