Getting to experience Norfolk in all its glory doesn't have to be difficult—and hosting an unforgettable event doesn't have to be either. In fact, you can accomplish both with ease when you book with City Cruises because Norfolk yacht charters and yacht rentals are our specialty. Booking private boat charters and boat rentals are a breeze with us, and you can also customize the outing to fulfill all of your specifications. No matter what the occasion, when you combine customization, amenities, and the breathtaking views of the local area, you'll have the foundation for something magical: an event where everyone is enjoying themselves, and where guests are making memories that will last a lifetime.
What to Expect on Your City Cruises Yacht Charter in Norfolk
When you charter a yacht with City Cruises, you don't have to worry about big expectations—because we'll meet them in spades. Why are we so confident? There are a number of reasons. First off, we have a gorgeous fleet of vessels to choose from that are not only some of the biggest and most elegant boats on the water but are also the best in class. Second, we can customize your event in any way you want us to. Third, amenities, amenities, amenities…these include all-inclusive packages, chef-prepared menus, entertainment catered to your desires, and full-bar options. Your event could be a birthday, holiday party, social outing, wedding, corporate or educational gathering, it doesn't matter! We're bound to have a craft that can accommodate your guest list and budget.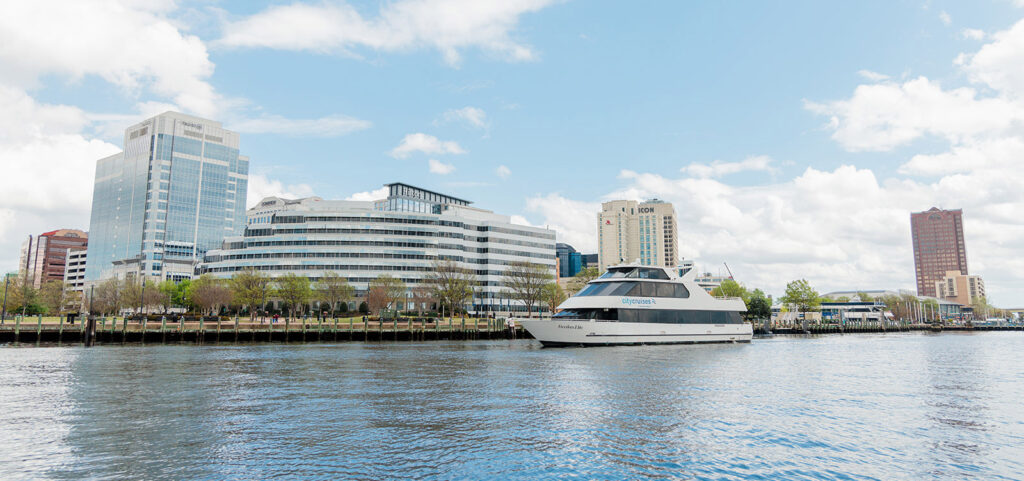 Why Choose City Cruises for Your Norfolk Yacht Charter
With two beautiful vessels in the Norfolk city fleet, it's not whether or not you'll book a yacht charter or rental—the issue will be which boat! Depending on capacity and preferences there are a few options to consider. Let's start with the Freedom Elite (capacity 80), a high-end private yacht that features complete customization with its open-air lounge deck. On the first deck you'll find a spacious dining room complete with bar and dance floor; on the second there's a bar with lounge deck with access to partially concealed open-air observation area. Next is the Spirit (capacity up to 400), a three-level dining craft with two climate-controlled dining decks within its interior and three exterior observation decks. This boat also has a main deck (the Potomac) ideal for meals and events, and the Delaware deck with a large dining room that includes a bar and dance floor. In addition, the most picturesque views of Norfolk can be viewed topside on the Spirit's roof deck.
Experience Norfolk Like Never Before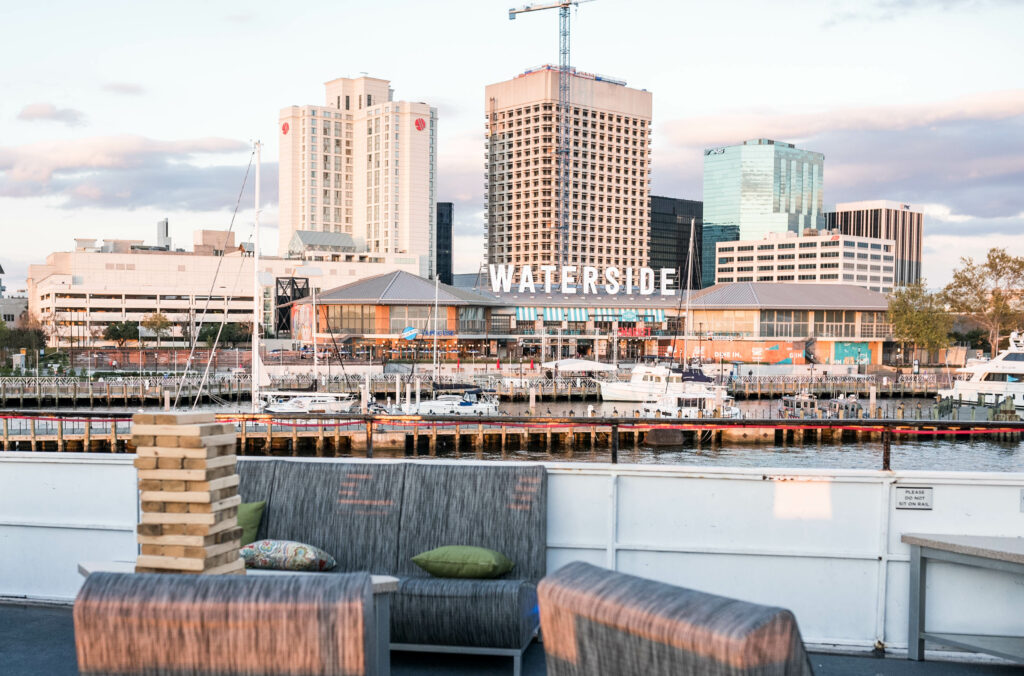 Made up of just 66 square miles, the city of Norfolk provides visitors with a lot of things to see, do, and experience. From seven miles of beachfront on the Chesapeake Bay to the home of the world's largest naval base and the USS Wisconsin battleship, Norfolk is a city that offers numerous attractions and a spectacular skyline. While it's downtown area is bustling, the water is the best location to immerse yourself in the environs as you cruise, dine, and/or dance traveling down the Elizabeth River. As you do you'll be able to catch city landmarks such as the Navy's Atlantic Fleet—plus area architecture.
How to Book Your Norfolk Charter with City Cruises
Now that you know what you can look forward to, the question remains: How do you book a yacht charter with City Cruises? The answer: Pretty easily. Just fill out this form and an event planner will contact you!
Contact City Cruises Today!
Yacht life is something we all dream of experiencing at least once in our lives and hosting an unforgettable event (no matter what the occasion) is also something on our bucket list, so why not combine the two? It's easy to do when you book a private yacht charter with City Cruises. You and your guests will experience Norfolk in an innovative way that can't be duplicated elsewhere. Plus, our excellent fleet of ships, host of amenities, ease of booking, and customization capabilities make traveling in style simple to do. All it takes now is deciding on a date and time. Otherwise, we're ready when you are—so all aboard!