Celebrated as the birthplace of America, Philadelphia is a popular destination for travelers from all corners of the globe. It's also a city that residents love to live and work in. While corporate events in the City of Brotherly Love may happen all the time, finding the ideal spot where to host corporate events in Philadelphia isn't always easy. Although hotels and restaurants are often popular places that companies seek out to host their events, they aren't really the answer to the question of, "How to come up with fun corporate event ideas in Philadelphia?". And that's where City Cruises comes in!
As a Philadelphia corporate events venue, we offer so many benefits it's tough to know where to start. Not only do our outings feature breathtaking skyline views, but we also provide numerous amenities, customizable packages, and exquisite vessels for any occasion. Because a boat is such a unique event venue, choosing City Cruises is bound to impress every guest.
Philadelphia Corporate Event on the Water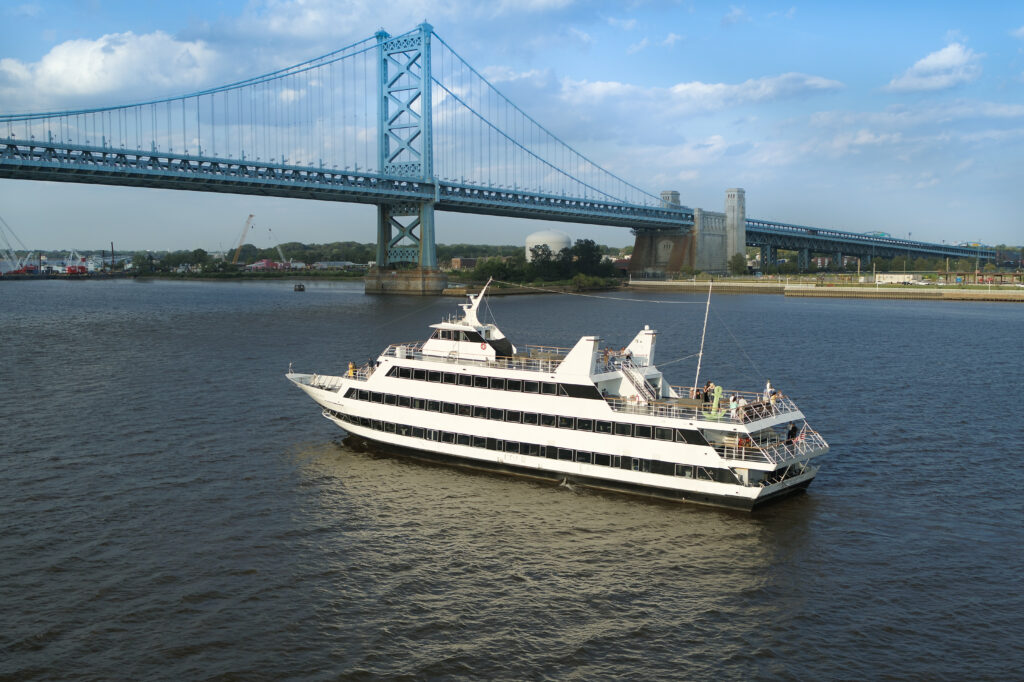 The idea of a floating venue is a novel idea for any gathering—specifically a corporate one. The usual locations of these outings can be lackluster spaces (or even worse, an office conference room!) that don't showcase any views, let alone the spectacular landscape of the Philadelphia skyline. These exceptional views, coupled with City Cruises' flexible packages and amenities, give attendees a memorable experience and the chance to bond with co-workers in a relaxed and inviting environment. There's little chance of conversations becoming stagnant when the vessel is in motion, and because the setting is so soothing, it can help boost morale and foster communication, conversations, and connections.
City Cruises: Event Experts in Philadelphia
When it comes to the corporate events City Cruises can accommodate, the sky is literally the limit. Whether it's employee outings or corporate meetings, client entertainment or special events, a trip with City Cruises Philadelphia elevates every experience. Most of all, holiday parties are especially festive and fun. Plus, with the breadth of amenities City Cruises has to offer, gatherings are automatically elevated. From chef-prepared menu options and full bar service to a selection of activities, entertainment, and music on board, every company can design an event with their guests in mind. And because the views are such a huge part of the overall experience, climate-controlled interiors, and open-air outdoor decks are the best way to take everything in, even in the winter.
The Benefits of Using City Cruises to Host Your Philadelphia Corporate Events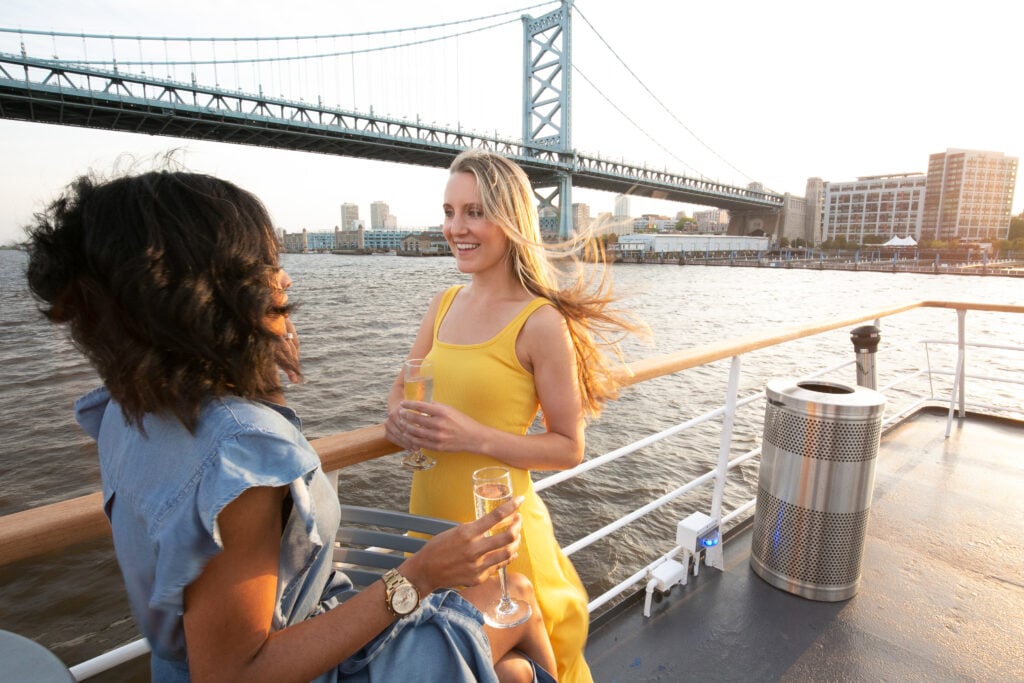 The benefits of hosting corporate events with City Cruises are plenty—that's why more companies are looking into our offerings. Not only are the experiences unforgettable in terms of the sights guests get to see and the amenities we offer, but tailored packages are also available with a range of different budgets, meaning that event planners can cater the experience to all of the company's needs and wants. Add to that the outstanding hospitality our staff provides, and you have the makings of an amazing event.
City Cruises Philadelphia Fleet of Vessels
As the country's first World Heritage City, Philadelphia offers everyone a chance to travel through time. Its historic waterfront and skyline as seen from a trip down the Delaware River provides picturesque views of its glorious architecture, beautiful landscape, and area surroundings. Additionally, when you explore our Philadelphia city fleet, you'll find luxurious vessels that are known for their exceptional amenities and style, which ensures that every guest travels in comfort—something unique to the usual corporate event experience. A City Cruises' outing is a rare opportunity to experience the City of Brotherly Love in a way most people never get to. That, in turn, makes the outing even more special and memorable. Because being on the water is so different from an office environment, employees feel more at ease, so conversations can flow at a pace that feels less pressured and people can enjoy spending this time together.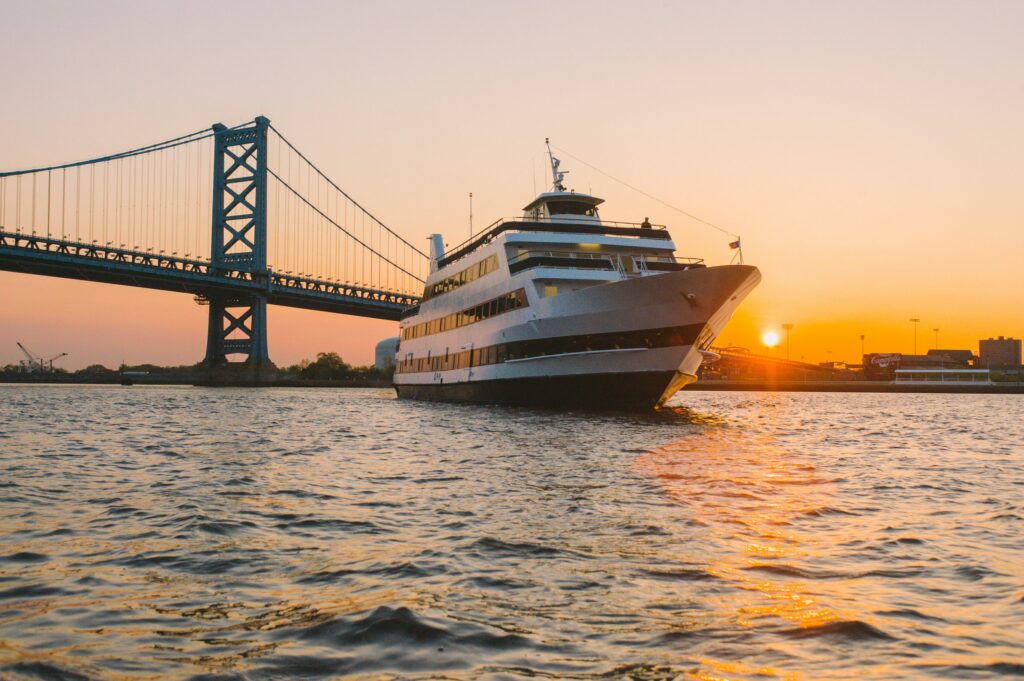 Contact City Cruises Philadelphia Today for Your Next Corporate Event
The bottom line? Corporate events aren't easy to plan—especially if those in charge of these gatherings are hoping to impress guests. Whether the goal is to boost morale, foster employment engagement, or just provide people with a fun and festive way to celebrate working together, a City Cruises' experience can achieve them all. Ideal for corporate events seeking a unique venue, top-notch amenities, beautiful surroundings, and excellent hospitality, partnering with us is an easy decision to make, and of course, our ease of booking makes it really simple to seal the deal. Just fill out this form and an event planner will contact you ready to begin the planning process of making your next event one to remember. All you have to do is select the date, make a reservation, and get ready for an unforgettable event!