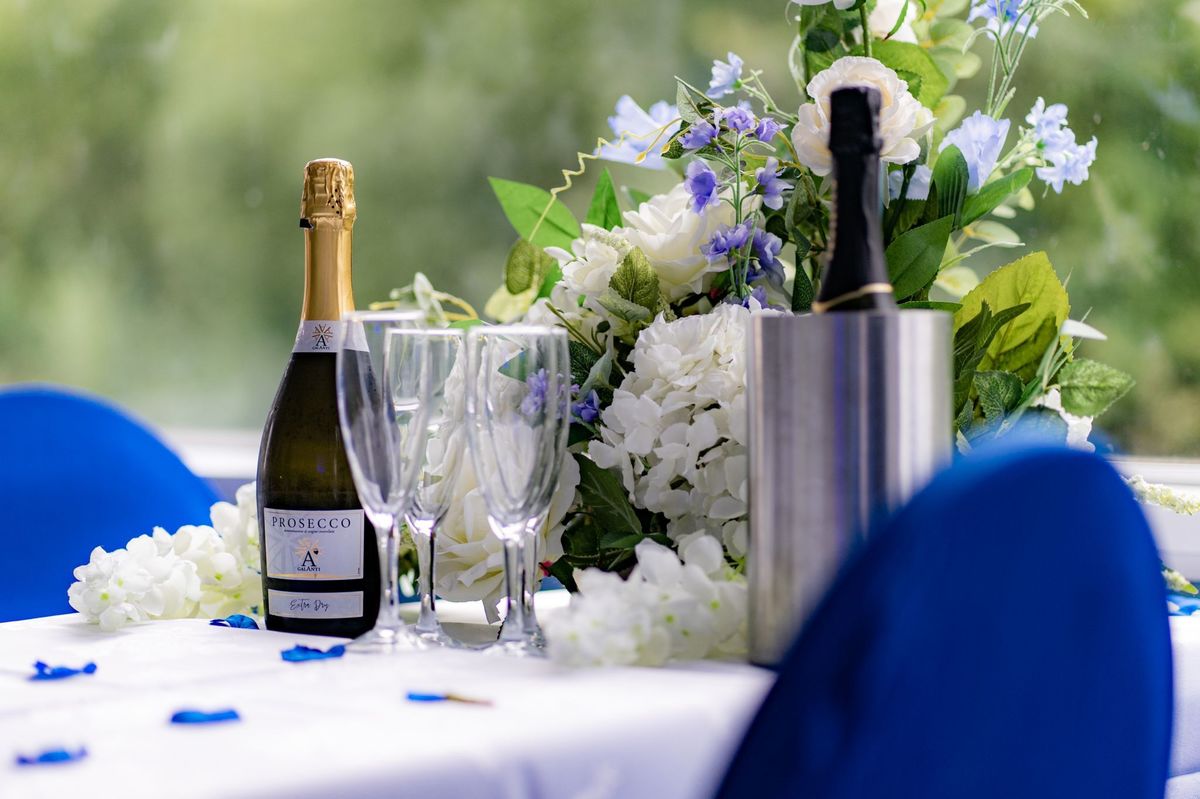 Weddings & Related Celebrations
Your special day, with a one-of-a-kind view. Picture saying "I do" with a breathtaking backdrop you'll treasure forever, surrounded by loved ones. With our dedicated event planners, custom décor options and packages for any budget and style, your day on the water awaits! But if you also have a wedding venue in mind, you could spend your Engagement Party, Hen Party or even renew your vows on the water!
Beritahu Kami Tentang Acara Anda
Selepas penyerahan borang, anda akan menerima tawaran tersuai daripada Pengurus Akaun berpengalaman yang sepadan dengan visi acara anda.
Weddings In York, Engagement Parties In York & Hen Parties In York

Your wedding, your way! Don't settle for a predesigned package when you can customise every detail of your wedding in York to fit your dreams. With a guaranteed hassle-free planning process, you'll spend less time stressing and more time getting ready to say, "I do."

Wedding & Commitment Ceremonies

Exchange vows amidst an extraordinary view, capturing cherished memories. Say "I do" with a breathtaking backdrop on a boat, surrounded by loved ones. Our event planners offer tailored packages, décor options, and accommodate any budget. Your dream wedding on the water awaits, inclusive of complimentary "Just Married" decorations.

Hen Parties

Experience the ultimate Hen Party on a cruise! Dance, relax, and feel the breeze with our Private Hire Hen Parties. Charter your own boat, choose food and drinks, and enjoy entertainment. Impress your guests with cocktails, a buffet, or a delicious dinner. It's the perfect floating party!

Pihak Penglibatan

Envision commemorating your special occasion with cherished ones on a private boat charter along York's River Ouse. It's an extraordinary and unforgettable way to embark on your journey as a couple. We'll collaborate to ensure your engagement celebration is flawlessly tailored to your desires.

Anniversary Celebrations

Celebrate your milestone anniversary with loved ones on a private boat charter along York's River Ouse. Create lasting memories in an idyllic setting and let us craft an unforgettable celebration of your momentous milestone anniversary that will forever be etched in your hearts, an exquisite testament to the enduring power of love.
Untuk maklumat lanjut:
Please fill out the enquiry form or contact one of our dedicated team members to start planning your ceremony at [email protected].