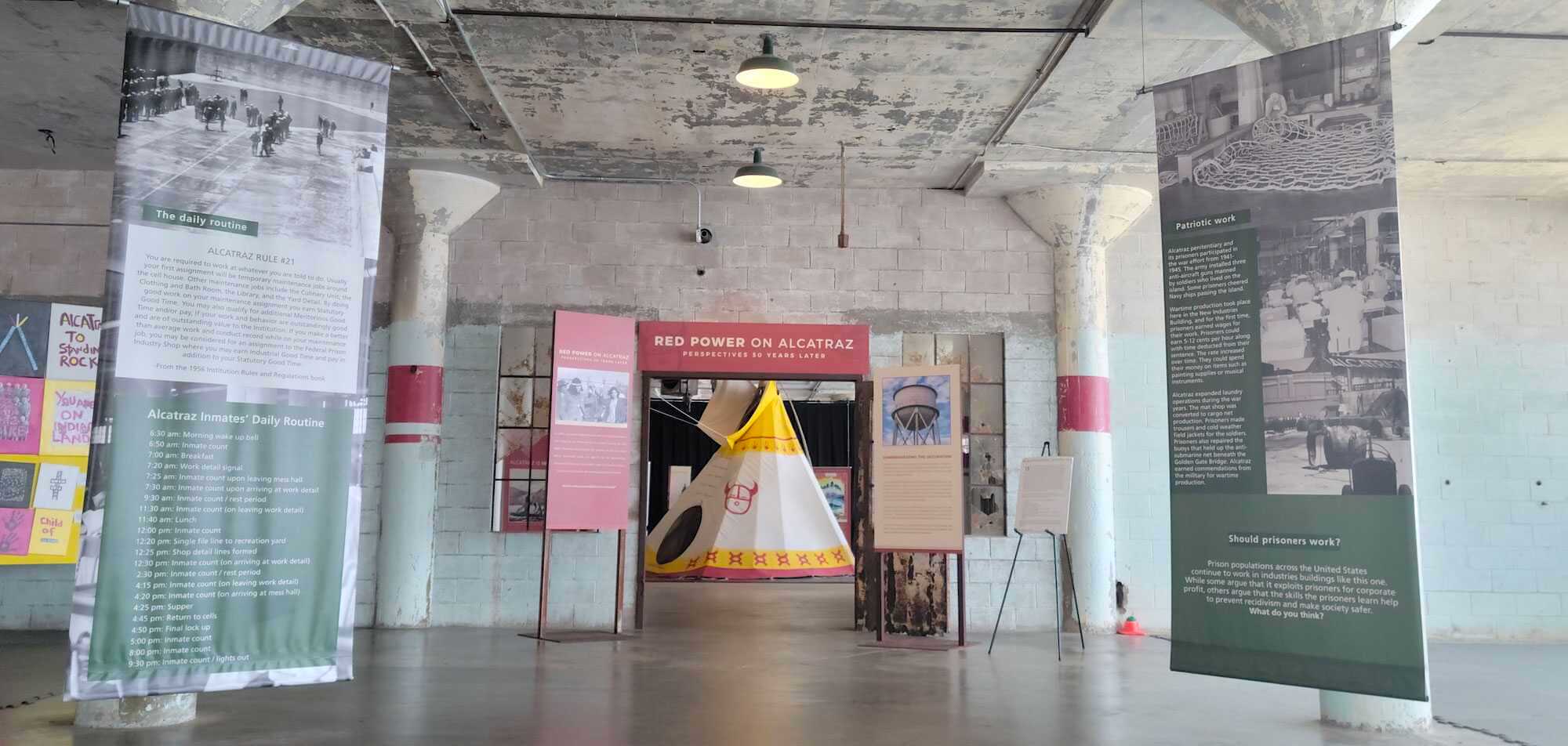 Displays And Collections
Enrich Your Visit
In 2019, Future IDs at Alcatraz artworks represented individual stories of transformation.
Red Power On Alcatraz: Perspectives 50 Years Later
Red Power On Alcatraz: Perspectives 50 Years Later
Located inside the New Industries Building, Alcatraz Island
In 1969, a group of Native American activists calling themselves the Indians of All Tribes arrived on Alcatraz. Joining the Civil Rights Movement and Vietnam War protests of the time, these Indians spoke out against the US Government's Termination Policy and the broader plight of American Indians.
The NPS developed this exhibit in partnership with Indians of All Tribes, an ongoing organization that educates Indians and non-Indian supporters and friends about the history and development of Indian tribes and their peoples throughout the Americas from Alaska to South America.
The exhibit tells the story of their 19-month occupation of the Island and their continued work to improve the treatment of Native American people. The exhibit opened on Alcatraz Island in November 2019 and contains photographs by Ilka Hartmann, Stephen Shames and Brooks Townes, and original materials from the collection of Kent Blansett, as well as contributions from the community of veteran occupiers.
Alcatraz Landing Interpretive Program
Pier 33 Alcatraz Landing
Before or after your trip to the Island, be sure to walk the stations positioned around the Landing area, including a scale model of Alcatraz Island, civil war cannon, and stories detailing the many facets of life on the Island.
Formerly Incarcerated Speaker Series
The Formerly Incarcerated Speaker Series is a biweekly program on Alcatraz Island that lifts up and highlights the voices of people who have spent time inside of jails and prisons. The National Park Service believes in parks as platforms for dialogue, and Alcatraz Island, being one of the only NPS sites that interprets mass incarceration, works directly with people who have been affected in order to give them a platform to showcase their stories.
The Speaker Series will take place on the following dates in the Dining Hall of the Cell House.
April: Fri 4/21/23 at 1 PM
May: Sat 5/13 & Sat 5/27/23 at 3 PM
June: Sat 6/10 & Sat 6/24/23 at 3 PM
July: Sat 7/8 & Sat 7/22/23 at 3 PM
August: Sat 8/12 & Sat 8/26/23 at 3 PM
Your island ticket is sufficient for admission, reservations are not required. Seating may be limited.
For more information on the Formerly Incarcerated Speaker Series, or other community outreach initiatives (including ranger-led programs), please contact park ranger Oliver Goodman ([email protected]).
If you are a community leader working with the formerly incarcerated community and you would like to bring a group to an upcoming program in the series, please email Oliver.
If you have any accessibility needs such as ASL translation, please contact [email protected] at least 5 days in advance.