Hey there, fellow wanderlust-filled souls! Are you ready to embark on a nautical adventure that promises to sweep you away to a world of tranquility and exploration? Look no further than the stunning coastal gem of Poole, where the waves are calling and the salty breeze beckons. Picture yourself on a boat, gracefully gliding across the azure waters, leaving your worries on the shore. In this guide, we're spilling the beans on how to craft your perfect maritime escape in Poole, and trust us, you won't want to miss a single wave.
1 Sightseeing Cruises: All Aboard!
Poole Harbour is the largest natural harbour in Europe and the second biggest in the world after Sydney, what better way to see it than a City Cruise. These protected waters offer you a comfortable cruise around the islands passing Brownsea Island, Furzey Island, Green Island, Round Island and Long Island and with our educational and amusing Captain's commentary on a City Cruise's trip you will be stunned by the amazing scenery and delighted by the local history.
2 Sailing into Sunset: A Romantic Evening
Calling all sunset chasers and romantics at heart! There's nothing quite like cruising into the embrace of a breathtaking sunset on the open sea. Picture hues of pink, orange, and gold painting the sky as you sip on a glass of wine, the water gently rocking your vessel. It's a moment that etches itself into your memory, creating a mental postcard of serenity that you'll carry with you long after the voyage ends. Join one of City Cruises Harbour Lights Cruises, running every night until the 9th September to enjoy the late Summer scenery.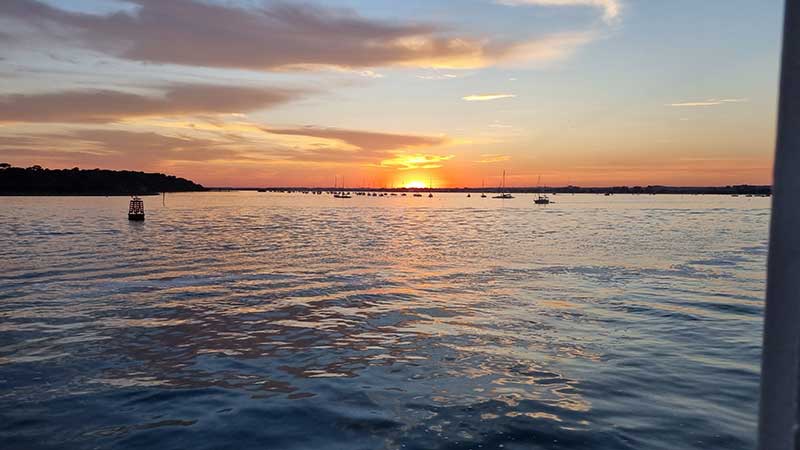 3 Nautical Indulgence: City Cruises and Beyond
If you want to advance out of Poole Harbour, then City Cruises also run boats to Swanage, a picturesque, Victorian seaside town where you can enjoy a variety of activities or catch The Swanage Railway to Corfe Castle for a combined trip on a boat and then a Heritage Train.  You may even be lucky enough to see dolphins playing with City Cruises boats on the sea part of these trips. These intelligent and beautiful animals love to swim with the boats to the delight of the passengers and crew! These cruises provide a different perspective of Poole's coastline and its surrounding beauty.
4 The Gateway to the Sea: Poole Harbour
As you step foot in Poole, you'll find yourself in a world of maritime marvels. The heart of this nautical haven is Poole Harbour – a sight to behold and a playground for water enthusiasts. Whether you're a seasoned sailor or a newbie eager to dip their toes into the world of cruising, this harbour has got you covered. Its sheltered waters provide the perfect setting for a serene cruise, while its bustling quayside boasts charming cafes and restaurants, setting the stage for a delightful pre-sailing experience.
5 Island Escapes: Exploring Brownsea Island
Ahoy, matey! As you sail away from the mainland, a world of natural wonder awaits – Brownsea Island. This little piece of paradise is a haven for wildlife enthusiasts and history buffs alike. Roam the woodlands, spot red squirrels darting between trees, and keep an eye out for the elusive peacocks that call the island home. And don't forget to explore the historic Brownsea Castle – a glimpse into the island's rich past. Owned by the National Trust, dedicated dates are set aside for the public to join a guided tour at Brownsea Castle which is now an exclusive hotel for staff at the John Lewis Partnership.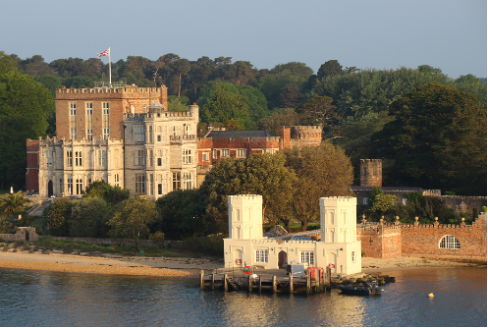 Conclusion: Sail Away to Poole's Blissful Waters
So there you have it, intrepid travellers – your guide to crafting the perfect maritime escape in Poole. It's a journey that promises relaxation, exploration, and a deep connection with the sea. Whether you're an experienced sailor or a landlubber eager for a taste of the ocean, Poole's waters have a siren's call that's hard to resist. So pack your sense of adventure, embrace the salty breeze, and set sail for memories that will stay with you for a lifetime.