Hey there, fellow travel enthusiasts! As the leaves start to turn and the air becomes crisp, there's no denying that autumn is a perfect time for a getaway. And if you're on the lookout for a destination that offers a mix of picturesque landscapes, cosy vibes, and a touch of adventure, Poole might just be your ticket to paradise. Join me as we explore some of the top-rated hotels in this charming coastal town.
1 Hotel Du Vin & Bistro
Nestled in the heart of the historic old town, Hotel du Vin Poole provides an excellent base for exploring this picturesque region, from the Poole Museum and the tranquil Brownsea Island to the idyllic Sandbanks Beach. The hotel boasts an enviable location near the quay, offering stunning views of Poole Harbour and the rolling Purbeck Hills in the distance.
2 Sandbanks Hotel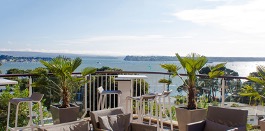 For those who want to be close to both the beach and the town's vibrant atmosphere, Sandbanks Hotel is a fantastic choice. With direct access to the sandy shores and a range of amenities, this hotel is a paradise for beach lovers. The cosy rooms, many of which offer sea views, provide a comfortable retreat after a day of exploring the town's quaint streets and boutiques.
3 Harbour Heights Hotel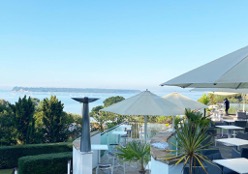 Perched on the top of a cliff, Harbour Heights Hotel offers panoramic views of Poole Harbour and beyond. The modern and elegant decor creates a sophisticated atmosphere, while the attentive staff ensures you have everything you need for a memorable stay. As the sun sets over the horizon, the hotel's terrace becomes a magical spot to enjoy a drink and soak in the breathtaking scenery.
4 The Haven Hotel
Nestled at the entrance of Sandbanks Peninsula, The Haven Hotel boasts stunning views of the sea and the surrounding natural beauty. This historic hotel combines old-world charm with modern luxury, offering you an idyllic haven for your autumn escape. Imagine waking up to the sound of waves and enjoying a leisurely breakfast overlooking the water. With its serene ambiance, The Haven Hotel is the perfect place to unwind and relax.
So there you have it, fellow travellers – a glimpse into the dreamy autumn getaway that Poole can offer. Whether you're seeking relaxation, adventure, or simply a change of scenery, the top-rated hotels in Poole coupled with the allure of City Cruises make for an unforgettable escape to paradise. Pack your bags, put on your cosiest sweater, and get ready to experience the magic of autumn in this charming coastal town.