Welcome to the enchanting city of York, a historic gem nestled in the heart of North Yorkshire, England. With its rich heritage, ancient architecture, and picturesque landscapes, York is a city that seamlessly blends its storied past with a vibrant modern present. Whether you're a history enthusiast, an art lover, or a foodie seeking delightful culinary experiences, York has something to offer for everyone. Let's explore the must-see attractions and reveal some hidden local secrets that will make your visit truly unforgettable.
York Minster:
The imposing York Minster, one of the largest cathedrals in Northern Europe, is an architectural marvel that should be at the top of your itinerary. With its awe-inspiring Gothic design and stunning stained-glass windows, the Minster will leave you in awe. Don't miss the chance to climb the central tower for panoramic views of the city's skyline.
The Shambles:
Prepare to be transported back in time as you stroll along the cobbled streets of The Shambles. This well-preserved mediaeval street is lined with timber-framed buildings that lean inwards, creating a charming and picturesque scene. Today, it's home to various quaint shops, cafes, and boutiques.
York City Walls:
Embark on a leisurely walk along the well-preserved York City Walls, which encircle the historic city centre. These walls date back to Roman times and offer a unique perspective on York's history and landmarks, providing fantastic photo opportunities along the way.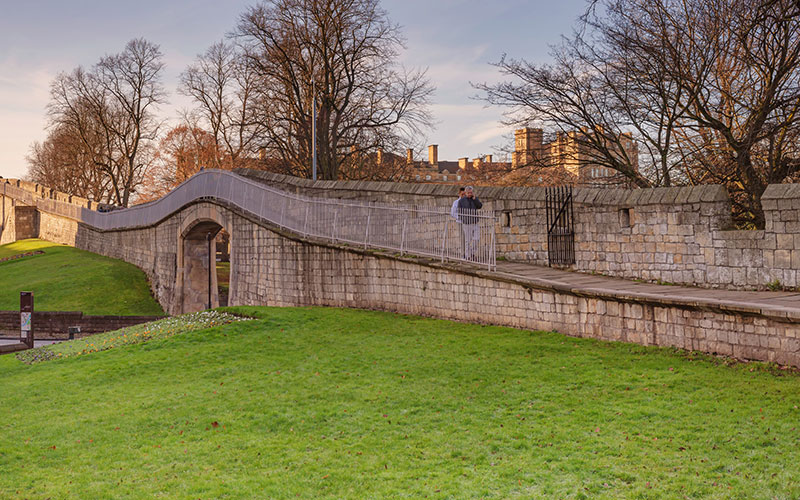 Jorvik Viking Centre:
York boasts a fascinating Viking heritage, and the Jorvik Viking Centre is the place to immerse yourself in this captivating history. Through interactive exhibits and reconstructions, you can experience the sights, sounds, and even smells of the Viking-age city of Jorvik.
The Yorkshire Museum and Gardens:
For history buffs and nature lovers alike, The Yorkshire Museum and Gardens is a must-visit attraction. The museum houses an impressive collection of artefacts from Roman, Viking, and mediaeval periods, while the tranquil gardens offer a serene escape from the bustling city.
Clifford's Tower:
Perched on a hill overlooking the River Ouse, Clifford's Tower offers panoramic views of York. This iconic landmark is all that remains of York Castle and has a fascinating history to uncover. It's a great spot for a scenic picnic and a moment of reflection.
National Railway Museum:
Train enthusiasts will be delighted by the National Railway Museum, home to an extensive collection of locomotives and railway memorabilia. From iconic steam engines to modern marvels, this museum offers a captivating journey through the history of railways.
Now, let's dive into some local secrets that will add an extra layer of charm to your York experience:
The Cat Trail:
York is famous for its cat-shaped snickets (narrow passageways) hidden throughout the city. Follow the Cat Trail, a self-guided tour, to discover these whimsical cat sculptures tucked away in unexpected corners.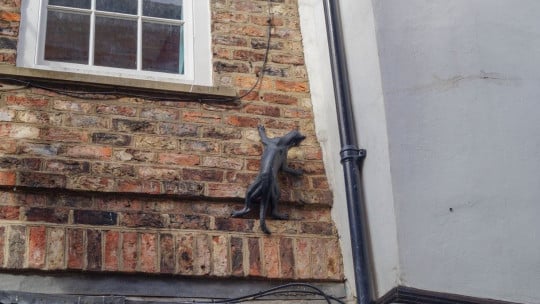 Betty's Tea Room:
Indulge in a quintessential Yorkshire experience by visiting Betty's Tea Room. Treat yourself to delicious cakes, pastries, and traditional afternoon tea in an elegant setting, where locals and visitors alike gather to savour delightful treats.
Rowntree Park:
Escape the crowds and head to Rowntree Park, a serene green space situated along the River Ouse. Relax in this peaceful oasis, feed the ducks, or simply enjoy a leisurely stroll through the beautiful gardens.
The Black Swan Inn:
For a taste of York's haunted history, visit The Black Swan Inn, reputed to be one of the city's most haunted pubs. Enjoy a pint of local ale while listening to spooky tales and legends from the friendly locals.
The York Ghost Walk:
Explore the city's dark and mysterious past on a guided ghost walk. These tours take you through York's narrow streets and eerie alleyways, regaling chilling tales of phantoms, spectres, and spirits that are said to haunt the city.
---
With its captivating blend of history, culture, and charm, York has rightfully earned its place as one of England's most captivating cities. Whether you're wandering through ancient streets, exploring world-class museums, or uncovering local secrets, York promises an unforgettable experience that will leave you enchanted and yearning to return.
Planning Your Visit to York
Here are a few tips for planning your visit to York:
The best time to visit York is during the spring or fall, when the weather is mild.
If you are interested in history, be sure to visit York Minster, the Jorvik Viking Centre, and Barley Hall.
If you are looking for something to do in the evening, be sure to check out some of the fantastic ghost tours York has to offer.
York is a relatively small city, so you can easily get around on foot or by bike.
Don't feel like going on a walking tour? Jump on board with City Cruises and relax as you cruise along the Ouse.
So, what are you waiting for? Plan your trip to York and embark on an adventure of a lifetime in this extraordinary city that stands as a testament to the enduring spirit of the past and the vibrant energy of the present.