Grab your Frisbee and book your ticket — San Francisco has plenty of great places to toss the disc around.
Listen: Just because you might have played a ton of Ultimate Frisbee back when you were a kid, doesn't mean that you can't relive your high school or college days today! And, if you happen to be visiting San Francisco — which, if it's not on your destination bucket list, it should be — you're in luck, since the gorgeous city and the surrounding Bay Area have a ton of great places to play some Ultimate.
Oh, and San Francisco locals and Bay Area residents who might be looking for a good pickup game? We've got you covered with our guide to a few of the best spots to play. There are plenty of useful web resources available to players, including Bay Area Disc, Ultimate Field Locator, and PickupUltimate, and we rounded up some of our favorite spots below.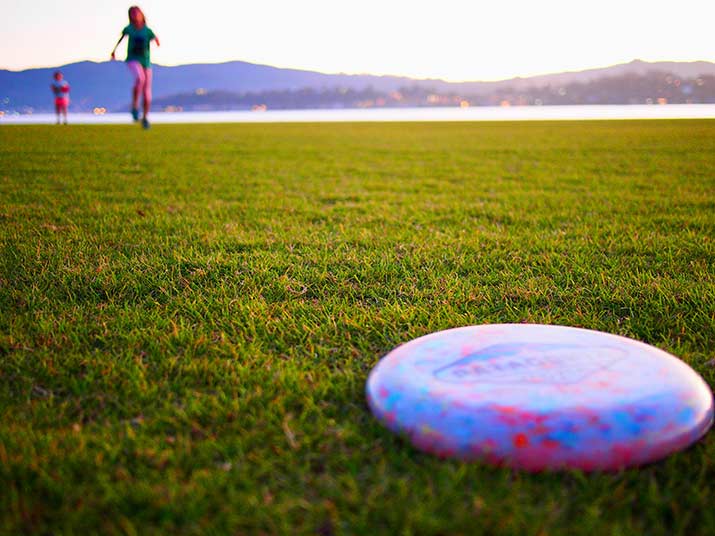 South San Jose Ultimate is a turf field game on Sundays which takes place on the Homestead High School Main Parking lot in San Jose–a quick ride from San Francisco.
Golden Gate Park is massive and supports a bunch of great ultimate games. Its 1,017 acres are home to extraordinary views, varied terrain, and plenty of things to do after your game. Saturday Ultimate is open to people of all skill levels (from beginners to club players), and this particular game "generally uses a stack offense and forces/marks on defense with occasional zone," the description reads. Not sure what that means? No worries. "If those terms don't mean anything to you, come on out and we'd be excited to teach!" Big Rec Goaltie and Goalden Gate Park Lunchtime Goaltimate are two more great pickup games that take place in the park.
Glen Canyon Park is another great place to play Ultimate Frisbee, with the Glen Park Ultimate (SF) game happening every Saturday at 2:45 pm. Plus, there are tons of fun activities to do if Frisbee isn't your thing, including recreational fields, tennis courts, playgrounds, and a ropes course.
Ygnacio Valley Park in nearby Concord is a perfect spot to toss the disc around, with the Walnut Creek Ultimate game on Mondays (5-7:30 PM) and Saturdays (9:30-11:30 AM).
Don't forget to stop by Central Park in Fremont for the Fremont Ultimate game on Saturdays. Pro Tip: With more than 450 acres (about twice the total floor space of the Pentagon), an 80-acre lake, and a two-mile walkway around the lake, this is a great spot to have a picnic and spend a leisurely afternoon.
Foster City Ultimate takes place at Leo J. Ryan Park on Tuesdays and welcomes all skill levels. After the game, check out the 20 acres of lawn areas, lagoon access, gazebo, picnic space and amphitheater.
Marin Pick-up at Redwood High School in nearby Larkspur has been running since around 1996 — a long time for any pickup game — and this game includes club players, league players, regular pickup players, and novices.
Menlo Park Ultimate for All meets on Sundays at Nealon Park — which includes a dog park and a playground — and is open to everyone who wants to play regardless of ability, age, or experience.
For the early birds, Palo Alto Weekday Morning meets at 7am on Mondays, Wednesdays, and Fridays rain or shine — if they have enough players — and plays at the fields at the corner of El Camino and Oregon Expressway.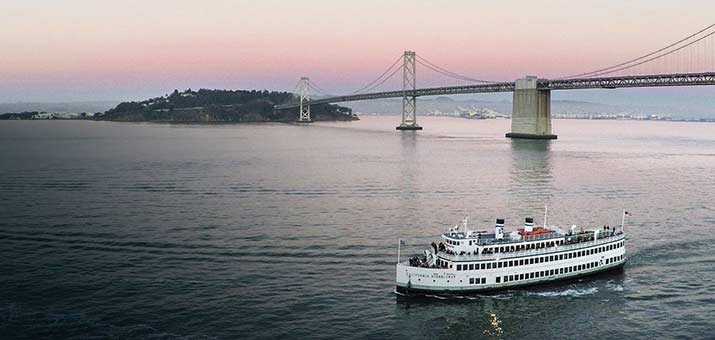 Once you've worked up an appetite, experience some of the best bites in town on the Ultimate San Francisco Food Tour & Bay Discovery Cruise ("ultimate" is just a name, in this case — no frisbee!). You will eat your way through three of the city's neighborhoods, giving you a 360-degree introduction to the city's cuisine and its history. We are talkin' killer delis, top-notch bakeries, to-die-for taquerías, unbeatable dim sum hot spots, and much more. You'll also embark on a 90-minute sightseeing cruise, which is chock full of San Francisco icons such as The Golden Gate Bridge, Alcatraz Island, Angel Island, and the incredible city skyline.
Or, if you're in the market for some dinner on the water, the San Francisco Premier Dinner Cruise is the way to go. Get ready to experience a plated dinner cruise on the San Francisco Bay with rotating menus depending on the season as you dine the night away with friends and family while you soak in the city's scenic views.