This iconic annual event in Manhattan is the oldest and largest civilian parade in the world. Its reputation as the most boisterous celebration of Irish heritage and culture is well-earned.
There are roughly 150,000 people taking part in the extravaganza while more than 1 million spectators are expected. Here are 10 top things you should know about the parade.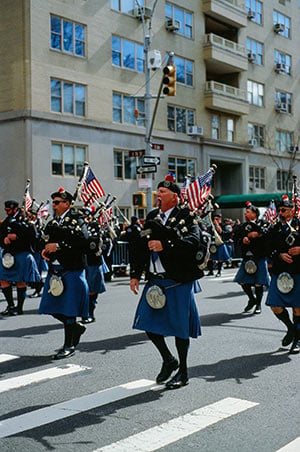 1 While the very first St. Patrick's Day parade was held in a Spanish colony on March 17, 1601, the first one in New York City was said to take place on March 17, 1762, according to Brittanica.
2 The holiday is celebrated every year on the anniversary of the death of St. Patrick, the patron saint of Ireland—who, by the way, wasn't Irish.
3 That first parade in New York was held "by a band of homesick Irish ex-patriots and Irish military serving with the British Army stationed in the American colonies in New York City."  Those in the parade wore their Irish pride in New York as it was banned back home in Ireland. Military units organized the first parades.
4 You will see a lot of inebriated revelers throughout the day, both at the parade and at related festivities in NYC pubs and restaurants.
5 Every year, the parade starts at 11 a.m. EST and ends roughly at 4:30 p.m. The general route starts at Fifth Avenue at East 44th Street and ends at 79th Street on Fifth Avenue. People are allowed to gather and find a spot as early as they can on Fifth Avenue. As with most parades, the best views go to the ones who get there the earliest, so think of arriving at least a couple hours before it starts. Keep in mind that there are no portable restrooms as per the New York Police Department.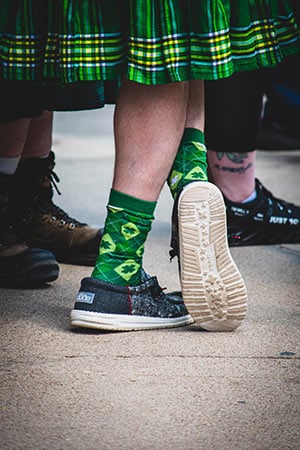 6 You can get tickets to the grandstands on a first-come, first-served basis. Send a letter to request those tickets along with a self-addressed, stamped No. 10 envelope, which must be received by March 1: NYC St Patrick's Parade, P.O. Box 295, Woodlawn Station, Bronx, NY 10470
7 The New York parade includes representatives from the city's numerous Irish groups, as well as marching bands, firefighters, police, military, county associations, social and cultural clubs, and more.
8 The parade is held rain or shine, so pay attention weather the weather forecast. Come prepared. If a sunny day is expected, bring your sunglasses and suntan lotion. For a cold day, bring your hat, gloves, and scarf.
9 Avoid driving into the city as there will be major street closings. Your best bet is to take the subway or walk to the parade to avoid traffic and major gridlock.
10 If you want to go all out, rent a hotel room for a fabulous view of the St. Patrick's Day Parade. According to Loving New York, consider the The Plaza Hotel. It's at the southern end of Central Park and close to Fifth Avenue for a great vantage point of the parade. Other hotels offering an excellent view of the parade include The Pierre, A Taj Hotel, another hotel bordering Central Park; The Peninsula Hotel, located at 55th Street and Fifth Avenue has some of the best views of Manhattan; The St. Regis New York near Fifth Avenue; and The Sherry Netherland directly on Fifth Avenue.
Other Fun Things to Do Before and After the Parade
After the parade's festivities, let the weekend continue with the best of New York City on the NYC: Big Bus – Classic Tour with more than 25 stops at top points of interest in Manhattan. The tour features live English commentary and prerecorded commentary in nine languages. You can create a customized journey around the city for a downtown jaunt and an uptown adventure. From Times Square up to Central Park, you'll know New York like the back of your hand after this fun tour.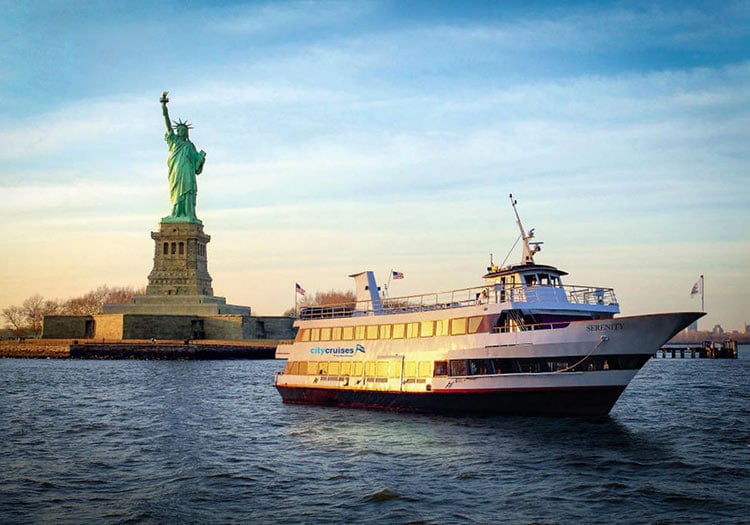 There are so many ways to see New York City while you're in town for St. Patrick's Day and the days following it, such as the NYC Downtown Sightseeing Cruise. You'll experience iconic New York City on a 90-minute sightseeing excursion, with live narration by a tour guide. Enjoy spectacular views of the Statue of Liberty, Brooklyn Bridge, and so much more.
End your post-St. Patrick's Day foray into NYC with the New York Signature Dinner Cruise for an unforgettable evening of dining, drinks, and a DJ spinning your favorite dance tunes. Cruise on the East and Hudson Rivers and enjoy the stunning skyline views with family and friends. The two-and-a-half-hour cruise offers a delectable buffet, desserts, and access to an open-air rooftop lounge.
The St. Patrick's Day Parade and festivities are a true standout for tourists, suburbanites, and city dwellers alike. You'll get to experience New York in a whole new light.