The Manhattan skyline. It's one of the most well-known cityscapes in the world—as well as one of the most popular to photograph. Filled with iconic structures including the Empire State Building, the Chrysler Building, and One World Trade Center, there are numerous eye-catching sights throughout the city. Of course, it's hard to take everything in when you're in the middle of it all, and although aerial views offer a great vantage point when you're on a plane it all goes by too quickly to capture. However, if you head across the Hudson River to New Jersey, numerous overlooks provide exceptional sight lines sans driving into the city. Plus, if you opt for a cruise and tour, they offer so much more than being trapped in traffic via the Holland or Lincoln Tunnel. We have a few recommendations for finding a superb perch and planning the ideal day trip. So, let's get started!
Skyline's the Limit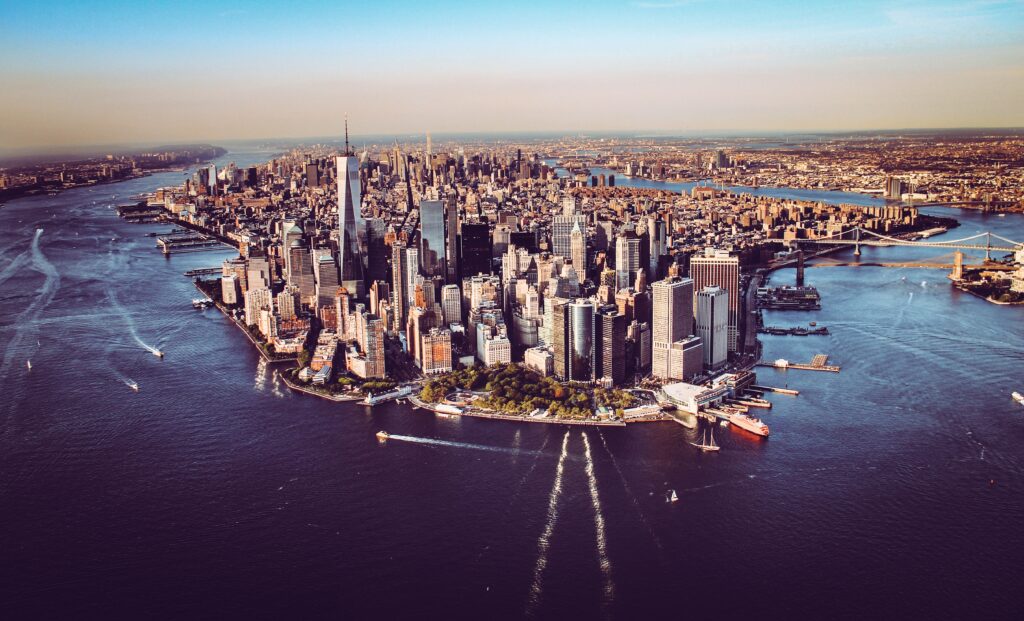 Several spots in the Garden State offer exquisite views of the Manhattan skyline. Many of these places will be your best bet for taking in iconic buildings that you'd otherwise not get shot a clear picture of. Three of our favorite overlooks are easy to access and are found in areas of New Jersey that are popular in their own right. While they may not have Hudson Yards, Chelsea Piers, or Times Square as part of their landscape, they do have beautiful beelines of the East River and the perfect space to peep at many of those special attractions.
Let's start in Jersey City with Liberty State Park. This green oasis resides right on the Hudson River and showcases the Manhattan skyline, the Statue of Liberty, and Ellis Island as a backdrop. The two-mile promenade of Liberty Walk connects two picnic and playground areas, the Nature Center, and the Central Railroad of New Jersey Terminal. There's lots of room for a range of recreational activities, plus the opportunity to check out Liberty Landing Marina, numerous restaurants, the NJ Empty Sky 9/11 Memorial, and the Liberty Science Center.
Next, we'll hop on over to Pier A Park in Hoboken, situated on the waterfront along the Hoboken Lackawanna Terminal. It provides amazing views of Manhattan's West Village as well as the Financial District. Here, visitors can lounge or play sports on the great lawn, hang by the gazebo, and even get in some fishing if they're angling to catch more than gorgeous skyline views and some sunshine.
Last but not least, we'd be remiss not to mention Hamilton Park in Weehawken, which in addition to supplying stunning views of the Manhattan skyline, doubles as a historic area. This park is next to the grounds where the legendary duel between Alexander Hamilton and Aaron Burr occurred in 1804. From here, you can see several iconic structures in the Big Apple running north to south, including the George Washington Bridge and the Freedom Tower.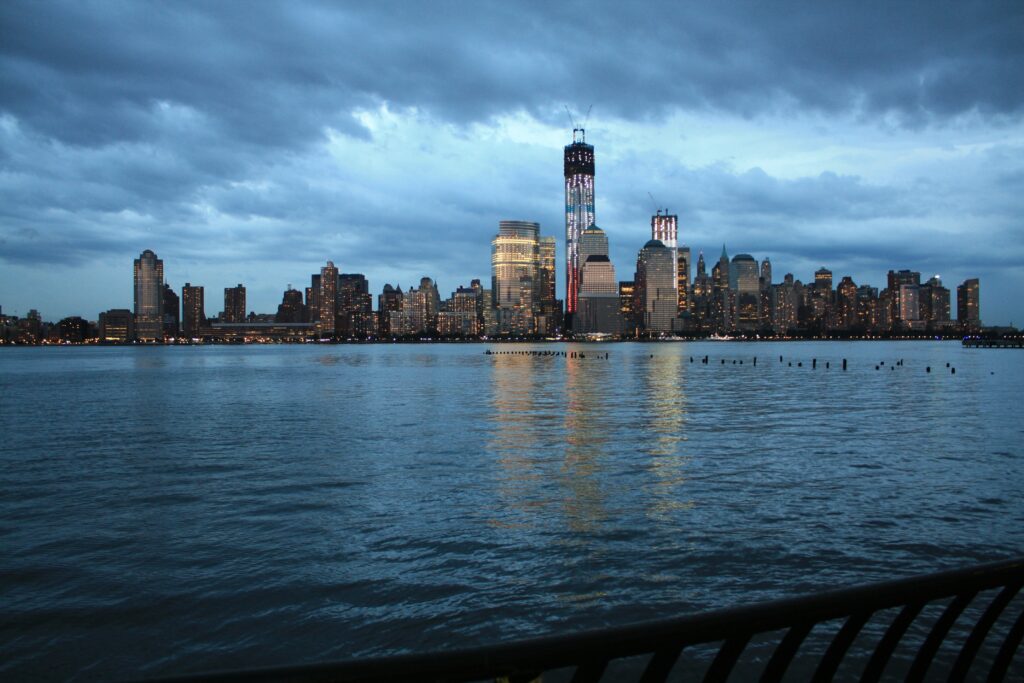 Cruises that Captivate
Although you can catch sight of stunning landmarks from the Garden State shores, nothing beats getting up close and personal with at least two icons you won't want to miss. We're talking about the Statue of Liberty and Ellis Island. With our essential Jersey City Cruises, you'll get both—plus plenty of amenities. Departing from the New Jersey waterfront, travelers can choose from a range of options, including half-day excursions like the Statue of Liberty General Admission, the Statue of Liberty Pedestal Reserve, the New Jersey Crown Reserve, and the Ellis Island Hard Hat Tour. The Statue of Liberty General Admission and the Statue of Liberty Pedestal Reserve both provide entry to the Ellis Island National Museum of Immigration and the grounds of Liberty Island and Ellis Island. The former gets you entry to the Statue of Liberty National Monument's grounds, while the latter includes access to the Fort Wood section of the monument's pedestal. Round-trip ferry services to Liberty Island and Ellis Island are included, as well as priority entry into the Screening Facility Queue.
Meanwhile, the New Jersey Crown Reserve gives you the best of both worlds with access to the Statue of Liberty Monument's crown and pedestal, and since only limited tickets are available, the earlier you reserve your spot, the better. The experience, like the ones mentioned above, also offers priority entry into the mandatory Screening Facility Queue, round-trip ferry service to Liberty Island and Ellis Island, and access to the grounds of both.
For adventure seekers looking to get an inside view of Ellis Island, the Ellis Island Hard Hat Tour is something you won't want to miss. The 90-minute guided experience features the other side of Ellis Island where you'll encounter the unrestored Ellis Island Immigrant Hospital Complex that includes a visit to the art exhibit onsite, "Unframed—Ellis Island." Priority entry into the Screening Facility Queue completes the package, which consists of round-trip ferry service to Liberty Island and Ellis Island and access to the grounds of both.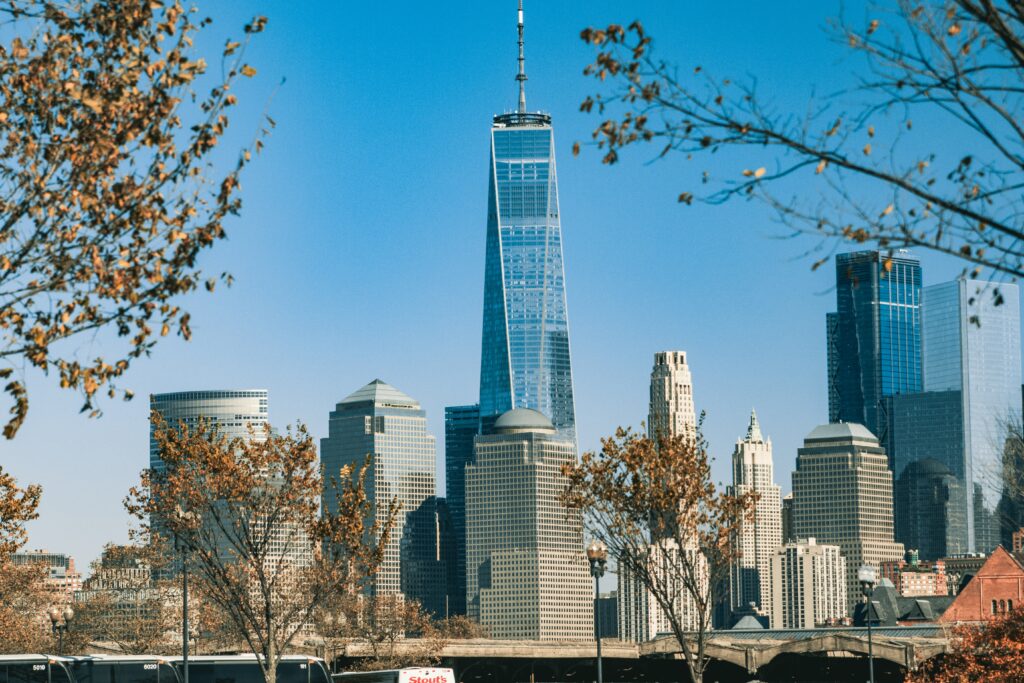 End the Day in a Delicious Way
What's the best way to end a day full of iconic sights and sounds? If you're in the Garden State consider an evening excursion on the New Jersey Signature Dinner Cruise. Special occasions aren't required (but they're acceptable) for enjoying a two-and-a-half-hour adventure on the East and Hudson Rivers featuring unforgettable sights of New York and New Jersey. Stunning skylines and local landmarks abound along with an enticing dinner buffet of freshly prepared gourmet cuisine, access to a large open-air rooftop lounge, and onboard entertainment. The only thing left to do is charge your phone because you won't want to miss out on all the great photo ops you'll be clamoring to snap for the Gram.
FAQs – Manhattan's View from New Jersey
What makes the view of Manhattan from New Jersey unique?
The view from New Jersey offers a panoramic perspective of Manhattan's skyline. You can see prominent landmarks like the Empire State Building, One World Trade Center, and the Statue of Liberty in one sweeping glance.
How can I get the best view of Manhattan from New Jersey?
One of the best ways to enjoy the Manhattan skyline from New Jersey is by taking a cruise. Cruises offer unobstructed views of the skyline and allow you to appreciate the city's architecture from a unique vantage point.
Do I need to book a tour to see Manhattan from New Jersey, or can I see it from the shore?
While you can certainly catch glimpses of the Manhattan skyline from various points along the New Jersey shore, a cruise allows for a more comprehensive and immersive viewing experience.
What are the best times to take a cruise for viewing Manhattan from New Jersey?
The view of Manhattan is stunning at all times, but sunrise and sunset cruises are particularly popular for the beautiful colors that light up the skyline. Night cruises are also a great option, as the city lights create a mesmerizing effect.
Are there any special events or occasions when the view of Manhattan from New Jersey is particularly spectacular?
Special events like the Fourth of July fireworks, New Year's Eve, or any occasion where there's a light show in Manhattan will make the view from New Jersey even more memorable.
Are the cruises suitable for all ages?
Yes, cruises are a great activity for all ages. They offer a unique and memorable experience for families, couples, and solo travelers alike.
Can I dine or have refreshments while enjoying the view on a cruise?
Many cruises offer dining options, from snacks to full-course meals, allowing you to enjoy a delicious meal or a drink while soaking in the stunning views of Manhattan's skyline. City Cruises offers all of these things and more!
Are there any landmarks that are particularly notable when viewing from New Jersey?
In addition to the more famous landmarks like the Empire State Building and One World Trade Center, the Chrysler Building, Brooklyn Bridge, and the United Nations headquarters are also distinctly visible and provide an impressive backdrop from the New Jersey perspective.
How long is a typical cruise that offers views of Manhattan from New Jersey?
Most cruises range from 1 to 3 hours, but the duration can vary depending on the specific cruise package and any additional activities or stops included. You can also do boat charters with City Cruises for the whole day for private events!
Is there a best season to enjoy the view of Manhattan from New Jersey?
Every season offers a unique perspective of Manhattan. Winter showcases the skyline adorned with twinkling holiday lights, spring and summer bring clear skies and vibrant sunsets, while fall offers a backdrop of colorful foliage.
Can I access New Jersey easily from Manhattan if I want to see the view from the shore?
Yes, there are multiple transportation options, including ferries, trains, and buses that can take you from Manhattan to various points in New Jersey, offering multiple spots to enjoy the view. Popular locations include Hoboken and Weehawken waterfronts.
Why should I choose City Cruises for my Manhattan viewing experience from New Jersey?
At City Cruises, we pride ourselves on providing not just a cruise, but an experience. Our vessels are designed to give you the most breathtaking views of Manhattan's skyline, ensuring every moment is picture-perfect.
How does City Cruises enhance the Manhattan viewing experience from New Jersey?
City Cruises offers a combination of comfort, luxury, and unparalleled vistas. Our spacious decks, top-tier amenities, and attentive crew ensure that every guest has an unforgettable journey. Plus, with our expert guides onboard, you'll get to hear fascinating tidbits and stories behind Manhattan's iconic landmarks.
What special amenities can I expect onboard a City Cruises vessel?
With City Cruises, every detail matters. Our ships feature comfortable seating, top-notch dining options, and even entertainment on select cruises. Whether you're sipping a cocktail, enjoying a gourmet meal, or simply soaking in the views, we make sure every moment is special.
Are there themed cruises available with City Cruises for viewing Manhattan?
At City Cruises, we love to mix things up. We offer a range of themed cruises throughout the year, from romantic sunset sailings to festive holiday voyages. No matter the occasion, we've got a cruise that'll make your Manhattan viewing even more memorable.
Can I book a private event or celebration with City Cruises while enjoying the Manhattan skyline?
Of course! We're all about celebrations. Whether you're planning a birthday bash, an anniversary surprise, or even a dreamy wedding on the water, City Cruises has got you covered. Our team will work closely with you to customize every detail, ensuring your event is as unique as the views.