Believe it or not, Chicago is brimming with romance, even in the coldest months. There is all the big city glitz and glamour, candle-lit restaurants, and cozy spots to have a one-of-a-kind date night.
Whether you want an intimate eatery, a chef-led tasting experience, or a dining spot off the beaten path, downtown Chicago has a romantic date-night experience for you. Let's dig into some of the most romantic spots to impress your significant other.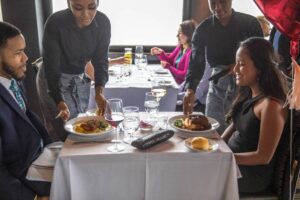 Looking for a unique way to spend a romantic evening? Have you considered something completely different to create a memorable evening? Experience the best of Chicago with a Premier Dinner Cruise on Lake Michigan and spend your evening on Lake Michigan with dining, picturesque views, DJ entertainment, and dancing. While onboard, you will enjoy chef-prepared plated menus, creative cocktails, distinctive service, and breathtaking views of Chicago's skyline. You can cozy up with open-air rooftop decks or relax from climate-controlled interiors. Sway to the music, and don't forget to capture the moment with an Instagram-worthy photo. Impress your date with window table reservations for the best views.
Nestled in the heart of Lincoln Park, at the edge of a pond overlooking the dramatic Chicago skyline, North Pond can easily claim the city's loveliest setting. Originally built as a warming shelter for ice skaters, this quaint restaurant offers delicious seasonal menus. The chefs use seasonal fresh ingredients and support local farmers, growers, and producers. Earth-to-plate ingredients are proudly served in an environment of simple décor. Enjoy fresh tapas, French cuisine, scrumptious desserts, and an impressive wine list to please the palate.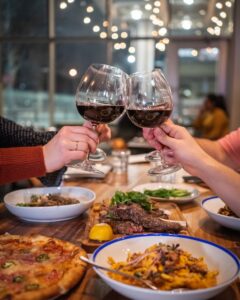 With almost 60 years of serving Chicagoans and out-of-towners, Geja's Café has been a favorite indulgence for diners. Celebrate a special occasion, kindle a romance, or enjoy a fun and memorable dining experience. Located in Lincoln Park, Geja's is often referred to as one of Chicago's most romantic restaurants. The wine cellar atmosphere and candle-lit dining rooms provide customers with a unique experience while listening to live classical and Flamenco guitar music. Unlike traditional restaurants where you order food and wait for its delivery, you can take part in the experience with hands-on fondue dinners. Begin your meal with apples, dipping grapes, vegetables, and assorted bread in a creamy Gruyere. Next, prepare your own meats, seafood, and assorted vegetables to your desire while creating the perfect bite with in-house sauces. Make sure to leave room for the delicious desserts, and dunk various fruits, pound cake, marshmallows, and Rice Krispy treats into a flamed pot of Belgium chocolate. Check out their wine pairing to add a special touch to your meal. The food is flavorful, and the memorable experience is even better.
Bavettes Bar & Boeuf is a modern steakhouse that is reminiscent of a speakeasy embracing French flair without the formality while blending fun with fine dining. This intimate restaurant specializes in serving small parties and stellar drinks. Every detail has been attended to in this candlelit establishment, where you are greeted with cushy leather stools, booths, round tables, deco chandeliers, and mirrored walls, allowing you to forget your troubles. Bavette's Bar & Boeuf bridges the gap between old and new Chicago and between classic steakhouse dishes and innovative creations. Even the burger is known as one of the city's best. The menu is packed with nearly 50 options for a familiar steakhouse experience in an updated package. Their signature dish is a prime rib eye that is dry-aged in-house. There is also a wide variety of seafood and a daily selection of fresh oysters. Brown spirits are the focus of classic cocktails and an eclectic wine list to start your evening.
Inspired by the rustic inns that provide shelter and sustenance for travelers in the Alps, the menu at Table, Donkey, and Stick includes many sharable items such as charcuterie and cheese boards alongside heartier items like duck confit and burgers. You can journey through the mountain cuisines of France, Italy, Germany, and Austria through your taste buds. This cute, cozy spot is off the beaten path with an inviting bar where you can order whimsical, creative cocktails. New ideas keep coming -like the dessert where a scoop of pretzel ice cream sits atop a jalapeno caramel sauce with equal parts spicy and sweet. The menu changes frequently and the kitchen works with local farmers and whole animals whenever possible, with bread and charcuterie items made in-house.

Downtown Chicago, or the Loop, is the heart of the city, as it's bursting with iconic Chicago attractions, historic architecture, and river cruises to take your breath away. A vibrant theater district, Millennium Park, the Chicago Riverwalk, incredible shopping, and world-class dining are just a few reasons to visit this beautiful city. It's no surprise that some of the most established and top-rated restaurants are located here. The restaurants are diverse in their offerings, with stellar culinary experiences and picturesque views. There's no better place for romance than Chicago. You can find a quiet, candlelit eatery, a quaint restaurant off the beaten path, or sail away on Lake Michigan.
FAQs – Downtown Chicago Romantic Restaurants
What is a romantic restaurant near the Chicago River?
City Cruises Chicago offers a unique and romantic dining experience on the Chicago River. Enjoy a dinner or brunch cruise with your loved one while taking in the beautiful city skyline and architecture.
Why is a dining cruise on the Chicago River Romantic?
A dining cruise on the Chicago River is romantic because it provides an intimate setting with stunning views of the city, creating a memorable experience for couples. The gentle movement of the cruise, the sparkling city lights reflecting on the water, and the delicious meal served onboard all contribute to the romantic atmosphere. City Cruises Chicago also offers live entertainment and a private table, ensuring a lovely evening for you and your partner.
What types of dining experiences does City Cruises Chicago offer?
City Cruises Chicago offers various dining experiences, including dinner cruises, brunch cruises, holiday-themed cruises, and specialty cruises. These cruises cater to different occasions and preferences, ensuring a unique and enjoyable experience for every guest.
Are there any special packages or promotions available for couples on City Cruises Chicago?
City Cruises Chicago often offers special packages or promotions for couples, such as Valentine's Day or anniversary packages. These packages may include extras like champagne, roses, or personalized menus to make your romantic experience even more special.
How can I book a romantic dining experience with City Cruises Chicago?
To book a romantic dining experience with City Cruises Chicago, browse through the various cruise options available. You can make a reservation directly through the website or contact their customer service for further assistance.
What should I wear for a romantic dining experience on City Cruises Chicago?
While there is no strict dress code for City Cruises Chicago, it is recommended to dress in smart casual or semi-formal attire for a romantic dining experience. This will ensure that you and your partner feel comfortable and well-dressed for the special occasion.