From its historic neighborhoods and rich heritage to its gorgeous views, and exciting food scene, there are plenty of fun things to do for Father's Day in Boston.
While we're still battling seasonal allergies and having to make sure to remember to pack a sweatshirt when we head out for work in the morning, warmer weather and the summer months are coming soon — we promise! And, with those sunny days come the summer holidays, specifically Father's Day! Sunday, June 18 is right around the corner, folks, and even though we can't believe it, this year, we're going all in on celebrating the dads in our lives. And, if you're planning on being in Boston for Father's Day this year, you're in luck: Beantown is a great place full of fun things to do for Father's Day. You, Dad, and the whole family are sure to enjoy everything that makes Boston so great, from its historic neighborhoods and rich heritage to its gorgeous views, exciting food and drink scene, and more. Not sure where to start? No worries: we have your back! Take a look at this short list of some of our favorite things to do in Boston for Father's Day and get to planning!
Pelayaran Brunch Hari Bapa
If you're searching for a way to get Father's Day started on the right foot, there's no better way to do so than by embarking on the Father's Day Premier Brunch Cruise. You and the whole family will create memories that will be sure to last a lifetime with this amazing day on the water, complete with distinctive service with chef-prepared, plated entrees, along with (of course) a selection of excellent wine, beer, and classic cocktails. You can take in the dining and music from the climate-controlled interior, or pop outside to take in the picturesque backdrop from the open-air, outdoor decks.
Fenway Park
When in Boston — especially for Father's Day — you need to stop by Fenway Park. As the oldest major league ballpark, its rich history and lore are enough to turn anyone into a baseball fan for a day. Best of all, the Red Sox are playing their arch-rivals, the New York Yankees, on Father's Day at 7:10pm! The energy of a Red Sox/Yankees game is indescribable — you just have to experience it for yourself. And, if you act fast, you can score yourselves some prime seats ahead of time!
CODZILLA
For the adventure seekers, you can't go wrong with the CODZILLA Thrill-boat Ride. You, Dad, and the family will hold on tight while the captain puts the pedal to the metal (and the volume to 11) as you blast an original soundtrack and storyline that takes you on a fun, up-tempo journey on CODZILLA: 70-feet of marine aluminum and bad attitude, which prowls the ocean with two turbo-charged diesel engines, state-of-the-art water jets, and a staggering 2,800 horsepower. Its unique hull design makes it capable of hairpin turns and spinning on a dime. Needless to say, you'll want to hold onto your hats. True to its name, CODZILLA is monstrously fun — a thrill a minute — and is bound to make sure Dad won't forget this year's Father's Day as he screams across the water at speeds up to 40 mph.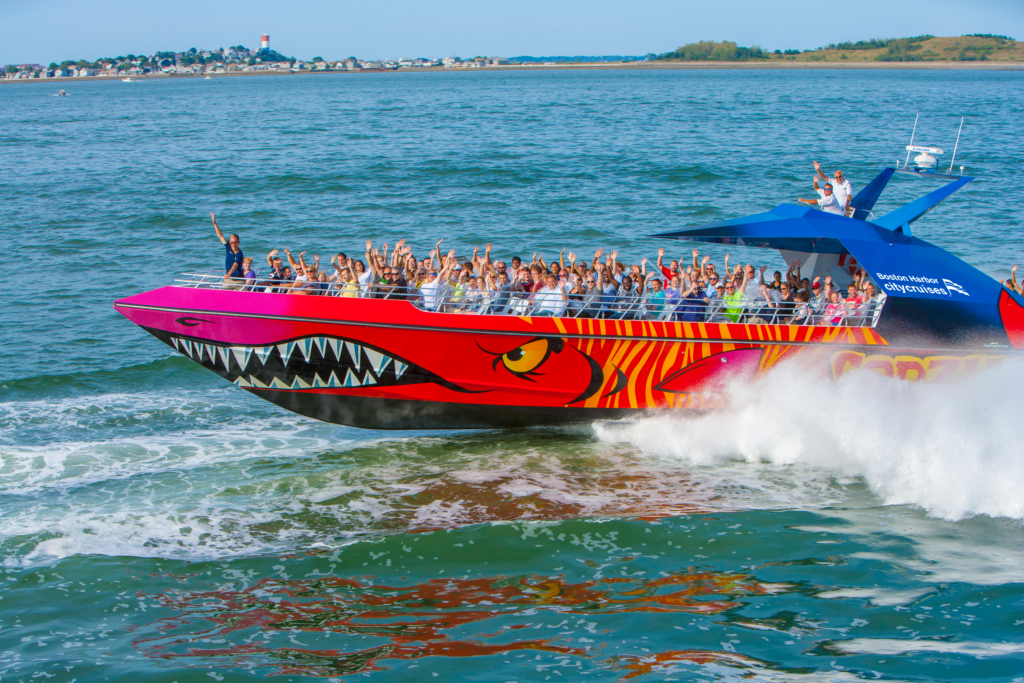 Food and/or Brewery Tours
For the beer-loving dad, no trip to Boston would be complete without a visit to Sam Adams. You can take a tour of the brewery, check out the brand's most exclusive research and development spaces, peek into the Nano Brewery, and sample plenty of fresh, delicious beer. Experienced guides craft each experience to your individual group, so whether you have a bunch of questions or are just looking for laughs, you'll have a great time.
If Dad is a foodie, he's in the right place. Not up to speed on your Bostonian hot spots? No sweat: That's where the Ultimate Boston Food Tour: Freedom Trail & North End comes in. You'll eat your way from Boston's historic downtown all the way to the charming North End, popping into plenty of local markets, historic restaurants, and charming eateries on the way. Plus, you'll hear the story behind each dish and discover why lobster rolls and clam chowder are just as important to Boston's history as the sights along the historic Freedom Trail. Your expert guide will lead you through the complete New England food experience, making sure to hit all of the classic dishes you just can't leave Boston without trying.
Menonton Ikan Paus
The nature-loving dad will love the New England Aquarium Whale Watch Cruise — you'll set sail with for the whale watch experience of a lifetime toward Stellwagen Bank Marine Sanctuary, a rich feeding ground for whales, dolphins, seabirds, and other marine creatures. Get ready to keep an eye out for all sorts of whale species, including humpbacks, finbacks, minkes, and the critically endangered right whales. New England Aquarium naturalists will share knowledge, answer your questions and explain the fascinating behaviors of these truly magnificent mammals, which you'll listen to from some of the largest and most comfortable whale-watching catamarans in the country, which feature outside viewing decks as well as a climate-controlled interior cabin with comfy seats and a snack bar. Or, if you'd rather experience the ocean on land, don't miss one of Boston's best attractions, the New England Aquarium. It's the perfect spot for the whole family to experience amazing sea creatures and learn more about the ocean — you can touch sharks and rays at the Touch Tank, watch northern seals play at the Marine Mammal Center, and much, much more.
Just remember: When it's all said and done, no matter what you decide to do for Father's Day in Boston, just make sure you have a great, fun time celebrating the dad in your life!