With almost 2,000 years of rich history, there is so much to see and do in London. This can be daunting for tourists new to the city: Where do you start and how much can you pack in? Not to worry! We mapped out a jolly three-day itinerary that will introduce you to London's most famous and fascinating sites, while leaving plenty of time to take in the city's grandeur (and British culinary staples) at a leisurely pace.
Alright mates, let us get started!
Day 1: Medieval History and Modern Entertainment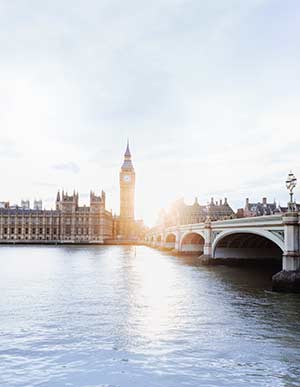 The first stop is The Tower of London – once a secure fortress, royal palace, and infamous prison. Plan to spend approximately three hours here, where you will be dazzled by over 20,000 gemstones still used for royal ceremonies today. These exquisite jewels have deep religious and spiritual significance in British history. You can meet the famous ravens that guard the Tower. It is believed "if the ravens leave the tower, the Kingdom will fall." There are nine ravens at the Tower today – you may get lucky and find one snacking at your feet!
Don't miss a visit with The Yeoman Warders, also known as the Beefeaters, that have guarded the Tower since Tudor times. With over 1,000 years of history, they will share sobering tales of torture, execution, and imprisonment that will both intrigue and frighten! Please note: this part of the tour requires navigating stairs and uneven walkways.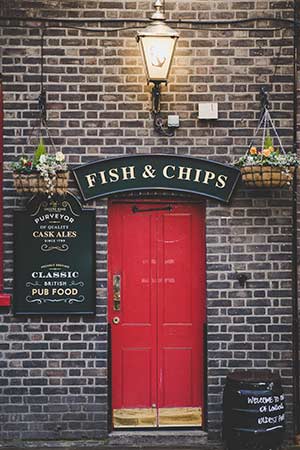 Now you may be feeling a bit peckish, or hungry. No trip to London would be complete without a taste of fish and chips, or "chippies" as they're known to the locals. (As we noted in another article, "The British practice of coating fresh fish in flour and deep-frying it in oil can trace its roots to Portuguese and Spanish Jewish immigrant communities," who settled in London in the 16Th and 17Th centuries.) Today, this dish is a distinctly British staple.
After fueling up, head over to London's West End where you can take in a show or musical to experience this vibrant cultural district that rivals New York City's Broadway. With almost 40 theaters here, there is something for everyone.
Experience London in a unique way–by boat! Give your legs a break and experience fantastic views while taking in many of the best sites in London. Hop aboard Sightseeing Cruise on the River Thames, sit back, relax, and be captivated by London's riverside landmarks while enjoying onboard concessions. You can make the most of your London River cruise with a 24h river pass. This is an all-day hop-on, hop-off Thames ticket offering unlimited access to the river for 24 hours. Travel time from pier to pier is approximately 40 minutes, except for Westminster Pier to London Eye, which is about 10 minutes. Cap off your first day with an exhilarating ride on the London Eye. This attraction is one of the world's tallest observation wheels offering a 360-degree panoramic view of London.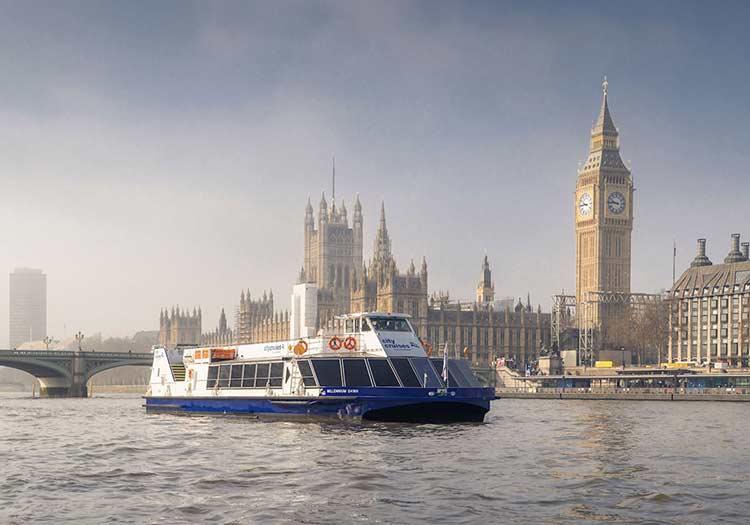 Day 2: Museums and Parks
With over 170 museums in the capital, London has hundreds of wonderful places to tour. Start at The British Museum, that houses over two million years of human history and culture. No other museum has a collection of cultural artifacts documenting human culture from its beginnings to the present. Plan to arrive early to view one of the largest collections of Egyptian sculptures outside Egypt. You will come face to face with the famous Rosetta Stone, an inscribed stone that unlocked the key to the hieroglyphic script of ancient Egypt.
Explore Greek and Roman life by viewing more than 100,000 tools and artifacts used in everyday life. With over 75,000 objects from the entire continent of Asia-Neolithic to the present day, you can view an outstanding array of Chinese antiquities such as jade, porcelain, lacquer, and other applied arts. The museum is also home to the world's largest and most important collections of Mesopotamian antiquities. One of the largest collections of Islamic art can be found here, such as pottery, tiles, glass, seals, paintings, and inscriptions. There are so many cool things to see, so plan to spend no less than three to four hours here.
Next, off to Madame Tussauds Museum to rub elbows with English royalty and your favorite celebrities from the music and film industry.  From there, head into a Marvel Superheroes 4D movie experience combining 4D animation with interactive displays of life-like replicas of superheroes to thrill all ages. Travel to a galaxy far, far away, where you'll experience your favorite Star Wars villains and heroes. You'll need about two hours for this museum.
After mingling indoors with all these (wax) characters, you might want some fresh air at London's glorious parks.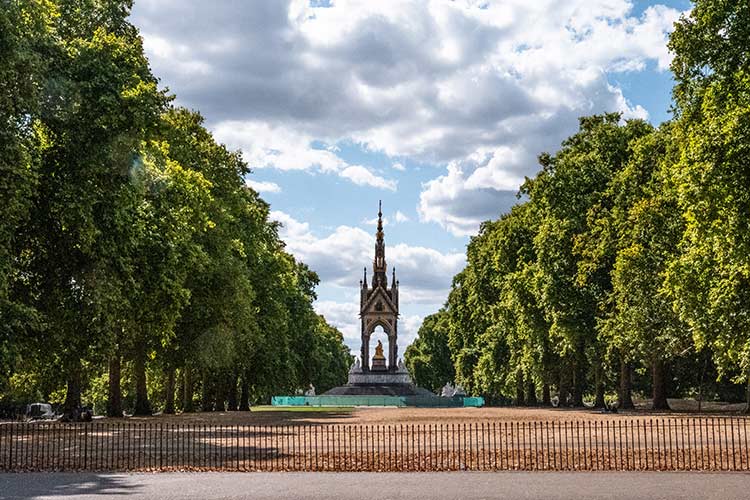 Hyde Park is one of the loveliest areas in London, offering lots of green space, and close proximity to restaurants and shops. Plan to see Kensington Gardens, which covers 265 acres with magnificent trees as a backdrop. Can you spot the architecture featured in famous films such as Bridget Jones: The Edge of Reason or Finding Neverland? Take a short walk to the Serpentine, which offers year-round exhibitions, architecture, education, and live events. Next, explore a beautiful and highly scented attraction, especially during the summer months. Stroll through the beauty of  and take advantage of this beautiful backdrop to dine al fresco that features stunning views and a living roof that supports biodiversity.
Before calling it a night, you must visit a pub, or "public house," where London's culture is alive and well and enjoy a pint in warm, cozy rooms amongst happy company.
Day 3: Have a Royal Time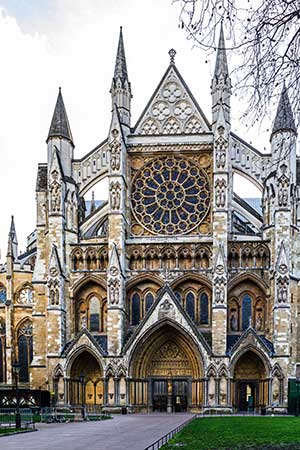 On your final day in London, take a guided tour with an expert that will lead you into the heart of official Britain. This experience will take you through a guided, skip-the-line tour of the Houses of Parliament and Westminster Abbey while providing stories and secrets of the British monarchy.
You will begin your day by visiting Westminster Abbey, which has served as the church for royal coronations and weddings. It was here that Elizabeth II was crowned Queen in 1953. Next, head over to the oldest building of the Parliament estate known for its role in British history and architectural importance. The House of Commons Chamber, or engine room, is where Members of Parliament decide and vote upon issues involving legislation.
The House of Lords is the second chamber of the UK Parliament, where investigating public policy takes place. Tour where political functions have been held and experience its Medieval architecture that has withstood fire, terrorism threats, and upheaval. Your guide will enchant you with tales and invite you to rooms with exclusive access. It may surprise you to hear that the Queen cannot enter here, but even more so, why! This tour will take approximately four hours.
Next, climb aboard a 30-minute train ride from London to visit Hampton Court Palace, with 60 acres of formal gardens and 750 acres of historic parkland. This royal castle is a must-see. Plan to spend about three to four hours enjoying this treasure. Take a stroll amongst the gardens and enjoy the beautiful architecture and vast art collection. Movie buffs may recognize this setting from famous films such as Pirates of the Caribbean and Sherlock Holmes. There are many activities for all ages, including The Hampton Court Maze and Tudor cooking classes. Don't forget to peek at Henry VIII's crown while visiting and let yourself wander through the historical chapels. Check the hours as they change seasonally.
Finally, celebrate your last day with a meal at one of three different eateries in Hampton Court Palace. Treat yourself to a Tudor-style pie and a souvenir to remember your trip. Cheerio!