If you're lucky enough to spend your birthday in Newport Beach, California, a) we're jealous, and b) you're in for a huge treat! Located between Los Angeles and San Diego, Newport Beach (Orange County) is a bustling city with a lively arts, food, and music scene that's often overlooked when it comes to birthday destinations. Of course, the main attraction is the beach, but if you dig a little deeper — and we're not talking about sandcastles — you'll find that the city has so much more to offer than vistas and its iconic shoreline. In fact, there's really no better place to spend a birthday: From hanging out on the boardwalk and cruising on the water to lounging on the beach, hitting some of the world-class restaurants and bars, and much more, there are a ton of great things to do for your birthday in Newport Beach.
Not sure where to go or what to do while you're in town? No problem: We've got your back. Take a peek at this short list we put together of a few of the best things to do in Newport Beach for your birthday.
Book your own birthday boat in Newport Beach with City Cruises!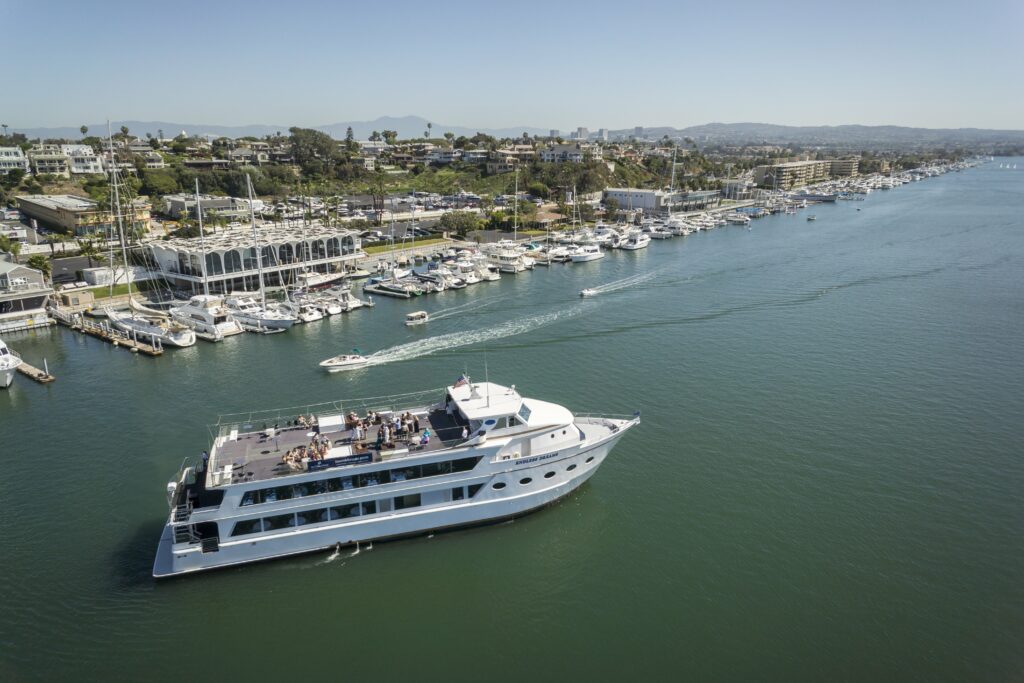 שייט בראנץ' פרמייר ניופורט ביץ'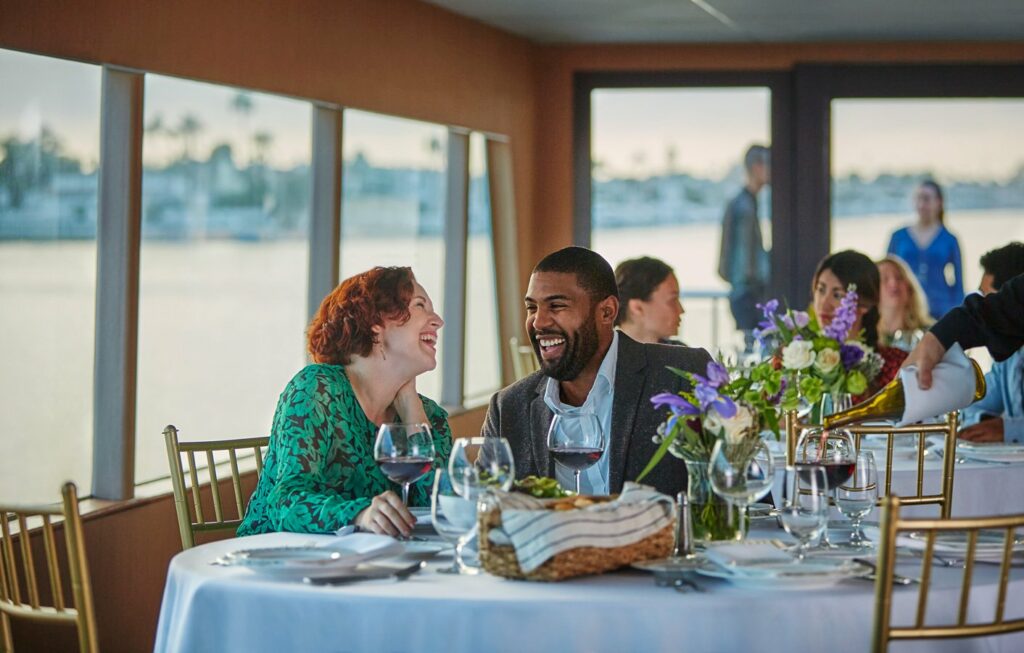 There's no better way to kick off your birthday bash than with brunch — unless, of course, you have brunch while you're embarking on a magical ocean escape on a yacht! Start your Orange County celebrations off on the right foot with the שייט בראנץ' פרמייר ניופורט ביץ'! While onboard, you and your guests will enjoy a delicious, chef-inspired buffet with a selection of fine wine, Champagne, and perfectly made classic cocktails. Plus, there's plenty of live entertainment while you're on board — and did we mention all of the gorgeous views of Southern California's world-famous beaches, yachts, and delightful sea life?
ניופורט ביץ' אתרים וסייפ פרמייר קרוז
Looking for a livelier experience while in town? Look no further — get ready to rock out on the water with breathtaking views of the Newport Beach Harbor, dance the evening away, and sip on a delicious cocktail (or three) as you watch the sunset aboard the Newport Beach Sights and Sips Cruise. You and your guests will get front-row seats to experience all of the action in the harbor while you jam out to the DJ's hottest tunes, maybe with a birthday request or two. There are also plenty of hors d'oeuvres, along with an excellent selection of cocktails, wine, and beer from the well-stocked cash bar.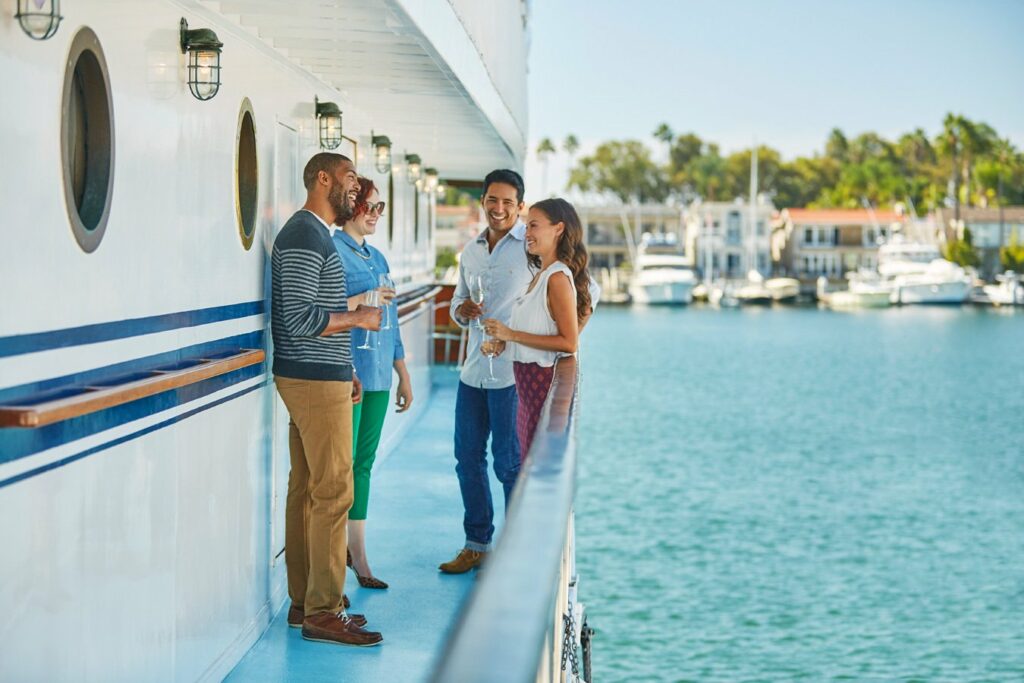 Newport Beach John Wayne Celebration Premier Dinner Cruise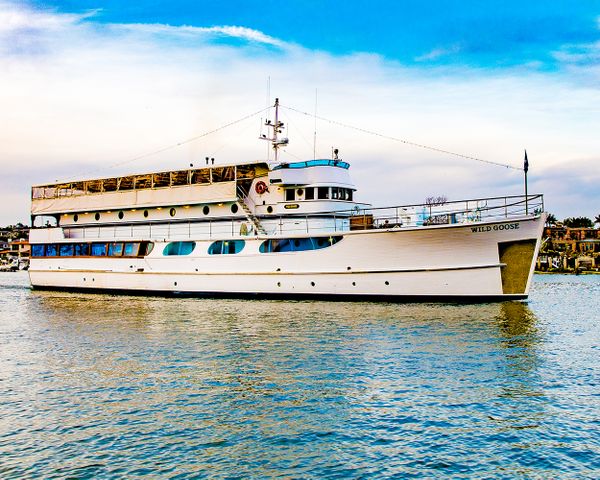 If you're a fan of John Wayne — or if you're just in the market for a great time on the water — you צורך to book your ticket aboard the Wild Goose: From May 25th through June 24th, cruises aboard the אווז בר yacht are in honor of the anniversary of John Wayne's Birthday! The famous actor called Newport Beach his home for many years, so the residents take his history very seriously, and the Newport Beach John Wayne Celebration Premier Dinner Cruise is sure to be a memorable cruise for you, whether you're a John Wayne fan or not.
You and your guests will be transported back in time as you enjoy your choice of dinner (or brunch on the Newport Beach John Wayne Celebration Premier Brunch Cruise) aboard the Wild Goose. You can chat with other John Wayne fans as you all sip delicious cocktails curated by Duke's Bourbon Whiskey. Not only that, but you'll also cruise by the location that was formerly John Wayne's 10-bedroom, seven-bath waterfront mansion where he and his family lived and Wild Goose was once docked. And, you can feel great about celebrating your birthday on the water, since a portion of ticket sales will benefit the John Wayne Cancer Foundation in support of John Wayne's final wish: to find a cure for cancer.
Other Great Ideas for Birthday Celebrations in Newport Beach
Other fun things to do in Newport Beach include popping into some of the city's great restaurants and bars to sample some of the delicious local cuisines. There's also the Sherman Library and Garden, which is a gorgeous botanical garden with a cool museum of living plants, ample walking paths, beautiful fountains and a library centered on the study of the Pacific Southwest. Oh, and don't leave town without checking out Balboa Pier — take advantage of the miles of sand for soaking in the sun during the day, and then in the evening, watch the sunset over the water.
Orange County Birthday Venue
Celebrate your birthday like a celebrity, on a yacht! After all, Newport Beach is in the Los Angeles area. Many are unaware, but you can rent out a City Cruises vessel to host your birthday celebrations. So say goodbye to the bar up the road, the traditional restaurant, and don't even think about going on a party bus, this year you should be celebrating on the water! And City Cruises will take care of all the planning for you, leaving you and your guests to fully enjoy the life of luxury as you eat, drink, dance, and sail along the California coast. They will customize your experience and tailor everything to your budget and party size. You can even rent out a deck, if renting out the entire vessel is too much space for what you're looking for.
The party doesn't stop at birthdays, City Cruises' vessels can be used for a number of private events. Weddings, bachelor and bachelorette parties, baby and bridal shower, corporate events, family reunions, you name it and it can be done.
As you can see Newport Beach has the perfect recipe for a night to remember, with all the ingredients to cheers to another year! Ready to book it? Simply fill out this form and an event planner will contact you.
FAQs – Newport Beach Birthdays on the Water
Why should I consider City Cruises for a birthday party in Newport Beach?
City Cruises offers an unparalleled experience for birthday celebrations. You can enjoy breathtaking views of the Newport Beach coastline while celebrating in a uniquely exciting setting. Their packages are flexible, allowing you to rent a whole boat, one deck, or even just a private table, making it perfect for parties of any size.
How many people can I invite for a birthday party on City Cruises?
The capacity depends on the type of booking you choose. If you rent an entire boat, you can invite a large number of guests. However, if you opt for a private table or one deck, the guest count will be comparatively less. For specific numbers, it's best to contact City Cruises directly.
What services does City Cruises provide for a birthday party?
City Cruises provides a wide range of services to make your birthday party unforgettable. This includes delicious catering options, fully stocked bars, and customizable entertainment options. Additionally, their professional staff will ensure everything runs smoothly on your special day.
Is there entertainment provided on board City Cruises?
Yes, City Cruises offers a variety of entertainment options. Depending on your preference, you can enjoy live music, DJs, and other exciting entertainment choices.
How can I book a birthday party with City Cruises in Newport Beach?
To book a birthday party with City Cruises, you can visit their website or call them directly. Their professional team will guide you through the booking process and help tailor your party to your needs and budget.
What kind of views can we expect during our birthday party cruise in Newport Beach?
Celebrating your birthday with City Cruises allows you to enjoy stunning views of the Newport Beach coastline, the Harbor, and possibly spot some marine wildlife. It's a unique and memorable way to celebrate your special day.
What makes a Newport Beach birthday celebration aboard City Cruises unique?
City Cruises in Newport Beach provides an exceptional fusion of luxury and natural beauty. With the serene Pacific waters as your backdrop, you're enveloped by panoramic vistas of the Southern California coastline, making each moment of your birthday celebration feel like a scene out of a movie.
How early should I book my birthday celebration with City Cruises in Newport Beach?
Given the popularity of Newport Beach as a celebration destination and the unique experience City Cruises offers, it's advisable to book your birthday celebration well in advance, especially during peak seasons. This ensures you secure your preferred date and time.
Is there a specific dress code for City Cruises in Newport Beach?
While there's no strict dress code, guests often opt for smart-casual attire. However, given the bespoke nature of birthday celebrations aboard City Cruises, you're free to set your own dress theme, whether that's formal, casual, or anywhere in between.
What additional amenities can I expect when celebrating my birthday with City Cruises in Newport Beach?
Apart from world-class dining and entertainment, guests can also enjoy amenities such as open-air decks, dance floors, and modern audio-visual equipment. City Cruises in Newport Beach ensures each aspect of your celebration, from ambiance to amenities, is nothing short of perfect.
How does celebrating in the waters of Orange County differ from other venues?
The pristine waters of Orange County offer an unparalleled ambiance. While land venues provide their charm, there's something profoundly serene and captivating about the rhythmic waves and the expansive views of the Pacific. City Cruises allows you to immerse yourself in this maritime beauty, making every celebration feel both intimate and infinite.
Why choose a boat over a traditional Orange County venue for birthdays?
A boat offers a dynamic and ever-changing backdrop of Orange County's stunning coastline, ensuring every moment of your celebration is accompanied by a fresh view. Besides, the exclusivity of being on a vessel away from the bustling crowds provides an intimacy that's hard to replicate in traditional venues.
What's the best time of year to have a birthday celebration on the waters of Newport Harbor?
Thanks to Orange County's temperate climate, any time of year is splendid for a maritime celebration. However, each season brings its unique charm: summer offers warm sunsets and playful marine life, while winter provides crisp air and serene waters.
How does City Cruises enhance the experience of celebrating on Orange County waters?
City Cruises combines the natural allure of Orange County waters with luxury and top-tier service. From gourmet cuisine that rivals Orange County's finest restaurants to entertainment options that echo the county's vibrant culture, every element is curated to complement the beauty of the ocean.
Why is an aquatic setting particularly memorable for birthdays?
An aquatic setting offers a sensory experience: the gentle rock of the boat, the salty sea breeze, the sound of waves, and the vast expanse of the horizon. This sensory blend, combined with Orange County's coastal charm, ensures memories made on the water are indelibly etched in the minds of all attendees.
Original post date: June 15, 2023