When it comes to seeing a city in all its glory, nothing beats a boat cruise, because let's be honest, if it's a destination like Boston, there's no better way to experience the city. And you know from the range of packages City Experiences offers, you have plenty of options to choose from. But did you also know that private Boston yacht charters and yacht rentals are available to book too? That's right, there are boat charters and boat rentals that you can claim as your own. Whether it's for a medium-size group or a large one, if you are hosting a gathering and are searching for an innovative event space, we've got you covered with a fabulous fleet of vessels to consider, plus numerous amenities to customize the experience. Of course, the range in guest capacity and stylish surroundings are matched only by the beautiful surroundings you'll be immersed in during your trip. The combination of all of these elements will make for one of the most memorable gatherings ever.
What to Expect on Your City Cruises Yacht Charter in Boston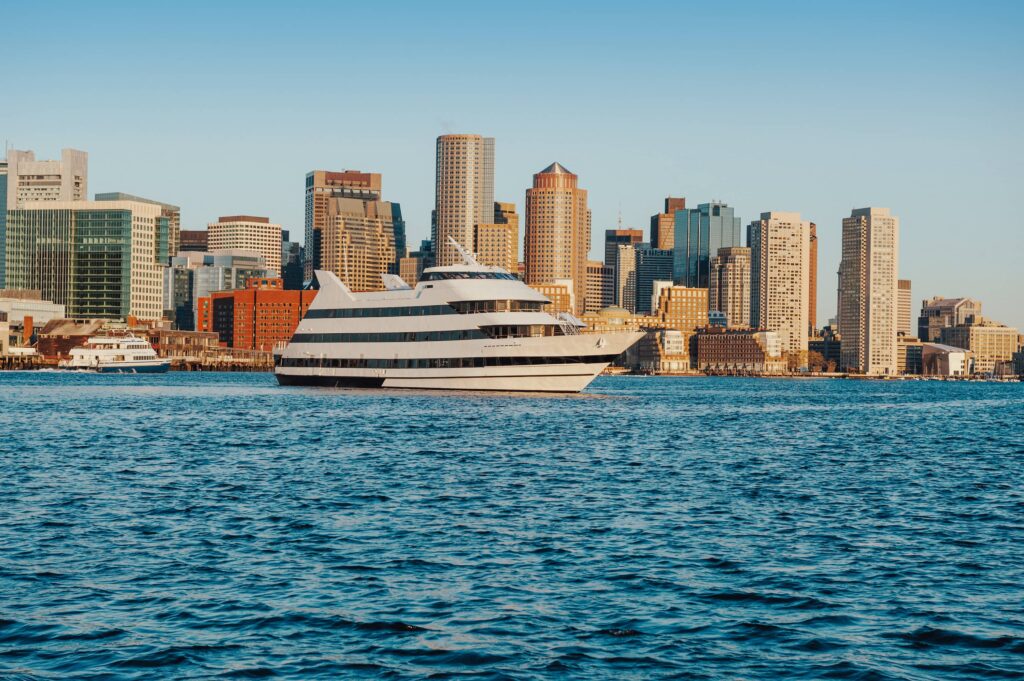 There are so many benefits to Boston Harbor City Cruises, it's hard to know where to begin—but we're going to give it a try. Because not only are the sights and sounds as good as it gets for experiencing the city, but amenities such as all-inclusive packages, chef-prepared menus, full bar options, and entertainment customized to your needs are also available. The climate-controlled interiors and open-air outdoor decks showcase picturesque views ideal for the eyes et your social media posts (think trending sunsets on Tik Tok). Whether you're keen to captivate your guests for corporate and educational outings, social gatherings, weddings, holidays, or any other type of celebration, yacht charters give you the freedom to hit the high seas in style. You can also include a historic sightseeing tour to elevate the experience, New England Aquarium whale watching, or get your adrenaline pumping by adding a speed boat thrill ride on the Codzilla.
Why Choose City Cruises for Your Boston Yacht Charter
So, why is City Cruises you ask? Let's start with the fact that the fleet options in Boston include some of the largest and most luxurious vessels in class, and they can comfortably host guests in capacities ranging from 140 people to 600. To entice you, we'll give a few examples. First, there's the Boston Elite (capacity 140), a two-level private yacht that features a cocktail lounge and a dining room. Because there are two outer decks at the stern of both levels, you and your crew get exclusive access to amazing city views from multiple angles. You'll also get to select from buffet-style or plated dining for menus to customize your event. Additionally, if you're seeking something extra special for your outing, this yacht has a private downstairs room (with a private restroom) that's also available for use (think wedding pre-prep for a bridal party). Next, we'll dive into the Spirit of Boston (capacity 600), a four-level dining vessel that features three interior climate-controlled dining decks and two exterior observation decks. Onboard guests can indulge in buffet-style dining, plus DJ entertainment and interactive games that take place throughout the yacht. That means fun—with or without the sun—for everyone in attendance.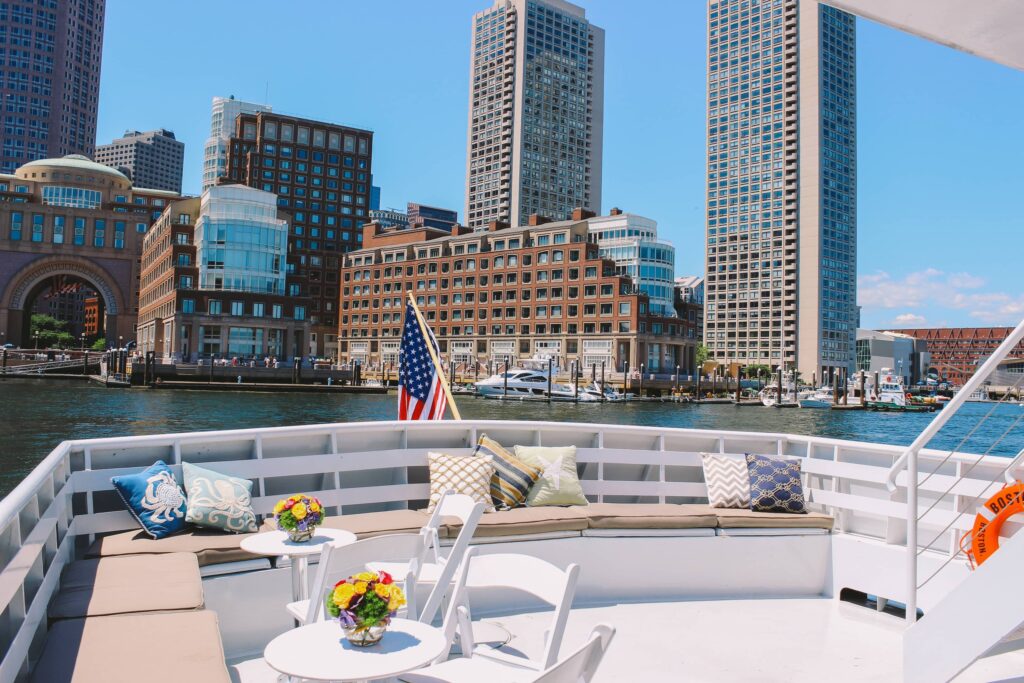 Experience Boston Like Never Before… with a Tour
Speaking of fun, there's plenty to be had in Boston along with a host of iconic landmarks and sites you just have to see for yourself. Rich in history and a spectacular skyline, the city features legends and lore about heroic tales of the Revolutionary War and local seafarers, along with views of the Boston Harbor Islands, the Bunker Hill Monument, and the USS Constitution. In fact, there are numerous sightseeing tours to take advantage of that can help inspire an itinerary of your own for any private yacht charters, and selecting the pace and sights are up to you.
How to Book Your Boston Yacht Charter with City Cruises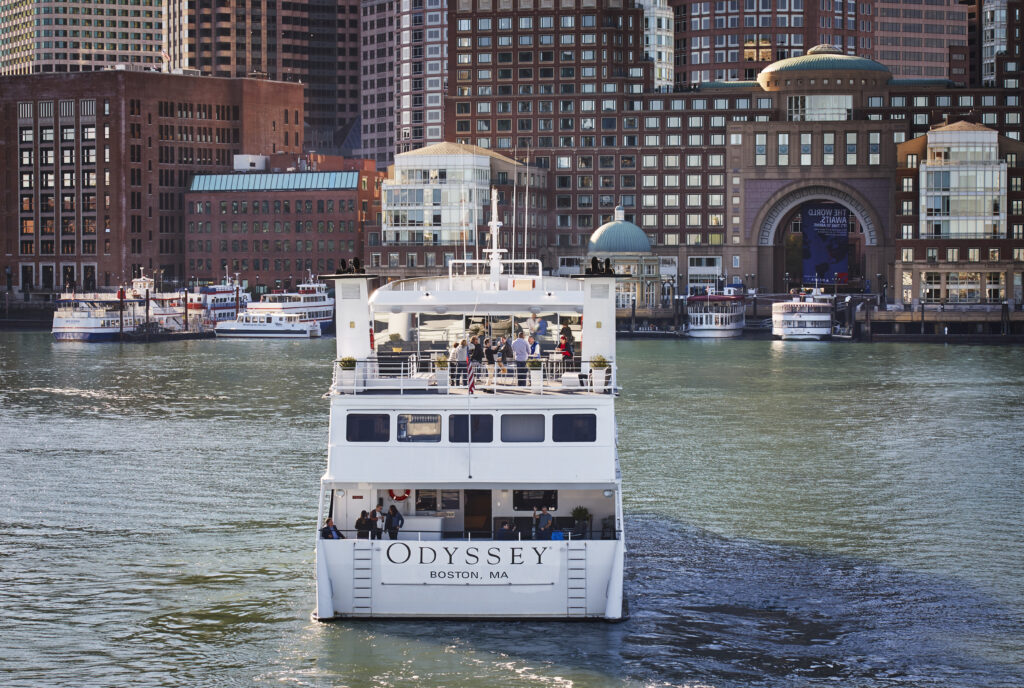 Now that you know what you can look forward to, the question remains: How do you book a yacht charter with City Cruises? The answer: Pretty easily. Just fill out this form and one of our event planners will contact you!
"Water" You Waiting For?
Enjoying the best of Boston can be a breeze if you're looking for a boat rental or yacht charter because City Cruises offers customizable packages that make it easy to design an experience with you and your guests in mind. We offer comfort, safety, style, and know-how means we've got exactly what you're after. With a luxurious fleet of vessels, multiple amenities, simple booking capabilities, and the amazing backdrop of the Boston skyline, there's only one thing left to ask yourself: How soon can I get organizing underway? While that's one thing we don't have an answer to, we can tell you that once you're ready to begin booking we'll be happily ready and waiting to assist you.
Renseignez-vous dès aujourd'hui !
Demande d'informations
Pour réserver un événement de groupe, veuillez nous contacter.
Voir le formulaire