For those living in certain parts of New York City, it can feel as though you couldn't be farther from the water. However, that couldn't be further from the truth! Though you might not think of it as one, the Big Apple is an ocean town, with gorgeous ocean beaches, a beautiful bay, multiple rivers, and even places to hop on a surfboard. Plenty of New Yorkers live in neighborhoods with access to the water, and lots of folks own boats. If you're looking for NYC boat rentals to get out on the water yourself, there are a slew of options, provided you're over 18 years old, hold a valid driver's license, and have a credit card, though you'll want to confirm the details with whichever NYC boat rental service you choose to use.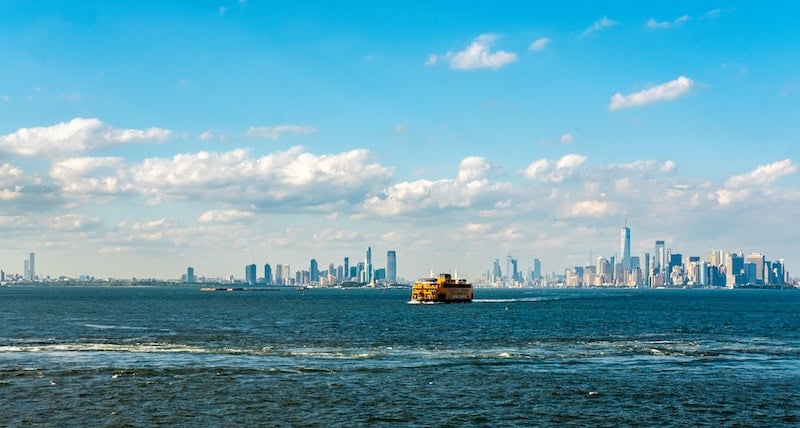 Easy NYC Boat Rentals
An easy, user-friendly option for boat rentals in the city would be to use a service like Sailo, Boatsetter, or GetMyBoat, which lets New Yorkers that have boats rent them out for a specific amount of time — sort of like an Airbnb. You'll see everything from pontoons and sailboats to catamarans and luxurious yachts, so as long as it fits your budget, you're sure to have a great time!
Maybe Consider a Boat Tour over a Boat Rental
Now, we know this might seem a little daunting — especially to those who are new to the city — and you're not alone. So, wouldn't it be nice if you could get all of the same perks, incredible views, and unforgettable memories on the water without having to worry about popping "NYC boat rentals" into the search bar and then chartering and captaining a boat? Well, lucky for you, you can! There are plenty of out-of-this-world New York City boat tours that you're bound to love. We rounded up a few of our favorites so you don't have to lift a finger, and can concentrate on what's most important: enjoying those skyline views!
How About a New York City Dinning Cruise?
Love the classics? Embark on the New York Signature Dinner Cruise, where you'll experience a delicious New York City dinner on the East & Hudson Rivers while you take in the spectacular skyline views of the city — including the Empire State Building, the Brooklyn Bridge, and the Statue of Liberty. Get ready to dine the night away with friends and family as you enjoy freshly prepared entrees, salads, and desserts with pick-ups at Chelsea Piers. Oh, and did we mention there's onboard entertainment with DJ music, access to shared spaces and interactive games, a large open-air rooftop lounge, and a full bar with creative cocktails, wine, and beer?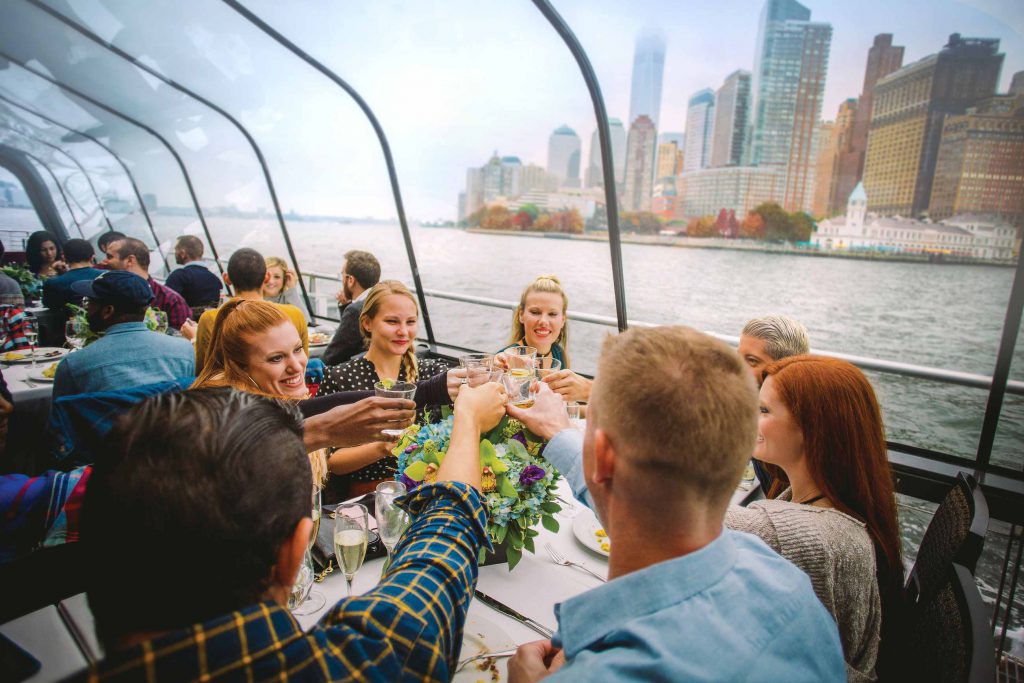 The Bateaux New York Premier Lunch Cruise is an incredibly scenic option, and you simply can't go wrong with this unforgettably elegant experience. Aboard this unique vessel, you'll embark on a cruise along the East and Hudson Rivers where you'll take in iconic views of the famous city from the special glass-enclosed deck. The ship is inspired by European design, which offers passengers a new, luxurious perspective from the water — along with a delicious plated dinner. Plus, you and your guests will be serenaded by a live band performance with a female vocalist, featuring songs that cover multiple styles and eras — a true Big Apple experience.
If You Need a Boat Rental for a Group Event, Look No Further!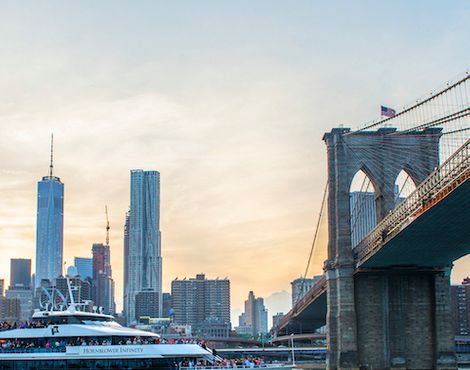 Now, the fleet of City Cruises New York City dining vessels is vast, with plenty of incredible ships that are ready to help you get the most of your time in the City That Never Sleeps. However, the most impressive vessel of them all is the Hornblower Infinity — recently featured in HBO's Succession. It isn't just a yacht: It's actually a first-class venue, complete with a 1000-person capacity and incredible views from all four of its stately decks. If you're interested in arranging a group event, this is the lap of luxury in terms of entertainment on the water, since there's no other yacht like it in New York City. The First Deck has an expansive dance floor and bar, the Second Deck's balcony has its own views of the skyline as well as the entertainment below, the Third Deck is perfect for a VIP area or a private event, and the Sky Deck includes private lounge quarters with an outdoor space that has to be seen to be believed. There's also custom LED lighting, a state-of-the-art sound system, HD TVs, four fully stocked bars and a Champagne bar, exterior sun decks, five dance floors, and much, much more. What are you waiting for? Unforgettable experiences await!
FAQs – Boat Rentals NYC
What are some highlights we can expect to see on an NYC boat rental?
When cruising around New York City, expect to catch stunning views of iconic landmarks such as the Statue of Liberty, Ellis Island, the Brooklyn Bridge, Manhattan Skyline, and the Intrepid Sea, Air & Space Museum, to name a few.
How many people can a boat rental in NYC accommodate?
Depending on the boat or yacht you choose, rentals can accommodate anywhere from a cozy group of 6 to a large party of 500 or more. Whether you're planning an intimate gathering or a grand event, there's a boat to fit your needs.
Can we customize our route when renting a boat in NYC?
Yes, many boat rentals in NYC offer customizable routes. Discuss your preferences in advance with the boat rental company, and they will try their best to accommodate your desired sightseeing spots and cruising path.
What types of boats are available for rent in NYC?
NYC offers a diverse range of boats and yachts for rent, including luxury yachts, sailboats, powerboats, catamarans, and even classic wooden boats to give you that old New York feel.
Are there any dining options available on NYC boat rentals?
Many NYC boat rentals offer catering options ranging from light appetizers and cocktails to full-course gourmet meals. Some boats have their own chefs and culinary teams to provide a memorable dining experience against the backdrop of the NYC skyline.
How does a typical day of boat rental in NYC look?
Your day can be as relaxed or as adventurous as you'd like! Many choose to cruise the waters, enjoying the skyline and landmarks. Others might drop anchor near Liberty Island for a picnic, or sail up the East River to see the city from a different perspective.
Is there a captain and crew included in the boat rental?
Yes, typically when you rent a boat in NYC, it comes with an experienced captain and crew to ensure your voyage is safe and enjoyable. They handle all the navigation, so you can sit back and enjoy the views.
Can we play music or have entertainment on board?
Absolutely! Most boats are equipped with sound systems allowing you to play your favorite tunes. Some larger yachts even have spaces that can accommodate live bands or DJs if you're planning a more festive event.
Can I rent a boat for special occasions, like birthdays or anniversaries?
Of course! Boat rentals in NYC are perfect for celebrating special occasions. Many companies offer customizable packages to ensure your event, whether it's a birthday, anniversary, wedding, or corporate gathering, is memorable.
What can I expect when renting a boat with City Cruises in NYC?
When you choose City Cruises for your NYC boat rental, you can expect unparalleled luxury, attentive service, and the most breathtaking views of the city. Our vessels are designed to provide a unique and unforgettable experience, no matter the occasion.
How long can I rent a boat with City Cruises?
With City Cruises, you have the flexibility of choosing either a half-day or full-day rental. This allows you to tailor your cruising experience to your schedule and preferences.
What iconic NYC sights can I see on a City Cruises boat rental?
On a City Cruises journey, you'll glide past many of NYC's most iconic landmarks, including the Statue of Liberty, Brooklyn Bridge, Manhattan Skyline, Ellis Island, and much more. Our routes are designed to give you the best vantage points the city has to offer.
What types of boats does City Cruises offer for rental in NYC?
City Cruises boasts a diverse fleet of boats, ranging from intimate vessels perfect for small gatherings to luxurious yachts designed for grand events and parties.
Are dining options available on City Cruises boat rentals?
Absolutely! City Cruises offers a variety of dining options. Whether you're looking for light snacks, a full buffet, or a plated gourmet meal, our culinary team is ready to elevate your cruising experience.
Is there a captain and crew on City Cruises boat rentals?
Yes, all our boat rentals come with an experienced captain and a dedicated crew. Their main goal is to ensure your safety and make sure you have a memorable time on the water.
Can I customize my NYC sightseeing route with City Cruises?
Certainly! While we have suggested routes that encompass major NYC attractions, we are more than happy to customize the cruise path to your preferences.
What sets City Cruises apart from other boat rental services in NYC?
City Cruises offers a unique blend of luxury, customization, and hospitality. Our focus is on providing each guest with a once-in-a-lifetime experience, showcasing the best of NYC from its stunning waters.
How can I book a boat rental with City Cruises?
Booking with City Cruises is simple. Visit our website or contact our dedicated customer service team, who will assist you in choosing the perfect boat and package for your needs.
Are City Cruises boat rentals suitable for corporate events or large gatherings?
Definitely! Our larger vessels are perfect for hosting corporate events, weddings, and other large gatherings. We offer customizable packages to ensure your event is both unique and unforgettable.