With its steep seven hills and precious few parking spaces, Rome is the perfect city to get around on a motorbike or electric scooter—you'll feel just like Audrey Hepburn in the classic Hollywood film Roman Holiday.
Opt to discover Rome by Vespa and you'll zip around traffic jams, uncovering hidden gems and fun corners of the Eternal City where cars can't go, such as into the Centro Storico and beyond ZTL barriers (zones of restricted circulation in Italian cities with historic centers). And in the end, you'll cover more ground than you might've done on foot or using public transportation.
Here are our best insider tips for renting a scooter in Rome.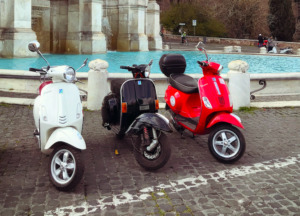 Where can you rent a scooter in Rome?
There are numerous rental-service companies catering to tourists looking for a scooter or Vespa rental. Many are located in the Rome city center, and you don't really need to book in advance as there are so many to choose from.
However, if you're more of the advanced-planning type, there are online rental-service options that let you reserve your Vespa, scooter, or electric scooter ahead of time. (Just check the cancellation policy in case you change your mind.)
For some truly flashy Vespa rentals and a nice selection of pedal-powered bikes, e-bikes, and electric scooters, check out scooter-rental company Bici & Baci. Another solid scooter-rental agency is Barberini Scooters for Rent. In operation since the late 1970s, this rental agency has a good array of choices and fair prices.
Do you need a license to rent a Vespa or a scooter in Rome?
Yes. To get around Rome by Vespa, you'll need a valid driver's license and an international driving permit, which you can get in advance of your trip in your home country or online. You'll also need a sturdy helmet, as these are strictly required while driving or riding on a scooter.
Be sure to read up on the rules of the road so you're ready to operate your scooter safely as soon as you hit the streets.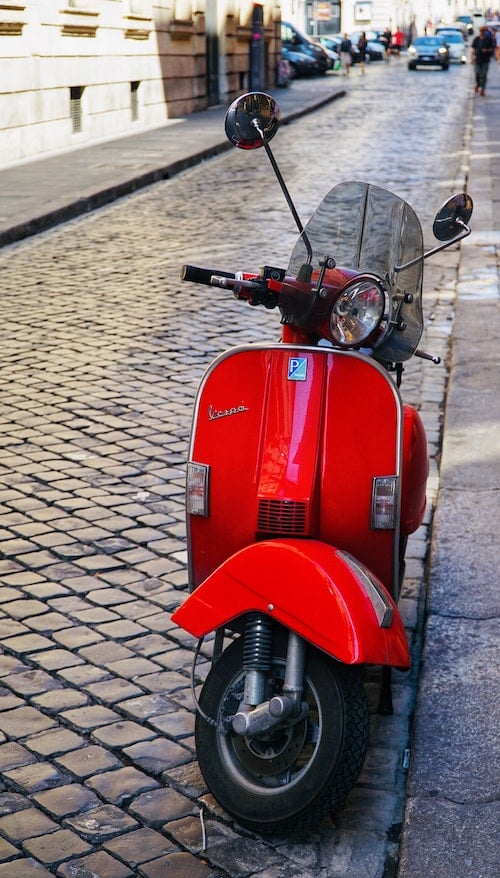 How much does it cost to rent a scooter in Rome?
Generally speaking, motorbike, scooter, and Vespa rentals in Rome won't set you back all that much. It's much cheaper—and much less stressful—than getting around the city's crowded streets by a car, though the price is dependent on the make and model of the vehicle you choose.
Motorcycles cost around €130 and up, while Vespa rentals and scooters can range anywhere from €7 for a few hours to €45 to €100 for the entire day. Some companies even offer a Vespa tour, a welcome option if you're nervous about navigating unfamiliar streets—and driving an unfamiliar vehicle—on your own.
Be sure to ask if gas is included with your rental. They may fill it up for you on-site, but you should likely reckon on paying for the fuel yourself.
Another consideration: Pretty much every rental agency in Rome will ask for a security deposit ranging anywhere from €250 to €500, depending on your vehicle.
What should you check for when you pick up your motorbike?
As with renting any vehicle, it's a good idea to perform a thorough inspection of your scooter or motorbike before you check it out from the rental agency.
Look for any visible nicks or scratches, and take photos to document them if they're present. It's also not a bad idea to go over your rental contact, just to make sure you don't miss any fine print and wind up with any unexpected charges.
Is it easy to find parking for your motorbike in Rome?
Yes and no. Rome is a crowded city, and in more densely populated and touristy parts of the city, you might struggle a bit to find a spot. But you're going to have a much easier time than if you were trying to find a place to park a car, no matter how compact.
Remember to always park in designated spots for scooters, and don't park on the sidewalk as it's strictly forbidden. Do not parallel park. As a courtesy to your fellow scooter riders, always park with your front wheel facing the curb so there's enough room for everyone.
How and where do you charge an electric scooter in Rome?
You can charge your electric rental scooter at a designated charging spot, or quite simply by plugging it into any electric source. Fully charging your scooter will take around three to six hours, depending on the type and size of battery your scooter is equipped with, so keep an eye on your battery's charge level while you tour the city.
Locate the battery charge port on your scooter, plug it into an electrical outlet and wait until it has enough power for your plans. Going to a charging station will probably get the job done faster—find a nearby charging station with this handy locator.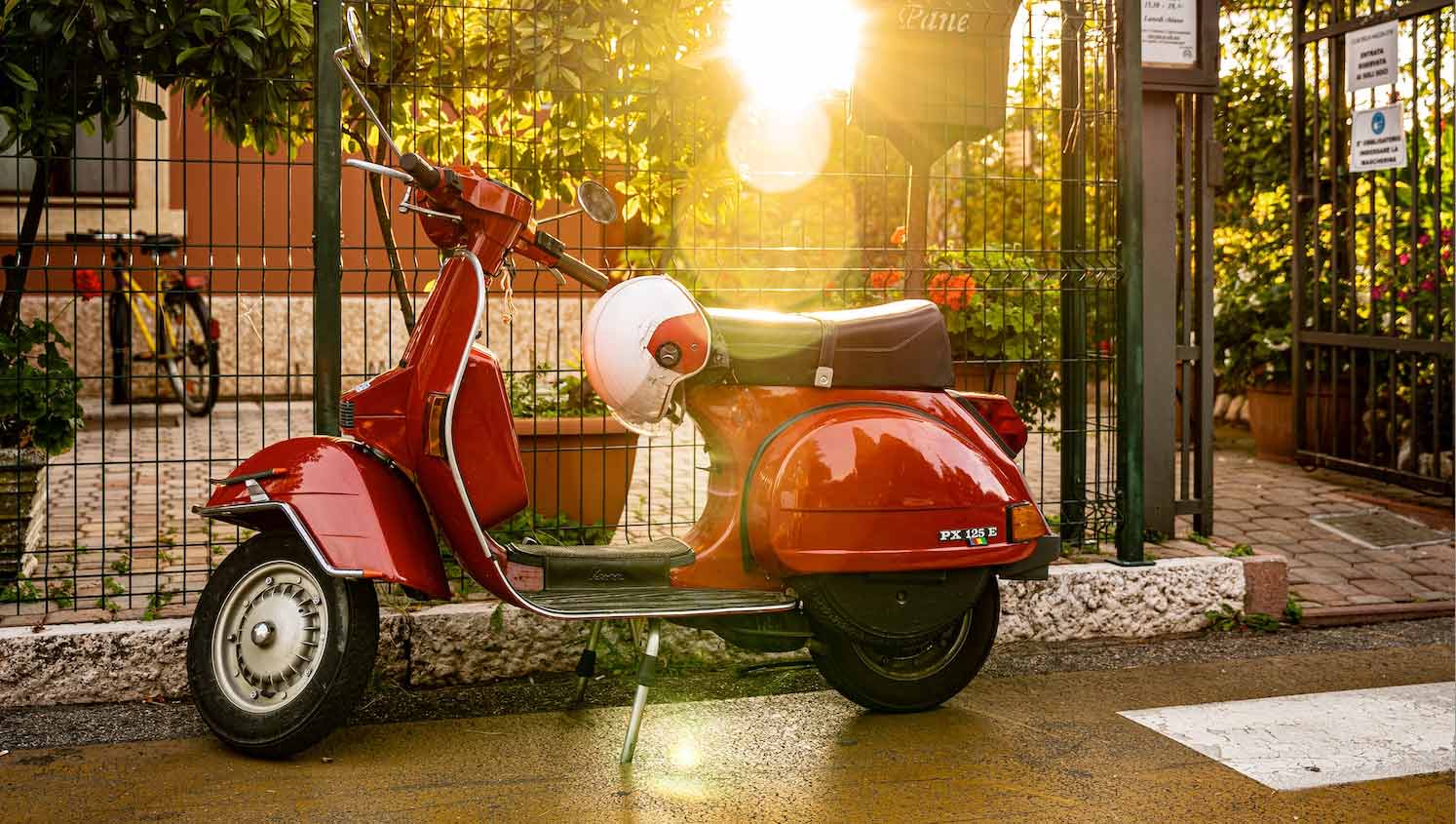 You've returned your rental; now what?
You've likely worked up an appetite after all that zipping around the Eternal City. What better way to top off your Roman holiday than by joining City Experiences Trastevere Rome: Gourmet Food & Wine Tour?
This tour introduces you to the Roman art de vivre as you explore the city's popular Trastevere neighborhood. You definitely won't be hungry after visiting the osterias, bars and enotecas en route—you'll sample local delicacies such as handmade pasta, cured meats and cheeses, and, of course, delicious Italian wines (which you're free to enjoy in full now that you're not driving).