Nestled in the heart of England, the historic city of York boasts a captivating blend of medieval charm and cultural heritage. From its iconic landmarks to its quaint cobblestone streets, York offers a unique backdrop for exploration. Experience the magic of York from the serene waters, immersing yourself in its beauty and history. Let's embark on a journey of discovery as we explore the benefits and opportunities that boat charters in York have to offer.
The Vessel
At City Cruises, we understand that each memorial event is unique, and we strive to provide the best experience tailored to your specific needs. From selecting the perfect boat to accommodate your guests to offering a range of amenities on board, our fleet has been carefully designed to meet your requirements. Some of the amenities you can expect include:
Music Facility: Our vessels are equipped with a high-quality sound system to play meaningful songs, hymns, poems, or other background music of your choice during the ceremony.
Bar Area: We offer a fully stocked bar that provides hot, cold, and alcoholic beverages for your guests to toast to the cherished memories.
Welcome Drinks: Upon request, we can arrange welcome drinks to ensure your guests feel comfortable and cared for during the event.
Catering Options: Whether you prefer a simple gathering or an event with catering, we are here to cater to your wishes.
Heated Saloon and Open Area: Our vessels provide both heated indoor saloons and open areas, allowing for a comfortable setting to scatter the ashes.
Washroom Facilities: We understand the importance of convenience for your guests, so our boats are equipped with clean and accessible washrooms.
Space for Up to 50 Guests: Our boats offer ample space to accommodate up to 50 guests, allowing you to share this significant moment with your loved ones.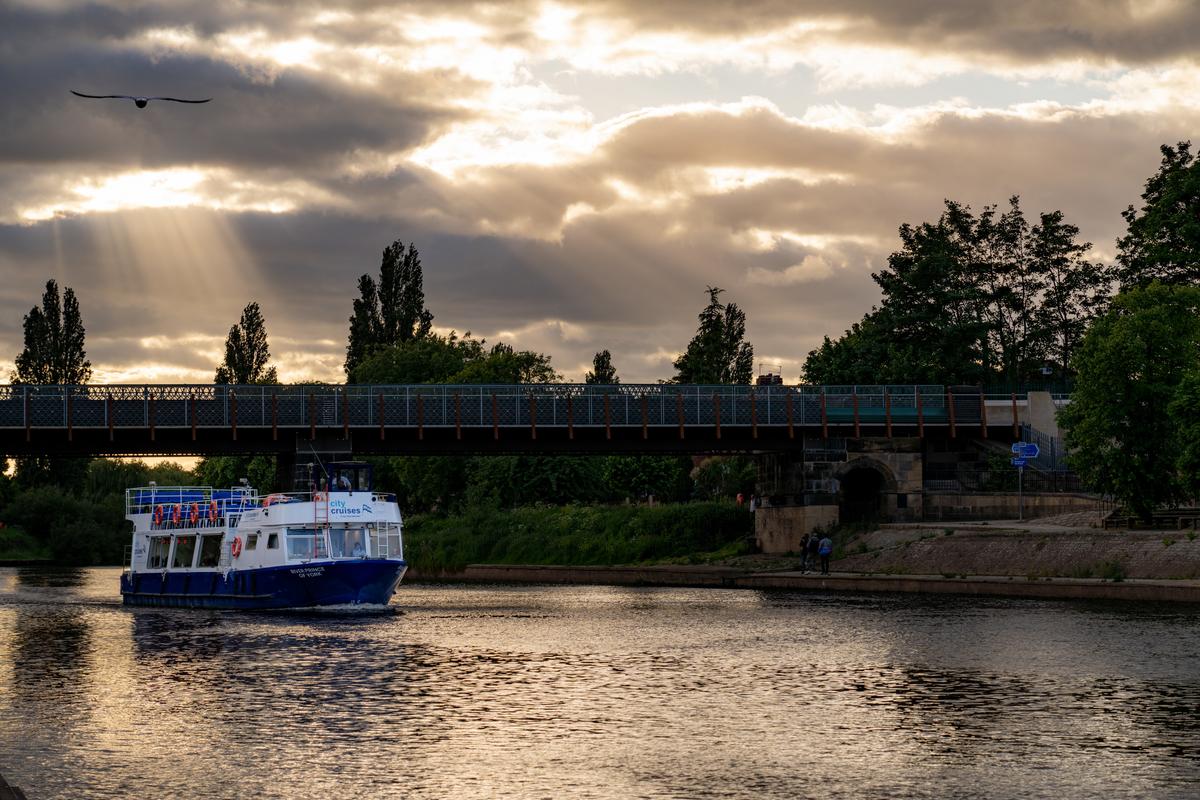 The Ceremony
Scattering ashes on the River Ouse is a deeply moving and personal experience, and we want to ensure that the ceremony reflects the unique spirit of the departed. Our team is dedicated to tailoring the event according to your preferences, ensuring a memorable and sensitive charter. You are welcome to invite religious officials or celebrants to officiate the ceremony, and we will endeavour to accommodate any special requests you may have.
To preserve the pristine environment of the River Ouse, floral tributes thrown into the water must be biodegradable. For scattering ashes directly onto the water, the urn used must be a water urn that is biodegradable, which dissolves in water, leaving no ecological footprint.
A Lasting Tribute
To provide a lasting tribute to your loved ones, you may wish to register the ashes scattering online. You can make a virtual dedication, marking the exact location of the ceremony, and add tributes, photos, and special notes. This online memorial allows family and friends to come together to cherish the memories and celebrate the life of the departed.
Saying goodbye to a loved one is an emotional journey, and City Cruises is honoured to provide you with a serene and private space to scatter their ashes on the River Ouse in York. With careful consideration for the environment and your individual needs, our vessels offer the perfect setting for a meaningful and unforgettable farewell. Let us help you create a heartfelt tribute that celebrates the life of your loved one and offers comfort to all who attend.
Booking and Information
We understand that each event is unique and may require specific arrangements. Whether you prefer a short, one-hour cruise with no frills or a longer one with catering and entertainment, our dedicated team members are here to help you plan the perfect event. For more information or to begin planning your event, please fill out the enquiry form or contact our team at [email protected].