Event venues on the water are an excellent option for unforgettable special occasions. Hosting a waterfront gathering can provide you with a more laid-back experience. Say "I do" with a view, host your next corporate event, holiday party, fundraiser, or any other social event on the water. Calm and tranquil waters await you and your guests. Whether you are on a boat or overlooking the water, there is no better backdrop to offer guests a once-in-a-lifetime experience with unforgettable views.
Når du vælger et sted på vandet, kan du skabe en begivenhed, der er tilpasset dine behov. Mange krydstogter giver dig mulighed for at organisere aktiviteter og detaljer under din udflugt. Eller, hvis du foretrækker det, kan eventteamet stå for organiseringen og planlægningen for dig, så du kan fokusere på de andre aspekter af udflugten. Nedenfor finder du nogle af de bedste steder på vandet rundt om i USA, som du kan benytte dig af til dit næste arrangement.
Hvorfor søge efter mødesteder på vandet?
Selecting a venue on the water allows you to offer your guests a unique experience. You can plan all wedding-related events at these venues or elect to use them for certain parts of the wedding; like an engagement party, bridal shower, rehearsal dinner, or reception.
De bedste bryllupssteder på vandet i San Francisco
Disse bryllupslokaler i San Francisco tilbyder et unikt sted at holde jeres bryllupsfestligheder. I kan planlægge alle bryllupsrelaterede begivenheder på disse steder eller vælge at bruge dem til visse dele af brylluppet, f.eks. prøvemiddagen eller receptionen.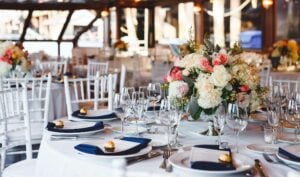 Pier 27 er et bryllupssted, der opfylder alle krav - smuk udsigt over Bay Bridge og et stort åbent rum, der kan tilpasses, og som kan bruges til enhver bryllupsstil, du foretrækker. Dette unikke sted på molen giver jer en fantastisk beliggenhed, hvor I kan nyde San Franciscos skyline og vandudsigten på samme tid.
Du kan vælge at afholde dit arrangement på plænen, på molen eller dele aktiviteterne mellem de to steder.
There's nothing better than enjoying your special day cruising around San Francisco Bay. You can elect to have your wedding reception, rehearsal dinner, or all of the above on a boat! The available boats at City Cruises can hold up to five hundred guests and as little as one hundred twenty, so you can create the wedding excursion of your dreams.
Du kan tilpasse hvert enkelt område af dit bryllup, når du booker dit arrangement på en båd. Desuden kan eventteamet håndtere alle detaljerne og hjælpe med at lette stresset ved at arrangere det perfekte bryllup.
De bedste lokaler for virksomheder på vandet i New York City
Hosting a corporate event while cruising around NYC makes it that much more special. It's a fantastic way to treat your team or your clients to a unique, fun event!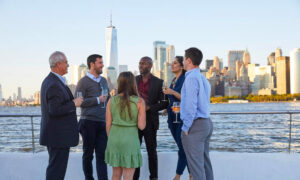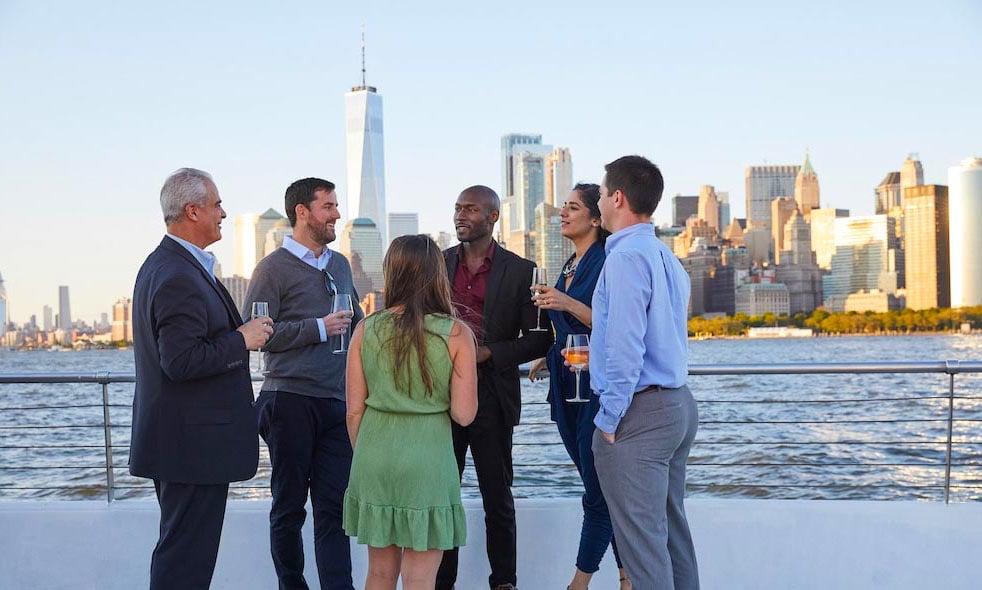 The Water Club in New York City is famous for its venue next to the water, making it an excellent spot for corporate events. This venue includes helpful staff who can assist with the planning and take care of all your event needs. The venue includes amenities like private rooms, cozy fireplaces, river views, valet parking, and classic American fare for the event.
Depending on your event needs, you can elect to host your event inside or on the rooftop. Whether you stay inside or choose the open-air offering beautiful city views, you'll find yourself impressed with the offerings of this venue.
By choosing to hold your corporate event on a cruise around NYC, you can provide a more relaxed environment regardless of the agenda. Whether celebrating your team's challenging work, building team relationships, or hosting a conference, you will find an ideal location on one of the available boats in New York.
Sjovt fødselsdagssted på vandet i Chicago
Celebrating a birthday or milestone event on the water is a distinct way to mark the occasion with friends and family. Here are some ideas for venues on the water in Chicago.
City Cruises carries several ships that can provide an exceptional spot for an event. Whether you are looking to plan an elegant birthday party or a fun dance party with a DJ and bar, you will find the perfect venue on one of the available boats.
When choosing a birthday party you can select the food, entertainment, and décor. That way, the birthday celebration fits your needs. Blow out your candles on the water and create picture-perfect moments.
Hvis du planlægger dit arrangement på Rockwell on te River, får du et fantastisk sted med unik arkitektur, naturligt lys og udsigt over Chicago River. Dette sted er perfekt til fødselsdage, da der er et destilleri, en risteri og et bryggeri på stedet.
Du kan inkludere en rundvisning i disse områder før eller efter festen. Du kan også inkludere en VIP-udflugt under arrangementet med dig selv og dine nærmeste venner og familiemedlemmer.
There is a catering kitchen on site, along with food trucks, bars, and other necessities for events like tables, chairs, and drapes.
Top Water Venues in San Diego
This sophisticated resort is located in Encinitas, with some of the finest facilities around, and is an ideal spot for any milestone function. This exquisite location offers space available for up to two hundred guests so you can host an intimate or large gathering. Guests can mingle and relax with the backdrop of the breathtaking Pacific Ocean. There are dedicated staff to assist with all your needs to create your dream event. We offer items such as chairs, tables, and other items directly from the venue to make planning easier. You can take advantage of the many amenities and spa facilities that are offered.
This waterfront property can host a wedding or event for up to three hundred people but is scalable to host an intimate event if needed. The stunning views overlooking the marina provide guests with an unforgettable experience. Walkways adorned with trellises line the lush green landscaping to provide photo-worthy moments. There are thirteen unique rooms to accommodate meetings, engagement parties, wedding showers, or wedding receptions. Outside catering is permitted which can help with the cost or rent directly from the venue for convenience.  This scenic venue is also conveniently located close to San Diego Airport making it ideal for corporate events and other occasions.
Groups and Private Events with City Cruises
Escape the indoors while hosting an event on the water. Take advantage of exceptional views and chef-prepared meals that can be customized to fit your budget. Entertain clients, hold special meetings, book a holiday party or an employee outing, and unwind while taking in the scenery while City Cruise staff take care of all your needs with impeccable hospitality. This will be an event to be enjoyed by all.
Top Water Venues in Norfolk
Krydstogter i byen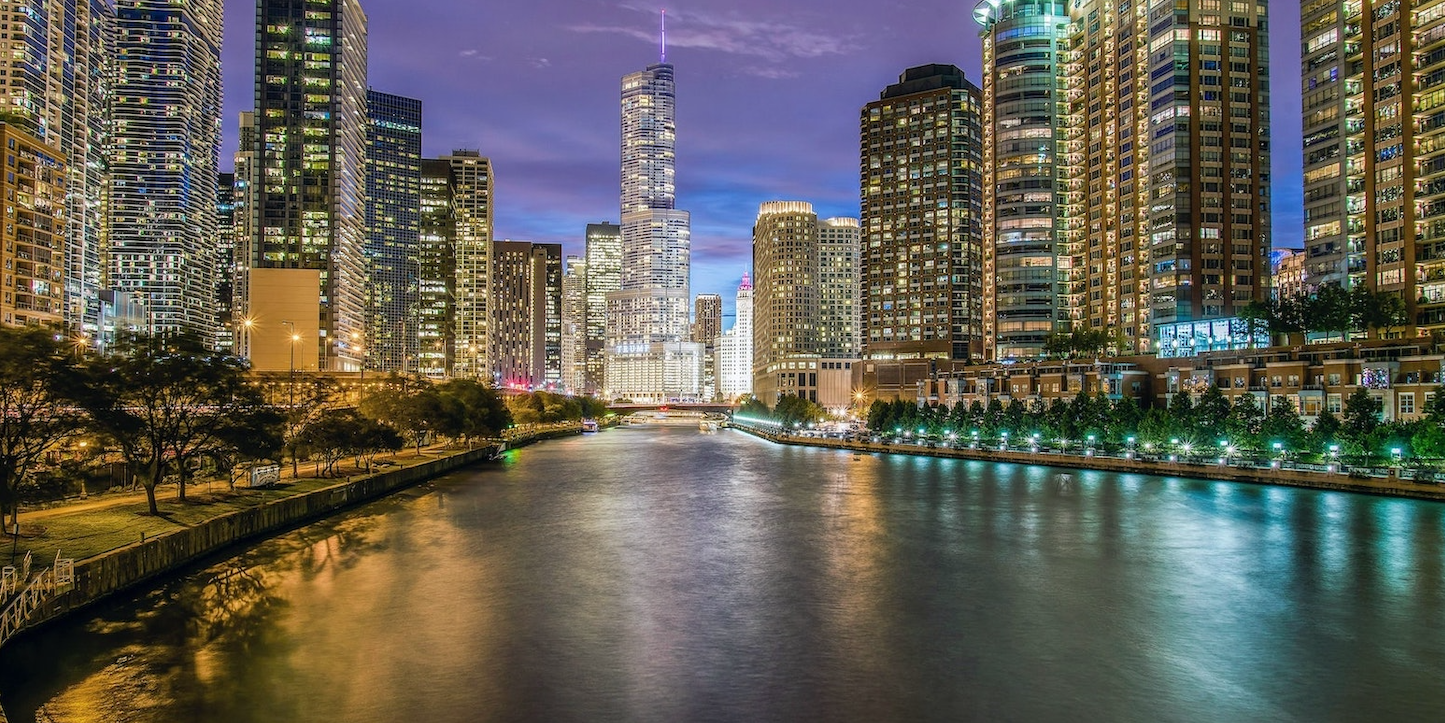 Host your next holiday party, corporate event, or educational field trip aboard a floating venue! Enjoy exceptional views of the US Navy's Atlantic fleet while dining on chef-prepared cuisine, full bar services, and packages to fit any budget. There is no better way to celebrate your occasion and create lifelong memories.
Guests can enjoy unmatched views at the Harbor Club located in Waterside District. The flexible gathering space allows you to create the event of your dreams. Host your next fundraiser, corporate holiday party, or wedding reception overlooking the waterfront from the dock. Soothing views of the water will await you on the balcony with high-top tables, firepits, and soft seating. This spot can accommodate up to two hundred people with beautiful views of the Elizabeth River.
Spillesteder på vandet: Planlægning af din begivenhed
Det kan være en stor opgave at planlægge et stort arrangement på et sted på vandet. Men hvis du deler planlægningen op i sektioner med individuelle opgaver, vil det hjælpe dig med at forberede dig på din store dag. Hvis du har brug for hjælp til planlægningen af arrangementet, kan du uddelegere opgaver for at få planlægningen til at gå lettere.
Assign duties that can help with tackling projects to help the event run smoothly such as managing activities, food, drinks, entertainment, etc. Once you have the ideas established and tasks listed, it is smooth sailing toward a fully planned event.
OFTE STILLEDE SPØRGSMÅL:
Er det bedre at vælge et sted på vandet?
Whether or not you choose to hold your corporate, wedding, or another event on the water depends on several factors. These factors include budget, the type of event, and proximity to the water venue. For example, if you are hoping to have a corporate event, but the water venue is not conveniently located, it may not be practical.
Overvej disse faktorer, før du beslutter, om det vil være en fordel for dit arrangement at vælge et sted på vandet.
What events can you host at venues on the water?
Du kan afholde næsten alle arrangementer på et sted i nærheden eller på vandet. Hvis du ønsker at fejre din fødselsdag på en båd, kan du helt sikkert arrangere begivenheden på en sådan måde, at det er muligt. Både er et fremragende valg til alt fra polterabend til bryllupper, teambuildingaktiviteter og meget mere.
Where can I find party venues on the water near me?
First, you must decide upon a location, which you have probably already considered. Next, consider where guests are traveling from in addition to parking for the venue. Look for places that will hold the correct capacity and suit your budget. Consider hiring a party planner as surprisingly, they can assist with budgeting. Flexibility in dates and times can open up many possibilities. Be sure to book early and check reviews on your selections online.
Original post date: August 30, 2022