Event venues on the water are an excellent option for unforgettable special occasions. By housing your next gathering in venues on the water, you can enjoy a more laid-back experience. Thus, encouraging a relaxed get-together between yourself and your guests. Hosting private events on the water is ideal for activities like weddings, birthdays, and more.
Selecting a venue on the water allows you to create an event catered to your needs. Many cruises enable you to organize the activities, and details during your outing. Or, if you prefer, the event team can do the organization and planning for you so that you can focus on the other aspects of the outing. Below, you'll find some top venues on the water around the U.S. that you can take advantage of for your next event.
Why Look for Meeting Venues on the Water?
Selecting a venue on the water allows you to change your typical environment. You can enjoy stunning views as you conquer any event you like. Boats are great for business meetings, corporate events, team-building activities, and more.
Top Wedding Venues on the Water in San Francisco
These San Francisco wedding venues offer a unique spot for holding your wedding festivities. You can plan all wedding-related events at these venues or elect to use them for certain parts of the wedding, like the rehearsal dinner or reception party.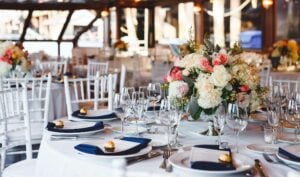 Pier 27 is a wedding venue that checks all the boxes – beautiful views of the Bay Bridge and a customizable large open space that can feature any wedding style you prefer. This unique pier venue provides a stunning location for you to enjoy the San Francisco skyline and water views simultaneously.
You can elect to have your event on the lawn, the pier, or split the event activities between the two.
There's nothing better than enjoying your special day cruising around the San Francisco Bay. You can elect to have your wedding reception, rehearsal dinner, or all of the above on a boat! The available boats at City Cruises can hold up to 5000 guests and as little as 120, so you can create the wedding excursion of your dreams.
You can customize each area of your wedding when booking your event on a boat. Plus, the event team can manage all the details to help ease the stress of curating the perfect wedding.
Best Corporate Venues on the Water in New York City
Hosting a corporate event while cruising around NYC makes it that much more special. It's a great way to treat your team or your clients to a unique, fun event!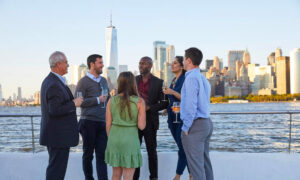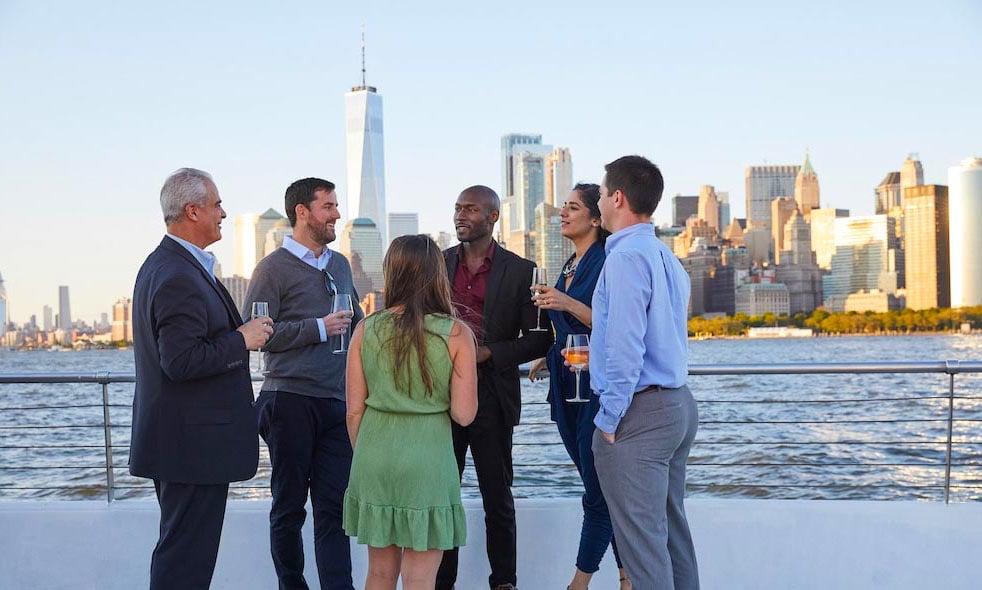 The Water Club in New York City is famous for its venue next to the water, making it an excellent spot for corporate events. This venue includes helpful staff who can help you plan out your event. The venue includes amenities like private rooms, cozy fireplaces, river views, valet parking, and American fare for the event.
Depending on your event needs, you can elect to host your event inside or on the rooftop. Whether you stay inside or hang out on the rooftop, you'll find yourself impressed with the offerings of this venue.
By choosing to hold your corporate event on a cruise around NYC, you can provide a more relaxed environment regardless of the agenda. Whether celebrating your team's hard work, building team relationships, or hosting a conference, you'll find an ideal location on one of the available boats in New York.
Fun Birthday Venue on the Water in Chicago
Celebrating a birthday or milestone event on the water is a special way to mark the occasion with friends and family. Here are some ideas for venues on the water in Chicago.
City Cruises carries several ships that can provide an exceptional spot for an event. Whether you're looking to plan an elegant birthday party or a fun dance party with a DJ and bar, you'll find your perfect venue on one of the available boats.
With a boat selection, you can choose the food, entertainment, and décor. That way, the birthday celebration fits your needs.
Planning your event at Rockwell on the River offers a stunning spot with unique architecture, natural light, and views of the Chicago River. This event venue is perfect for birthdays, as a distillery, roaster, and brewery are onsite.
You can include a tour of these venue areas before or after the celebration. Or, include a VIP excursion during the event with yourself and your closest friends and family members.
There's a catering kitchen onsite, along with food trucks, bars, and other necessities for events like tables, chairs, and drapes.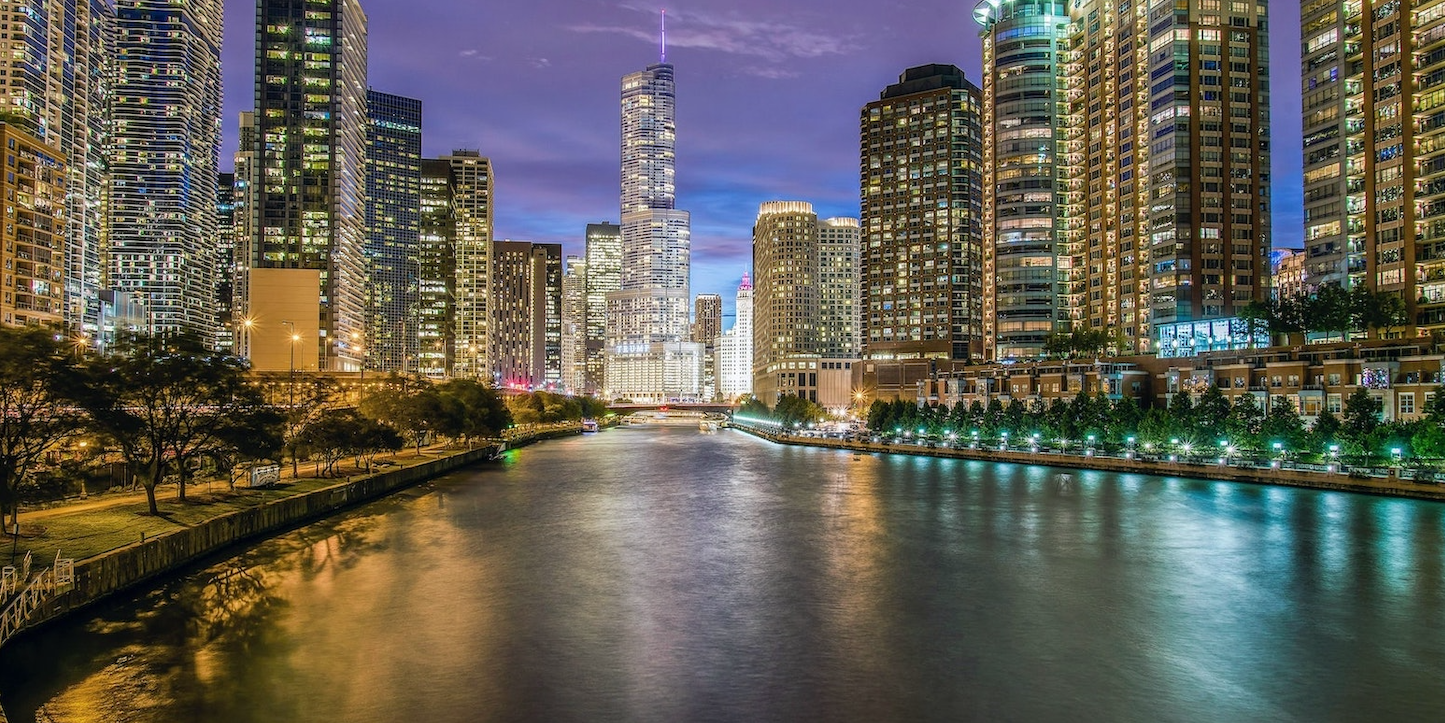 Venues on the Water: Planning Your Event
Planning a large event at a venue on the water can be a big undertaking. However, breaking the planning into sections with individual tasks will aid you in preparing for your big day. If you need help planning the event, you can delegate tasks to make planning go more smoothly.
These sections include the date, time, length of event, activities, food, drinks, entertainment, etc. Once you have the sections established and tasks listed, it's smooth sailing toward a fully planned event.
FAQ:
Is it better to choose a venue on the water?
Whether or not you choose to hold your corporate, wedding, or another event on the water depends on a few factors. These factors include budget, the type of event, and proximity to the water venue. For example, if you're hoping to have a corporate event, but the water venue is a 2+ hour drive, it may not be practical.
Consider these factors before deciding whether selecting a venue on the water will benefit your event.
What events can you host at venues on the water?</strong
You can host nearly any event at a venue nearby or on the water. If you want to celebrate your birthday on a boat, you can certainly arrange the event to accommodate this. Boats are an excellent choice for anything from bachelorette parties to weddings, team-building activities, and more.