In San Diego, you'll find sun, sand, and tons of tasty food—and as in any foodie town, brunch is a big deal.
Whether you're looking for plant-based takes on signature dishes, brunch classics like thick-cut bacon and perfectly poached eggs Benedict, or the best bottomless mimosas around, San Diego's many brunch restaurants have you covered.
(Of course, that's just on dry land; if you'd rather be out on the water, the City Cruises brunch cruise is an uber-popular, champagne-filled way to greet the day).
Where it started
In 1896, the word "brunch" was introduced as the fad of eating between breakfast and lunch. Since then, brunch has gained popularity amongst the crowds who like to sleep in and those who enjoy the practice of mixing alcohol and juices to create iconic brunch beverages. Since brunch is considered between two meals, typically it starts at 9 am and ends around 2 pm, and there are no menu rules. Nothing beats sipping a mimosa and enjoying some sunny weather.
Where to find the best brunch in San Diego
From design-centric places serving contemporary cuisine to sunny spots for a beach-side breakfast, these are the best brunch restaurants in San Diego.
Let's dig into some of San Diego's options for the best way to begin your day by chilling on a rooftop, sipping bubbly by the beach, or in a cozy spot over Bloody Mary's, San Diego has it all.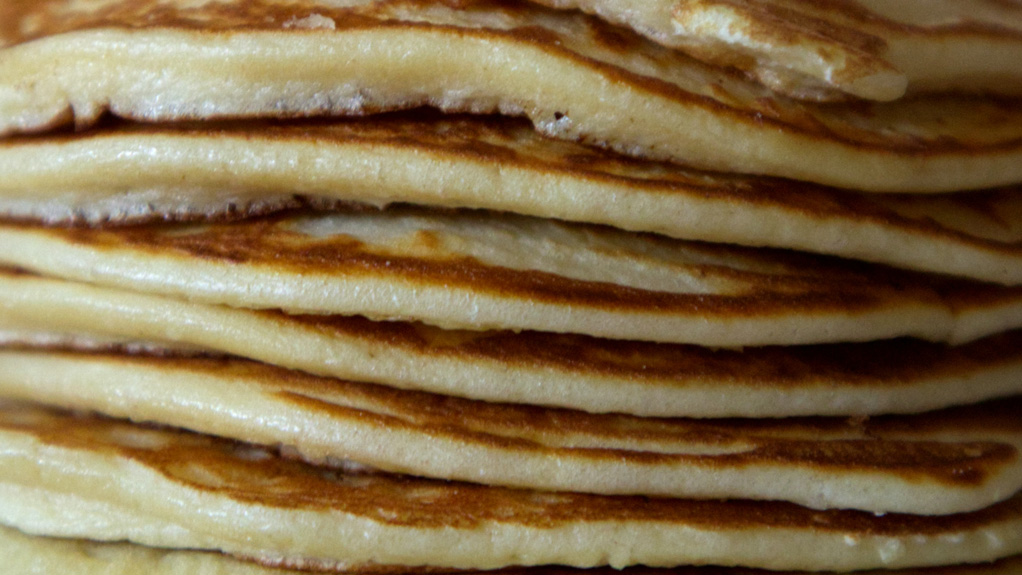 1 Snooze, an A.M. Eatery
This retro-styled spot in the North Park neighborhood packs them in for weekend brunch, thanks not only to the delicious food and boozy beverages but also the vintage vibes, friendly staff, and great service.
The signature pancake flight is always a favorite here, as well as the massive breakfast burrito and inventive eggs Benedict. There's also an entire "Plant Power" portion of the menu with vegetarian and vegan options.
2 Hob Nob Hill
You'll find no shortage of trendy new brunch restaurants around San Diego, but Hob Nob Hill has been a local institution since 1944. It's the place to go for a classic breakfast-brunch experience, serving up diner-breakfast classics like scrambled eggs, omelets, and biscuits and gravy alongside more modern fare, such as avocado toast and churro pancakes. The menu includes San Diego brunch classics, like burritos and huevos rancheros.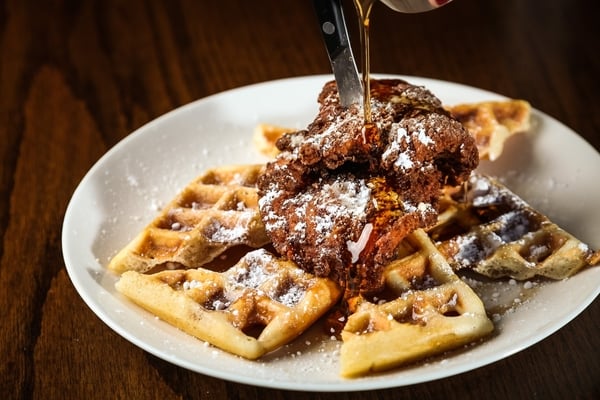 3 Morning Glory
If you're looking for a unique, fancy brunch spot to elevate your day, Morning Glory fits the bill. Resplendent in pink-hued light fixtures and banquettes, the setting is just as exceptional as the all-day breakfast menu.
In addition to the best brunch hits, like fried chicken and waffles and pancakes with vegan options, globetrotting menu items—think: birria, khachapuri, and breakfast carbonara—turn a regular Sunday brunch into a culinary adventure. The cocktail menu is equally inventive, and specialty coffees are up for grabs. Morning Glory also has an outdoor patio, and its elevated view is pretty unbeatable.
4 The Duck Dive
Located just steps from Pacific Beach, the Duck Dive is not only one of the best spots for an oceanside brunch in San Diego but also one of the booziest. The bottomless mimosas here are $17.50, and the creative cocktails are geared toward early-morning enjoyment—the breakfast shot, for one, comes with a side of bacon. The vibe is casual and beachy, and the menu includes excellent food like PB&J French toast.
5 Broken Yolk
This classic brunch spot has a family-friendly environment serving something for everyone, from health- and wellness-focused offerings like acai bowls and avocado toast to indulgent skillets and Belgian waffles.
Now with multiple locations nationwide, including in La Jolla, the original cafe was founded at Pacific Beach in 1979. It's a favorite among those who grew up eating there with friends and family, so if you want to dine where the locals do, you can't go wrong here.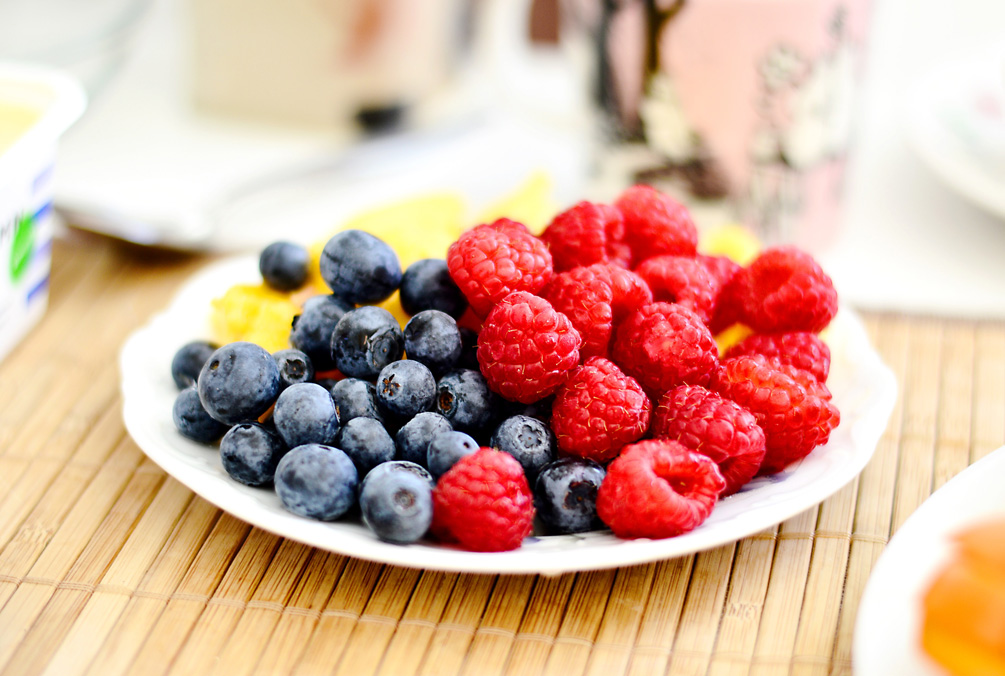 6 Breakfast Republic
As the name suggests, the hip mini-chain Breakfast Republic is all about the most important meal of the day, and it always ranks among the best brunch spots in San Diego.
Choose from brunch options like omelets, French toast, and pancakes with kid-approved flavors like Oreo cookie, mix it up with bacon mac 'n' cheese or a breakfast burger, or go with something from the dedicated vegan menu to keep it meat-free. Wash it all down with one of the excellent drinks, like the all-natural house prosecco or a boozy Bloody Mary, and you've got a contender for the best breakfast in town.
7 Madison
With a striking indoor dining room and a beautiful outdoor patio, Madison gives its weekend brunch menu a Mediterranean twist. The white-bean shakshuka with peppers, onions, tomatoes, and poached eggs is a favorite, best paired with a creative cocktail or wellness-focused mimosa. Definitely get the waffle churro fries to share with the table!
Honorable mention
Spectacular rooftop views? Check. A beautiful sunken bar and indoor-outdoor lounge? Check. Aside from the view, the menu is top-notch as well with artful blends of French and Alsatian influences like Tartiflette, Savory Dutch Baby, and Fines Herbes Omelettes all on the menu. Crave-worthy handmade pastries, bread, and donuts are a hit too. Enjoy a Jazz Brunch on Saturdays with a NOLA-inspired menu with Frog Legs, Shrimp Po Boys, hushpuppies, and of course beignets, not to mention classic New Orleans cocktails to spice it up. This place gets crowded so make reservations in advance.

Bonus can't-miss brunch spots around San Diego
These seven restaurants only scratch the surface of San Diego's brunch scene. Here are some bonus options: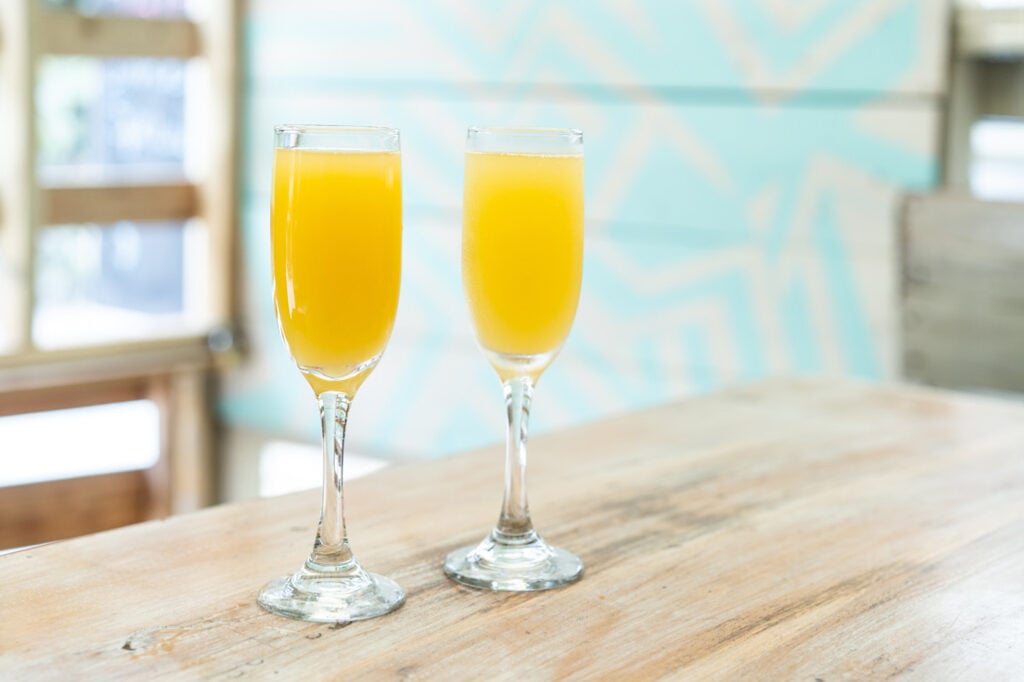 Hash House A Go Go – Giant, over-the-top portions
Pali Wine Co. – Wine bar meets multicultural brunch
Cafe 21 University Heights – Great food made with organic ingredients, plus mimosa flights
The Mission East Village – Latin American–inspired brunch fare
MexiPino Craft – Breakfast sandwiches on Mexican conchita bread? Sign us up!
Kono's Cafe – A delicious option for Sunday brunch at a reasonable price
Whether you want a breakfast burrito or a craft cocktail, brunch in San Diego takes things to a different level. With yummy food, boozy breakfast cocktails, and fun vibes, San Diego's brunch restaurants serve a meal you won't want to miss, from North Park and Pacific Beach all the way to La Jolla. With the warm weather and beautiful views, San Diego is a top spot to enjoy brunch for the whole family.
Original post date: July 25, 2022