The shared meal is a quintessential human experience. And as a University of Oxford study revealed, "the more often people eat with others, the more likely they are to feel happy." Indeed, some of our fondest memories come from the meals we have shared. We also discover the heart of a community through its dining and cuisine. The Golden Gate City provides this and much more. Here are 5 fun places to eat in San Francisco that will have you craving the city for days to come.
1. Best Place for a True San Francisco Breakfast Farm: Table
Address: 754 Post Street San Francisco, CA. 94109
We aren't yolking when we say that you will love the cozy San Fransisco vibes you get from Farm: Table.
It has outdoor street seating to watch the world go by or you can eat inside for the communal, casual dining feel. Best of all is its dog-friendly and free dining for your four-legged friends! Farm: Table gathers everyone together where you feel like you are part of San Francisco's family.
The homemade dishes are locally sourced and bring San Fransisco's heart right to your plate and stomach. Get to know the Golden City through its local veggies, fruits, milks, and cheeses from the love that goes into its farm delivering fresh ingredients to your table.
Staples include the tuna melt, breakfast burrito and avocado toast. There's also a kids menu to keep the little ones happy, too.
2. Best Place for a Whimsical Brunch Son & Garden by Farmhouse Kitchen
Address: 700 Polk St, San Francisco, CA 94109
Get whisked away into the fantasy-like surroundings of Son & Garden. The romantic and whimsical colors and décor transport you into an Instagram post.
Enchanting flowers hanging from the ceilings and walls, candles burning, and the most impressive creations are presented. The Thai-American world fusion cuisine is as pretty as a picture. It's also a fun place to eat in San Francisco any time of the day.
Try something new and place an order for the impressive Matcha Mochi Pancakes. The striking green chewy pancakes are topped with a green tea sauce and the dramatically colored dragon fruit.
For the savory side, Fried Chicken Benedict is the way to go. Boneless crispy fried chicken with the perfect combination and sweetness of the syrup has your mouth watering.
On special days bring the Tiffany Tea Set where your inner child can come out and dine. Tiers of the most precious finger-sized desserts make for a fairy tale day out.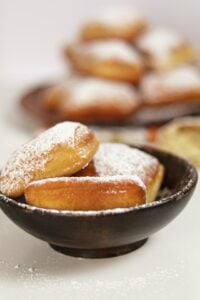 3. Best Place for a Soulful Lunch Brenda's French Soul Food
Address: 652 Polk St, San Francisco, CA 94102
Everyone needs a little cajun in their soul. Brenda's French Soul Food brings just that and is perfect for those cool San Francisco days warming you up from the inside out.
It's French style with some New Orleans soul. Chicken & andouille gumbo, shrimp & grits with spicy tomato and bacon gravy, and catfish des allemands bring NOLA to the San Francisco tables. But it may be the fried chicken with hot pepper jelly that has you charmed.
Want to put a little south in your mouth, then the crawfish it is, spiced with cayenne, scallions, and cheddar. Can't decide, then donut worry, all day long you can find New Orleans' favorite donut and order yourself the famous beignets.
4. Best Place for a Playful Dinner: Dumpling Time
Address: 11 Division Street, San Francisco, CA. 94103
Life can be stressful and a bit too serious at times. So, get out, relax and treat yourself to dumpling delicious.
Watch as the fresh dumplings are created into artful masterpieces right before your eyes. It's one of the many reasons why Dumpling Time tops the list of fun places to eat in San Francisco.
In addition to its handmade dumplings, the restaurant menu features vegetable dishes such as sautéed and gingered snap peas, garlicky green beans, shrimp toast, and hand-cut noodles. Have some shrimp toast or shrimp balls on the side and finish off with some sweet bao for a meal well done.

5. Best Way to Discover the Fun Places to Eat in San Francisco: Ultimate San Francisco Food Tour: North Beach, Chinatown and Beyond
Learn the story of San Francisco through its food, people, and history. You'll make 6 to 7 stops in the Ultimate San Francisco Food Tour.
It's a feast of different heritages. There are Italian-American tastings of much-loved sweet treats and old-school delicatessen through Little Italy. Chinatown brings you to the authentic Chinese market and off to learn about fresh and hot Chinese fortune cookies just made. Sometimes we all need something a little bit different than a table and chairs, and hitting the streets is a fun way to eat your way through your next meal.