Events for the 52nd Anniversary - Saturday, November 20, 2021
Alcatraz Island, Industrial Building | 10am – 3pm
Program Schedule
10:10am: Opening Prayer
*Cultural interpretive Presentations by Alcatraz Veterans and Others are every half hour:
10:30am – 11:00am: New Proclamation of 2021 by Dr. LaNada War Jack and Elijah Oakes and Honored Guest Dorothy FireCloud, National Park Service Native American Liaison
11:00am – 11:30am: Song by Sharaya and Richard Oakes Jr. Family Presentation
11:30am – 12:00pm: Native American Dance Presentation
12:00pm – 12:30pm: Original Veteran Family Presentation and Indians of All Tribes Planning Committee & Acknowledgement
12:30pm – 1:00pm Original Alcatraz Occupation Leader, Dr. LaNada War Jack
1:00pm – 1:30pm Personal Alcatraz Stories: Bill and Nan Lopez, Eloy Martinez, William Ryan, Kris Longoria, and Claudine Boyer
1:30pm – 2:00pm: Song by Paloma and Acknowledgement to Pit River Tribe and Native American Dance Presentation
2:00pm – 2:30pm: Original Alcatraz Occupation Leader Dr. LaNada War Jack
2:30pm – 3:00pm: Closing Ceremony of Event by Dr. LaNada War Jack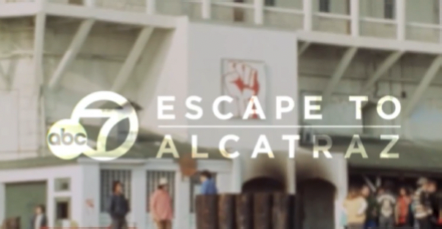 "Escape to Alcatraz" By: ABC Channel 7
Location: Main Video Screening Room
10:15am – 11:00am
11:00am – 11:45am
11:45am – 12:30pm
12:30pm – 1:15pm
1:15pm – 2:00pm
2:00pm – 2:45pm
*Please be sure to wear your mask inside all buildings and on the boat
Red Power On Alcatraz: Perspectives 50 Years Later
2019 marked the 50th Anniversary of the Occupation of Alcatraz by the Indians of All Tribes, a key event in the history of Alcatraz Island, the Native American civil rights movement, and our nation.
Exhibit in the New Industries Building, Alcatraz Island  | Admission Included in Day Tour Ticket
In 1969, a group of Native American activists calling themselves the Indians of All Tribes arrived on Alcatraz. Joining the Civil Rights Movement and Vietnam War protests of the time, these Indians spoke out against the US Government's Termination Policy and the broader plight of American Indians.
The NPS developed this exhibit in partnership with Indians of All Tribes, an ongoing organization that educates Indians and non-Indian supporters and friends about the history and development of Indian tribes and their peoples throughout the Americas from Alaska to South America.
The exhibit tells the story of their 19-month occupation of the Island and their continued work to improve the treatment of Native American people. The exhibit opened on Alcatraz Island in November 2019 and contains photographs by Ilka Hartmann, Stephen Shames and Brooks Townes, and original materials from the collection of Kent Blansett, as well as contributions from the community of veteran occupiers.