This blog post was originally posted on January 22, 2015, and was updated on October 5, 2020.
Wondering where to eat in Barcelona? In a city with options ranging from rustic, traditional Catalan fare to sleek fusion spots, there's no short answer.
Barcelona is a food lover's city. And even with up to six meals a day, as we often eat here in Spain, that's still not enough time to truly grasp all that's on offer.
From age-old, family-run tascas to Michelin-starred creative hotspots, the list of where to eat in Barcelona is endless. Whether you're visiting for a few days or calling Barcelona home long term, be sure to choose wisely!
Where to eat in Barcelona—no matter where you are
Carrier del Parlament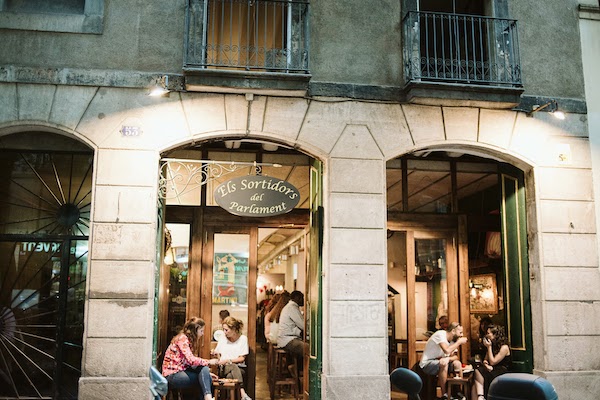 It's hard to go wrong deciding where to eat in Barcelona if you're on Carrer del Parlament, a wide strip cutting through the Sant Antoni neighborhood. Whether you're after breakfast, lunch, dinner, vermouth, or anything in between, there's always something of top-notch quality on hand here.
Els Sortidors del Parlament is one of our favorite spots in Sant Antoni for good drinks and good food.
La Boqueria
In Barcelona, markets aren't just for buying fresh local products. They're also a gathering place for locals grabbing a bite to eat.
The famous Boqueria market is high on many people's lists of where to eat in Barcelona. Though it's become quite the tourist attraction, it also has a few tiny, timeless restaurants inside where you'll find locals eating incredible food.
El Quim de la Boqueria has been serving up a multitude of mouthwatering dishes along their 16 meters of bar space since 1987.
Another classic is Pinotxo Bar, the perfect place for what we call esmorzar de forquilla. This is a big Catalan-style breakfast that involves a lot more than your typical toast. Have a look at the video below to meet the wonderful owner, Juanito!
Gracia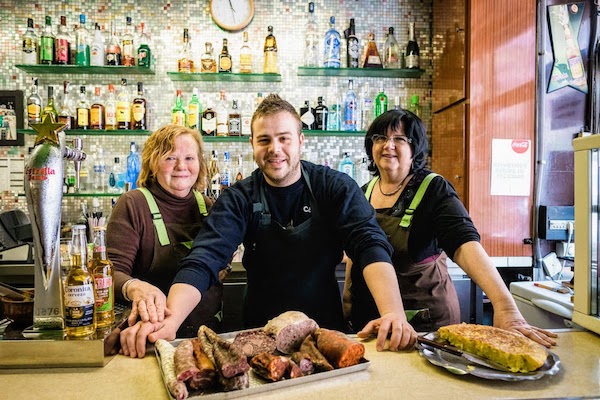 If you're looking to escape the crowds while getting a real taste of Catalan cuisine, look no further than the Gracia neighborhood. North of Eixample, this bohemian neighborhood is home to a multitude of family-run restaurants, bars, and bodegas that know good cooking.
La Pubilla is a neighborhood classic, serving what many consider to be the best lunch in Barcelona.
Can Tosca, a family-run favorite, is one of our favorite spots to stop for a glass of cava and a botifarra sandwich—like we do on our Gracia Neighborhood Food Tour!
Looking for something more on the upscale side? Look no further than Roig Robí for fine dining with plenty of Catalan flair.
SEE ALSO: Where to Eat in Barcelona's Gracia Neighborhood
Carrer d'Enric Granados
With its stunning architecture and beautiful, tree-lined boulevards, Barcelona's Eixample District is elegant, classic and a must for hungry foodies. Head to the charming pedestrian street Enric Granados for a concentrated dose of Barcelona's classier side.
We love Brunch and Cake, a New York-style cafe that gets Barcelona on the map for good brunch!
Another fantastic international option is Robata, a Japanese grill and sushi bar that's perfect for a classy night out.

Barceloneta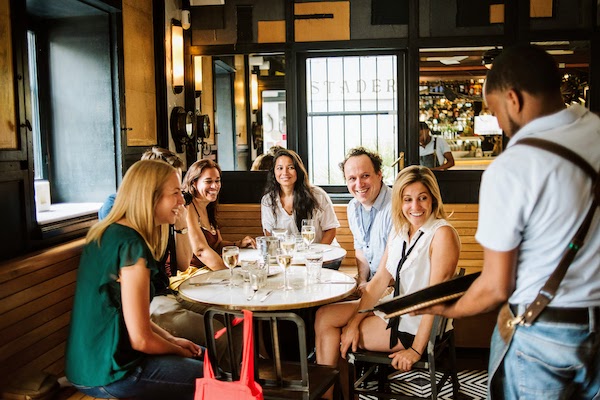 Seafood fans, this one's for you.
There are fantastic seafood restaurants all over Barcelona, but head to the old fishermen's neighborhood of Barceloneta to get the true flavor of the city. Here, you'll find hole-in-the-wall fried fish joints and no-frills tapas bars filled with local regulars, and it's the perfect area to immerse yourself in Barcelona's maritime past.
Can Ramonet is an unassuming, family-run spot that's been serving Barcelona's best paella for over 60 years.
So popular among the local crowd that it doesn't even need a sign, La Cova Fumada is the definition of an authentic seaside tapas bar.
Bar Electricitat is a happening local joint right on the main square of the Barceloneta neighborhood. Try their signature potato, crab and egg tapa!
READ MORE: Where to Eat in Barceloneta
Poble Sec
Wander to Poble Sec, a quaint neighborhood at the foot of Montjuic, for one of Barcelona's biggest up-and-coming foodie scenes.
Carrer de Blai is where many nights out start, lined with endless tapas and pintxos bars. Head further up and you'll find other gems like the Adria brothers' restaurants.
Catalan-Asian fusion spot Casa Xica is owned by a local couple who were inspired to start their own restaurant after traveling the world.
Come to Celler Cal Marino for the incredible croquettes; stay for the unmatched hospitality from the friendly staff.
Taverna Can Margarit (Carrer de la Concòrdia, 21) serves a mix of Catalan and Andalusian favorites, and even offers free wine while you wait—what's not to love?
KEEP READING: Where to Eat in Poble Sec
Want our insider's guide to eating in Barcelona? Just add your email address in the form below!