In a world where virtual interactions have become the norm, the value of in-person networking has never been more vital. When you're planning a networking event in New Jersey, the location you choose can make all the difference in fostering meaningful connections among professionals who share common interests, careers, or industries.
Unlock the power of personal connections at your next networking event in New Jersey by choosing an unconventional venue that wows. Discover City Cruises, the perfect setting for professional networking with stunning skyline views of New Jersey, the Manhattan skyline, the Statue of Liberty, and more. Experience delightful dining, all-inclusive packages, and entertainment that encourages lively connections. Explore why City Cruises is your gateway to creative and enhanced motivation for successful networking.
Setting the Stage for Networking Event Excellence in New Jersey
The key to ensuring a successful event that sparks innovation and builds relationships lies in selecting the perfect venue. Enter City Cruises, a unique and unforgettable option that offers an extraordinary setting on the water, complete with panoramic views of the New Jersey skyline, the iconic Manhattan skyline, the Statue of Liberty, and so much more. Amidst the scenic beauty of the New Jersey waterfront, your guests will enjoy delectable dining, all-inclusive packages, and entertainment that sets the stage for a dynamic networking experience. Let us introduce you to the ultimate venue that will take your networking event to new heights.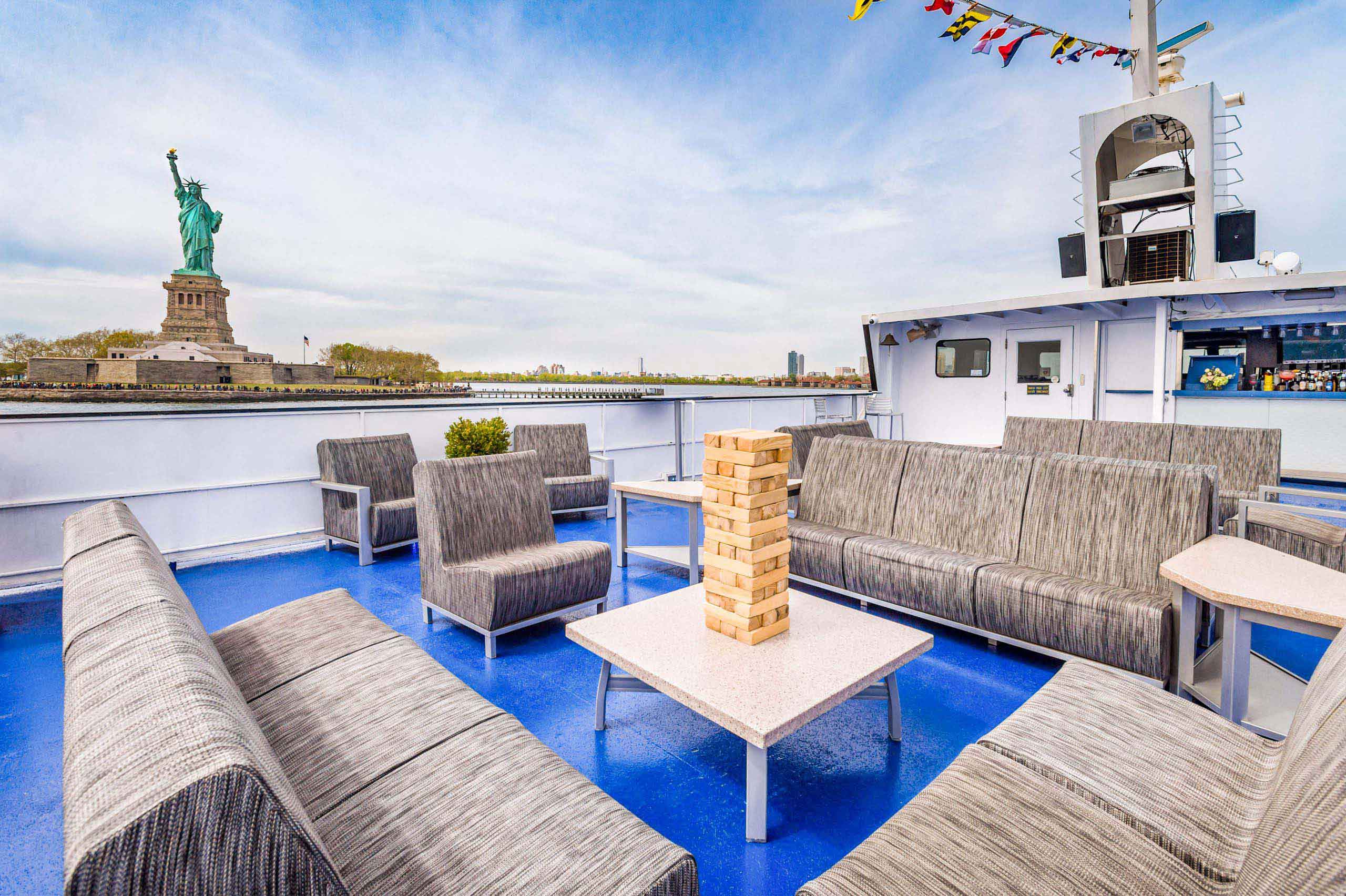 Why City Cruises is the Premier Choice in New Jersey
What sets City Cruises apart as the ideal venue for your networking event? It's a combination of breathtaking surroundings, inviting meeting spaces, a professional ambiance, and unparalleled hospitality that leaves a lasting impression. Our cruises offer expansive open areas to accommodate your entire group, or cozy lounge spaces that naturally encourage conversations. Picture yourself entertaining clients and colleagues with a cocktail in hand, the gentle sea breeze, and a backdrop that inspires meaningful interactions among guests. Creating an environment that promotes engagement and comfort is the cornerstone of a successful networking event, and City Cruises New Jersey delivers precisely just that.
City Cruises New Jersey can also tailor meeting spaces to suit networking events of any size, from intimate gatherings of professionals to large-scale corporate affairs. We work closely with you to bring your vision to life. Guests can indulge in refreshing tastings and enjoy a fully stocked bar while focusing on building connections and nurturing relationships.
Customize Your Cruise for Networking Event Success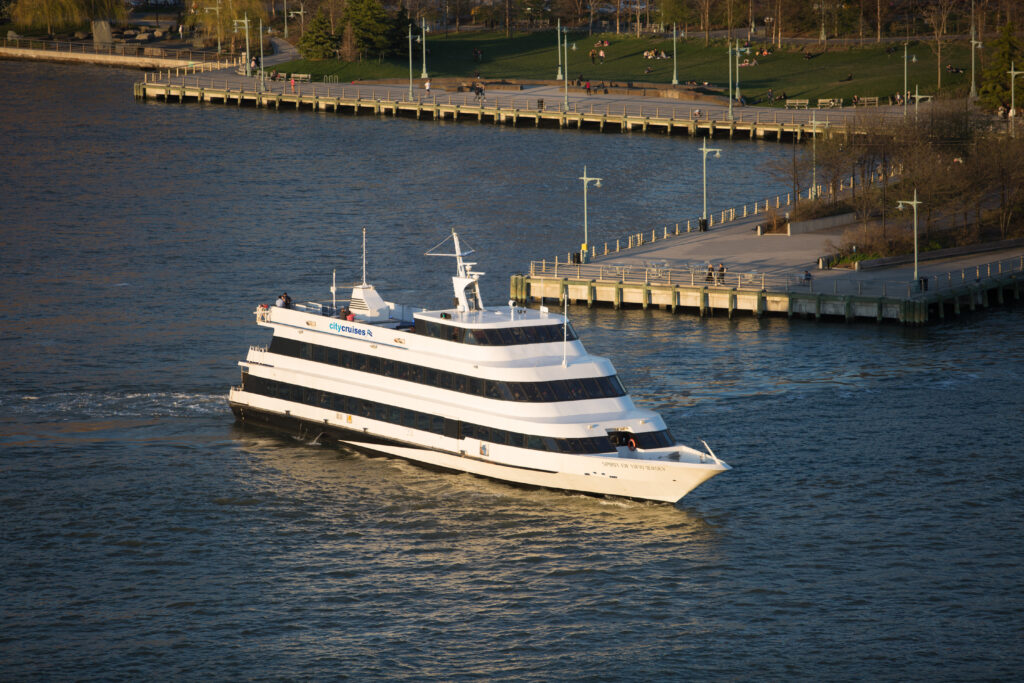 Networking is an investment in your business, offering opportunities to increase visibility within your industry, establish yourself as an authority, and unlock doors to new partnerships and collaborations. The "where" of networking plays a critical role, and with City Cruises' unique venue, we create an unforgettable setting that enhances your networking experience. Our expert planning team collaborates with you every step of the way, from selecting the perfect vessel to configuring the meeting space for optimal interactions. We add a touch of excitement to the atmosphere with entertainment options and menu selections meticulously prepared by professional chefs, ensuring your event stands out. At City Cruises New Jersey, we believe in creating an experience with breathtaking views of the waterfront that allows everyone to unwind, providing a departure from traditional event venues. With remote work on the rise, the choice of networking location has become even more crucial for fostering dynamic and authentic connections.
Companies looking to retain top talent and attract new clients understand the importance of cultivating communication and interest. At City Cruises New Jersey, we offer comfortable conversational spaces, open-air decks for fresh-air conversations, and climate-controlled indoor areas that can be customized to encourage communication at any time of the year. We take care of the essentials so you can focus on your event's goals. Our offerings include photography upgrades, diverse food and drink options, and entertainment that strikes the perfect balance between event content and socializing. We even provide onboard WIFI for presentations.
Unforgettable New Jersey Networking Events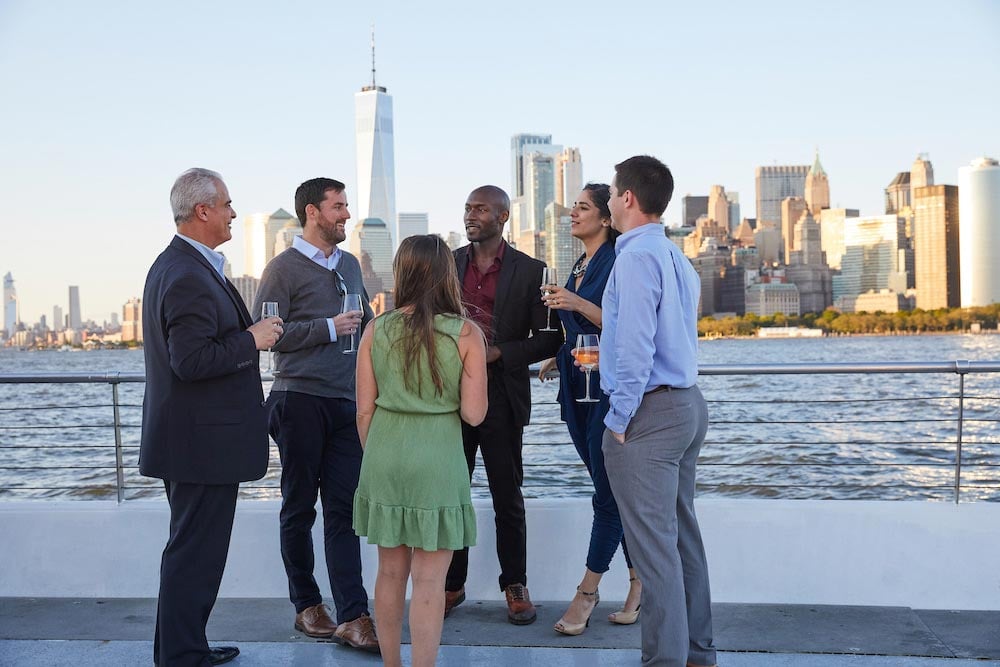 Networking events serve as gateways to new opportunities and the cultivation of strong professional relationships. Research demonstrates that networking leads to expanded knowledge, enhanced innovation capacity, accelerated career advancement, and heightened status and authority. Building and nurturing relationships positively impact job satisfaction and work quality. Regardless of your industry, networking is an essential skill, and hosting a memorable event can mean the difference between a mediocre and a phenomenal experience.
Looking to boost morale and foster team bonds? Take your team out of the office and onto the waters of New Jersey's beautiful waterfront. Treat them to delectable food, breathtaking views, and opportunities for bonding aboard a luxurious yacht from our impressive fleet. Your guests will express their gratitude, and your networking event may become an eagerly anticipated annual tradition. Fill out our form today to plan a networking event as unique and memorable as the connections you're destined to create. Don't miss the chance to elevate your networking game with City Cruises in New Jersey!