It's already that time of year.  When you are thinking about hosting a corporate holiday party and you want to guarantee that everyone has a good time, but you're not quite sure what to do. Instead of reusing what has sort of worked in the past, why not change it up a bit and give your team an exciting and creative event venue that will set the tone for success? City Cruises offers an exceptional location for your next holiday party on the water! Your guests will love the thoughtfulness that you put into planning something adventurous and outside of the office. Holiday parties offer a major opportunity to increase employee retention and allow employees to feel valued. When people feel like they are truly a part of something they tend to be more productive, and a better culture is created. While these benefits seem obvious, the opportunity of cultivating a well-planned and creative holiday party can achieve them all in one single occasion. So, get everyone on board, and give your team the holiday celebration they deserve. Let them cut loose, relax, and recharge on a unique floating vessel with amazing views of the Manhattan, Brooklyn, and New Jersey skylines.
Wave Goodbye to the Ordinary with New Jersey City Cruises
This holiday season, change it up from the traditional corporate holiday party venue. Celebrations on the water bring your team together in an unconventional environment that promotes enthusiasm and excitement. It also allows them an opportunity to socialize with their team and kick back and relax with a refreshing change of scenery.
Nautical and Nice in New Jersey
City Cruises is home to an impressive fleet that provides the perfect setting for your next corporate holiday party in the New Jersey and New York area. You can hold a smaller gathering aboard The Manhattan Elite, with its classic style and modern amenities. Fully enclosed, climate-controlled interiors provide cozy lounge areas, a private suite, and elegant spaces to enjoy delicious cuisine. The open deck with open-air patio and seating will give everyone a chance to get some fresh air while enjoying the views.
Holding a major blow-out and needing space for up to one thousand guests? The Hornblower Infinity is a first-class venue, with the added bonus of being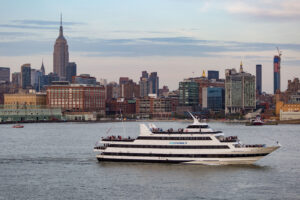 on the water, from the First Deck with its expansive dance floor and bar to the Second Deck balcony with its own views of the skyline as well as the entertainment below. Want a VIP area? The Third Deck is perfect for it or any private event that you are planning. The Sky Deck provides an outdoor space that must be seen to be believed and a private lounge area gives you all the space you need to celebrate. There is no other yacht like it with a state-of-the-art sound system and custom LED lighting, four fully stocked bars, and a champagne bar to make the merriest of occasions. The private events team can turn your vision into a reality with customizable options to suit your needs. Rent a deck on one of these amazing vessels or book the whole yacht. This is the perfect way to take a break from the office and enjoy an outing with your coworkers.
Navigating New Jersey to a Fun Corporate Holiday Party
Taking to the water for your holiday event can turn your party into a gathering that your team will treasure for years to come. It's a great opportunity to socialize informally and reflect upon the year's accomplishments and a time to thank employees for a job well done. Take advantage of the gorgeous backdrop and holiday decorations along the water to have the ultimate soiree aboard a City Cruises yacht. Need to get the party started? Entertainment can be customized with a live DJ to get everyone out on the dance floor. Your onboard photographer can capture those dance moves so you can get out there and join everyone.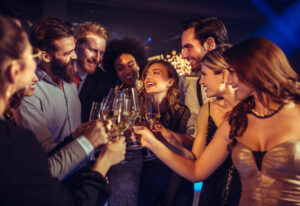 "Sea" for Yourself Why Your Corporate Holiday Event Should be on the Water
Planning your holiday corporate party in the New York/New Jersey area doesn't have to be stressful. Luckily, City Cruises can take care of the details for you. From selecting your yacht to curating the perfect menu for your guests and budget, every aspect will be expertly managed from start to finish. Connect with City Cruises and fill out this form for an incredible holiday celebration that will be the talk of the town, and leave your coworkers begging for it to become an annual tradition.