If you're seeking fun in the sun for Independence Day, making your way out west to California is a great option to consider. In fact, celebrating the 4th of July in Newport Beach provides plenty of benefits. Beloved for its beautiful beaches and large harbor, this coastal destination consists of Balboa Island with two piers (Newport Beach and Balboa) and the old-time amusement park Balboa Fun Zone complete with Ferris Wheel and breathtaking ocean views. The city's yearly holiday celebration offers a full day of activities, food, drinks, music, water sports, and stunning fireworks. Locals and visitors alike enjoy events such as the Newport Peninsula Bike Parade and Festival, which takes place at Channel Place Park; the Mariner's Park Independence Day Parade & Celebration; and the Old Glory Boat Parade. Whether on land or sea, Newport Beach offers everyone a great way to spend Independence Day.
Things to Do in Newport Beach for the 4th of July (2024)
Newport Beach's 4th of July events are all about enjoyment. First off, parades here take place on the water and solid ground, which gives attendees two options to commemorate the occasion depending on their preference. The Mariner's Park Independence Day Parade & Celebration is fun for the whole family with live entertainment and music, food, contests, games, and more, while the Old Glory Boat Parade—which takes place in Newport Harbor—and is hosted by the American Legion Yacht Club, who invites boat lovers to decorate their vessels and compete for a range of awards. This spirited event brings out the best in creativity and patriotism. But if bicycles are more your thing, the Newport Peninsula Bike Parade and Festival will be just your speed. It features arts and crafts, lawn and carnival games, music, and food. Attendees are encouraged to have their dogs accompany them as long as they're on leashes, and bikes, scooters, strollers, and wagons are welcome too—if they're decorated, it's even better!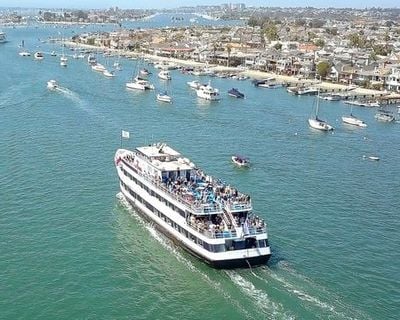 Of course, for those who want to hit the water without missing food, music, and fun, there are two City Experiences cruises ideal for the occasion: the Newport Beach 4th of July Premier Dinner Cruise and the Newport Beach 4th of July Sights & Sips Cruise. The former offers gorgeous views of the city, local landmarks, and the fireworks display – accompanied by chef-prepared menus, innovative cocktails, wine, and beer, a live DJ, and exceptional service over the course of 3 hours. The latter features the same gorgeous views, but the 1.5-hour cruise is all about dancing and drinks with a DJ spinning the hottest tunes accompanied by delectable cocktails and light hors d'oeuvres.
Fireworks Shows in Newport Beach for the 4th of July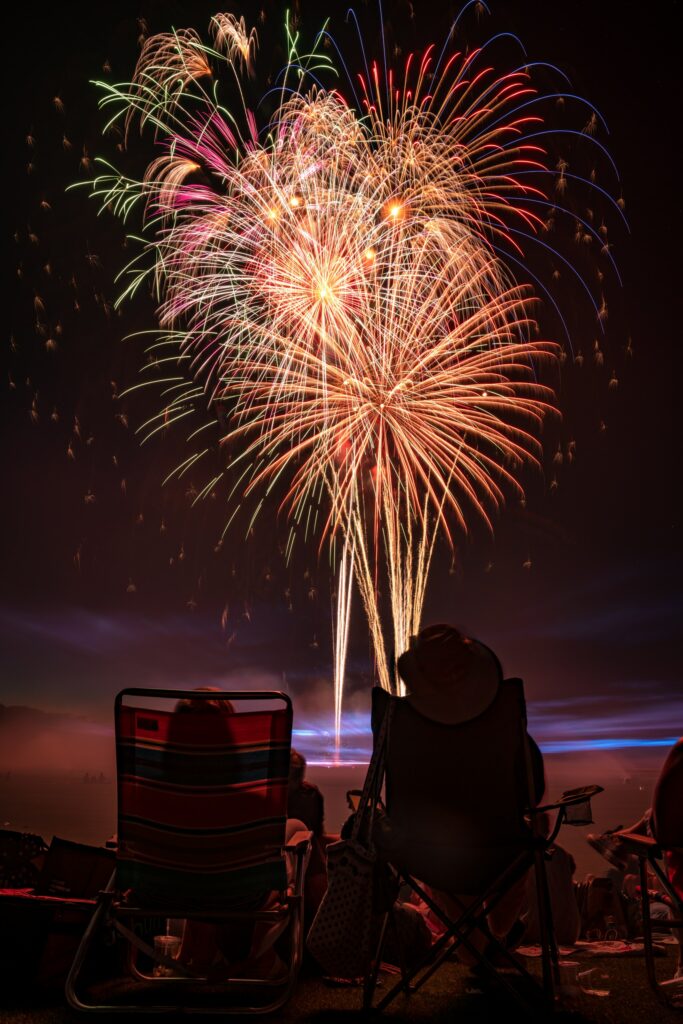 Now that you have an idea about what to do in Newport Beach 4th of July weekend, let's talk fireworks—because what's Independence Day without them? And this city doesn't disappoint!
In fact, Newport Beach boasts the largest fireworks display in Southern California. Held at the Newport Dunes Waterfront Resort & Marina, the Fireworks Extravaganza begins at 9:00pm and runs for close to an hour after a series of day-long activities that start at around 3:00pm which include crafts, food trucks, games, live music, children's and water activities. The resort also boasts Moe B's Watersports and Aquatic Park, a seasonal aquatic playground, which just adds another element of excitement. Of course, there are also other locations where visitors can catch the fireworks nearby if they opt for spots such as Back Bay View Park, Castaways Park, the Upper Newport Bay Nature Preserve, and Blue Lake Park—to name a few.
What to Do in Newport Beach 4th of July Weekend (2024)
Aside from all the things to do in Newport Beach for the 4th of July, the city also offers plenty of options that aren't holiday related. In addition to the Balboa Fun Zone with its amusement rides, arcades, and buzzing boardwalk offerings, visitors can also enjoy Crystal Cove State Park for a plethora of outdoor activities, Catalina Island for its stunning scenery, the charming surroundings on Balboa Island, whale watching, or hanging out at the Newport Beach Pier or Balboa Pier. For botanical garden enthusiasts, the Sherman Library & Gardens is one place you won't want to miss. Surfers must head to the Wedge and hang ten because that beach area is where you'll find some of Southern California's largest waves. Meanwhile, Corona Del Mar State Beach and Newport Beach are each great spots to catch some rays, and Fashion Island is an haute destination for shopping. Art lovers can get their fix as well with a visit to the nearby Orange County Museum of Art, where they'll find excellent exhibits of contemporary and modern works.
No matter what you decide to do, it's important to keep mealtimes in mind, and what simpler way to do it than by combining touring the city by a boat that also offers culinary delights? Whether you opt for the Newport Beach Premier Brunch Cruise or the Newport Beach Premier Dinner Cruise, you'll get to indulge in great food and beautiful sights. And if drinks are your thing, you can even choose Newport Beach Sights and Sips Premier Cruise and experience happy hour in a whole new way.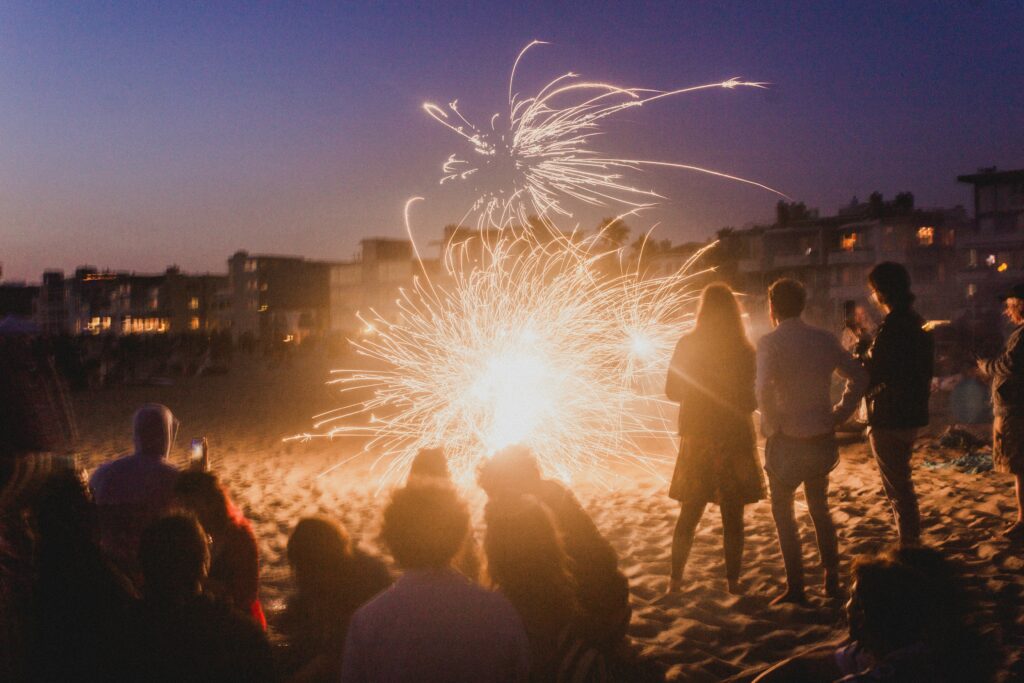 Know Before You Go
While daytime temps don't often extend much greater than the high 70s, average evening temps could drop to the lower 60s, so it's important to wear comfy clothing, pack some sunscreen, and some light outwear. Check with the city before you head to town for updates on parking since there may be road closures to accommodate an influx of visitors for the holiday weekend. At most events, pets are permitted as long as they are leashed.
No Beach Bummers Here
Newport Beach is an idyllic place to spend the 4th of July. The wonderful weather coupled with fun Independence Day events and regular area attractions make it an enticing destination well worth the trip. So, if festivity and fun are on your travel and holiday bucket list, Newport Beach definitely has your number!