This year Bournemouth is celebrating The Platinum Jubilee Bournemouth Air Festival. The Air Festival is an annual event but this year will be extra special as celebrating her Majesty's 70 year reign in the UK and Commonwealth.
Bournemouth Air Festival, Dorset, UK (28th July 2022) – This 4-day event from the 1st – 4th September 2022 brings in a huge crowd to Bournemouth and is a huge boost to Bournemouth's economy and tourist industry.
What's On?
It is exciting to announce that The Red Arrows will be flying each day. You will be astounded with their colourful display and precision flying.
The Typhoon is back and will also be flying each day as well! Cover your ears as it has a mighty roar!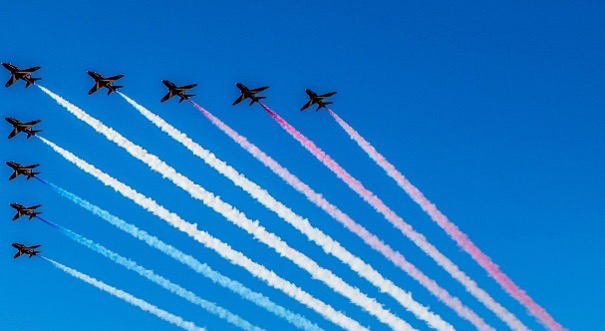 The Lancaster, Hurricane and Spitfire will be back as well – our heroes of WW11 and will be flying majestically over Bournemouth, commemorating those who have fallen in the service of our country.
These are just to name a few as there is a huge programme of flights and aerial displays over the 4 days.
Not only is there an incredible programme in the air but there is always a magnificent display of boats in the sea as well as a huge array of land activities including Armed Force displays, performances, funfairs, food and drink stalls and fireworks on the Friday night.
And this year, City Cruises will be joining in the fun and are operating 2 new trips to celebrate the Festival:
Bournemouth Air Show Cruise – departing from Poole Quay, this 6 hour cruise takes you through Poole Harbour into the Bay of Bournemouth to watch the afternoon programme of flights. Includes a 2 course BBQ.
The Red Arrows Cruise – departing from Poole Quay, this 2 hour and 45 minute cruise takes you through Poole Harbour and into the Bay of Bournemouth to watch The Red Arrows fly past.
For further information please see our website www.cityexperiences.com/poole/city-cruises/special-events/