If there ever was a perfect time to discover London without the usual crowds, it's this autumn! National Rail has introduced special travel regulations to bring you and your loved ones safely into Central London. Once you are here, why not skip the tube or the bus and cycle, walk, or take a riverboat cruise?
Arianna & Nuria put together an itinerary with amazing things to do, filled with top attractions, free London experiences, local favourites, and hidden gems.
Saturday, 10:00am Arrival in Waterloo & Sightseeing Boat Trip
The train was very different from a usual commute; we had plenty of space to spread out and actually enjoy our journey! When we left the train, we thought it would be a good idea to get a Santander bike.
I have to admit, I haven't cycled in a long time but we had a lot of fun, nearly fell over a few times but what is a trip without a few bumps on the way?! You could leave the bikes nearly everywhere, so we decided to dock it close to Westminster Pier and board a sightseeing cruise to Tower. It was such a nice setting for a late breakfast: tea and muffin on the upper deck while we trying to get a close-up shot of the London Eye! Had a great view of the Needle too, Cleopatra's I mean, the big Egyptian obelisks on the north side of the river, just next to the Embankment tube station. The captain shared some more details, such as that the lions look the wrong way, they were supposed to look away from the obelisk to guard rather than inwards to admire. It's a bit like the Queen's guards in Buckingham Palace turning their back to the street. We also learned that there is a saying in London that goes like "If the lions are drinking, London is sinking" but the captains on the river have a better one and it goes like this "If the lions are ducked, London is…. flooded, sorry." You didn't really think I was going to swear, did you?
11:25am Arrival at Tower Pier & Selfie on the Bridge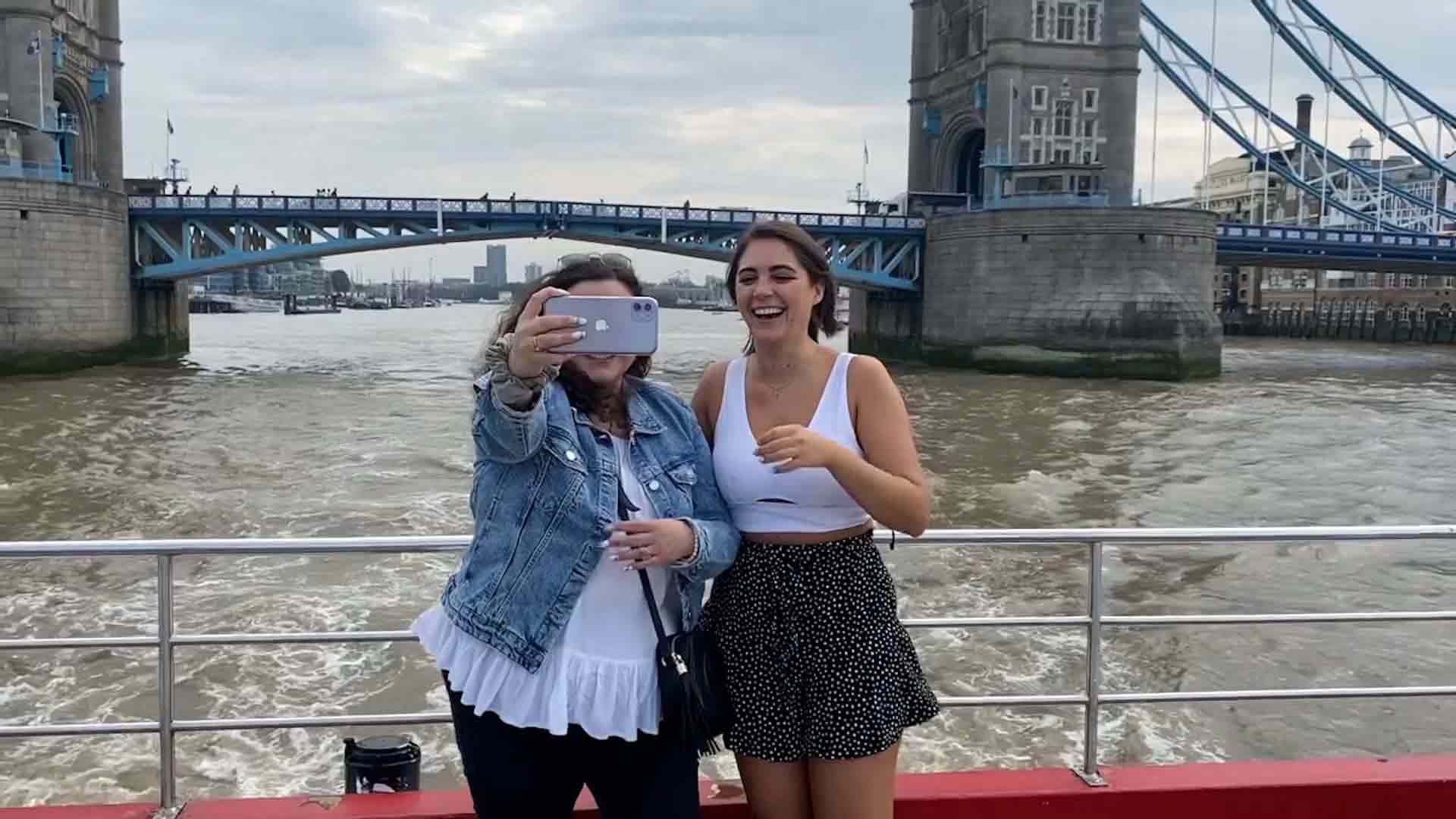 We were hopping off to finally take this selfie on Tower Bridge, I tried it a couple of times before but annoyingly there was always someone feeling the need to lean in… Not this time, ticked. As we continued our stroll to the Southbank, we joked about the "historic misunderstanding"; the captain on the Croisières en ville boat told us when we were approaching Tower Pier the story of the "wrong Tower Bridge" being bought and shipped over to the US. Actually, it is said that in 1960 a clever city councilor sold London Bridge (then in desperate need of repair) to a US tycoon letting him believe that it had 2,000 years old and equal to Tower Bridge. So they dismantled the entire structure, shipped it to Arizona, and rebuild it there. And London got a new London Bridge, an amazing story really!
C'est le moment de prendre un selfie avec votre ami (et seulement votre ami, sans les touristes qui essaient de vous photobomber !) sur le Tower Bridge ! Mais n'en prenez pas trop et ne manquez pas le dernier bateau de retour...
12:00pm Borough Market
Just in time as we started to feel peckish, we got to Borough Market. Usually one of the popular things to do South of the river and therefore very busy. This time it felt much more relaxed and we raided the stalls and ate far too much fudge and artisan bread. There was a Neapolitan market trader there too, always missed him in the past, he sold my favourite coffee from Napoli (Kimbo, not Lavazza!) and it felt just like home (minus all the shouting and swearing I always hear in Neapolitan markets haha). It felt a bit like dining around the world and coming home at the same time.
1:50pm Cruising Back to Westminster to Start Our Self-guided Walking Tour
Time to work the carbs off! Having been in this part of London many times before, we wanted to see the secret walkways, hear about some old scandals, and find some hidden treasure. My friend Nuria read about the top self-guided treasure hunt and we downloaded the Southbank hunt starting in Westminster… Luckily we had a day ticket for the City Cruises circular service and treated ourselves to a glass of prosecco. Who doesn't love a glass of bubbly (or maybe more like 2 or 3…) while taking in the breathtaking views of London's riverside landmarks from an open upper deck boat? Despite being a bit annoyed to have started at the wrong end of the treasure hunt, I was quite glad we did the full circle on the boat as I now know a few more secrets of London, thanks to the captain sharing his knowledge about royal heritage mixed with some historic gossip! Did you know that most of the brothels south of the river actually belonged to the monks of St. Paul? Great right? And the Wobbly Bridge, or the one that was there before, was actually used to connect the brothers and to the shore where the ladies were waiting.
4:30pm Time for a Break
Two hours later, wiser and much more tired we decided that we had done a lot of outdoor activities and that it was time to start the relaxed part of the evening. Southbank is full of pubs, restaurants, and bars. And we started with a hearty portion of Fish and Chips at the Jubilee Gardens Fish & Chips Van. Really nice one, the guy who served us told us that he gets the fish fresh every morning from the big market in Billingsgate. Whatever, the fish was very yummy and so were the views! And a bit later, Southwark after sunset
We were really lucky with our day out, one of the last hot days in September, and a glorious sunset it was too. The sky was glowing in all colours from pink, and bright orange to dark blue, and the London Eye and Big Ben framed the sky on each side of the river. Great shot! We got some yummy brownies at the Kerb food market before settling down for a few drinks at The Understudy. It was such a lovely evening and we almost missed the last train home. What a lovely day out in London!