One of the (many!) great things about New York City is that it's possible to enjoy nature and the outdoors right in the middle of the metropolis.
Central Park is only one of the Big Apple's beloved green spaces, and the city itself is virtually hugged by water on all sides, whether by the Hudson, the East River or the Atlantic Ocean. What better way to take in some of New York's most fabulous waterfront views than perched right by the water, enjoying an evening tipple or two as the sun sets?
We've shortlisted some of the best waterfront bars NYC has to offer, seasonally or year-round, so you don't have to do the guesswork when trying to decide on the perfect spot for a perfect cocktail—plus a gorgeous view—after a day of sightseeing.
What are NYC's best waterfront bars?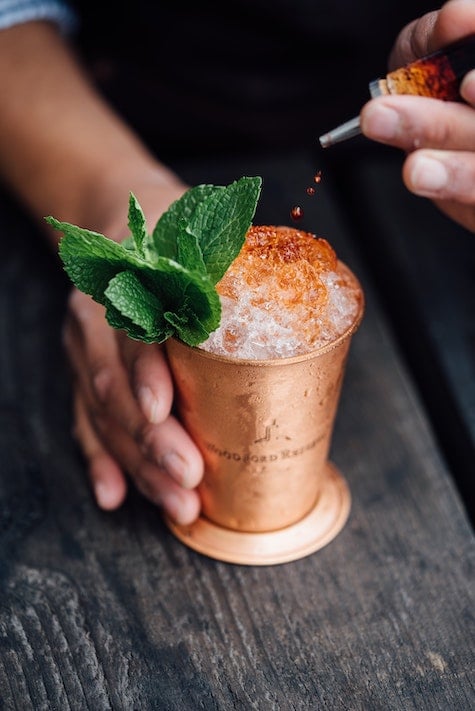 1. Pier i Cafe
Located on the Upper West Side, Pier i Cafe is the perfect setting for a leisurely cocktail in a laid-back setting with a decidedly neighborhoody vibe.
This seasonally opened, super-chill spot serves classic cocktails and a food menu featuring fresh seafood dishes alongside NYC classics, such as beef hotdogs and burgers, that consistently hit the spot.
2. Baylander Steel Beach
Baylander Steel Beach is a seasonal bar and restaurant situated aboard a historic aircraft carrier moored at the West Harlem Piers.
Head to this waterfront restaurant and bar for fresh seafood, stuffed into lobster rolls and fish or shrimp tacos, and a craft-cocktail list concocted by bartenders who clearly aren't messing around. Don't miss the Boat Fashioned, made with Sagamore rye whiskey, Martini Fiero vermouth, burlesque bitters, and an orange ice pop.
3. Grand Banks
Docked at Pier 25 atop a historic wooden schooner, Grand Banks is one of the best waterfront restaurants for slurping down seriously fresh oysters that are sustainably harvested to boot.
Come for the delicious oysters and beer-battered fish tacos, stay for the super-cheery
yellow-and-white awnings—they're an instant mood booster, even on an overcast day.
4. Pilot
If Grand Banks sounds like your speed, you'll likely also dig Pilot, another great waterfront spot located atop a historic fishing boat, this one docked in Brooklyn Bridge Park at Pier 6 in Brooklyn Heights.
Open seasonally, it's run by the same folks who came up with Grand Banks, so you'll find pretty much the same situation: Cheery yellow and white decor, excellent seafood, and consistently delicious cocktails.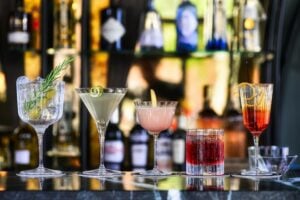 5. Saga
Head to Saga to enjoy tasty cocktails while taking in an amazing view of downtown Manhattan and the Brooklyn skyline after night falls. This upscale spot offers splurge-worthy tasting menus and craft cocktails, all of which can be enjoyed from the 63rd floor of the 70 Pine Building, a fine example of art deco architecture.
6. The River Café
New Yorkers have been heading to the River Café for special occasions for some four decades, partly for the restaurant's iconic location underneath the Brooklyn Bridge and partly for its fantastic fusion cuisine and romantic live piano music.
This is one of those New York City spots that insists on a fancy dress code, so be sure you get gussied up before heading over for an evening you're not likely to forget anytime soon.
7. The Hudson
Open seasonally, the Hudson is a laid-back, family-friendly restaurant with outdoor seating, located in Inwood Park at the Dyckman Marina. This chill spot is a great place to take in sunsets over the river while sipping on piña coladas, mai tais, or mojitos and chowing down on a signature pulled-pork sandwich or some seriously delicious seafood.

What's the best way to score fabulous cocktails while enjoying unobstructed views of the NYC skyline?
A fantastic way to experience gorgeous views of New York is in a boat out on the water itself, where you can take in the Manhattan skyline and other iconic New York spots, like Long Island City, Hudson River Park, the Brooklyn Bridge, Lady Liberty and Battery Park City.
Jump aboard our 90-minute NYC Downtown Sightseeing Cruise to take in all the heavy hitters of New York City, including Ellis Island and the Statue of Liberty, the Empire State Building, Brooklyn Bridge, the Seaport, Battery Park and One World Trade Center, not to mention Hudson Yards and much more.
Join our classic Official NYC Downtown Experience – Statue of Liberty, 9/11 Memorial & Museum, One World Observatory cruise to explore three top downtown Manhattan tourist destinations, or embark on one of our many signature Premium Dining Cruises to leisurely take in the NYC skyline while enjoying delicious craft cocktails or sipping some bubbly, coupled with a fabulous meal.