When you think of Italian food, the first thing that comes to mind is probably the holy trinity of pizza, pasta, and gelato—and to be sure, there are plenty of opportunities to chow down on those delicious foods just about anywhere from Milan all the way down to Palermo.
But Italian cuisine is wildly diverse and varies from region to region, and sometimes even village to village. The country's topography encompasses everything from sweeping mountains to breathtaking coastal terrain, and its regional cuisines reflect the contrast of its landscape.
As a city perched atop water, it only makes sense that Venice's cuisine would feature exceptionally fresh seafood. And, given the city's rich history as an important international hub of commerce, traditional Venetian cuisine is somewhat indebted to foods from around the world, particularly Middle Eastern cuisine.
Join a food tour to taste traditional dishes and popular food in Venice
If you're heading to la Serenissima in a season with fair weather, check out our handy rundown of the Best Outdoor Restaurants in Venice. Better yet, sign up for one of our Venice food tours, where you'll have the chance to taste delicious Venetian food anytime of the year, come rain or shine.
Hop on our Dine Around Venice: Authentic Food Experience to explore the culinary scene of San Polo, an authentic Venetian neighborhood dotted with inviting bacari (local wine bars), where you'll skip the tourist traps and sample a wide array of local cuisine and learn about the area's history.
Seafood lovers and foodies might want to join our Venice Gondola, Market & Food Tour to dive head-on into the heart of the city's food scene. You'll pay a visit to the famous Rialto Fish Market, and stop along the way for tastings and meals at local haunts serving up Venetian specialties in traditional atmospheres, with a gondola ride to boot.
These are the Venetian specialities you have to try
If you're planning a visit to the Venetian lagoon, you'll want to taste the most important traditional foods the Floating City has to offer while you're there.
From authentic local seafood dishes like bigoli in salsa (pasta doused in anchovy sauce) and risotto al nero di seppia (risotto infused with cuttlefish ink) to other Venetian specialties such as fegato alla veneziana (Venetian-style liver) and the ever-popular cicchetti (Venetian-style tapas), here are seven essential traditional Venetian foods you won't want to miss.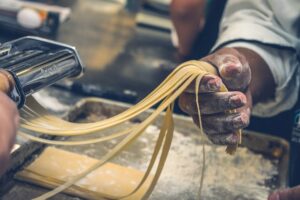 1. Bigoli in salsa
Bigoli in salsa is a traditional Venice food tailor-made for seafood lovers. Usually served as a starter, this simple but delicious dish consists of long, thick, whole-wheat pasta called bigoli (or bigoi, if you ask a Venetian), coated in a sauce made of onions and salt-cured anchovies or sardines.
2. Risotto al nero di seppia
Venetian cuisine often features dishes with a rice base, since the Veneto region produces a lot of the grain. Risotto al nero di seppia (risotto with squid ink) is one of the area's most well-known and beloved seafood dishes. Don't be turned off by the dish's jet black color—this delicious specialty shouldn't be missed when trying out the local food in Venice, Italy.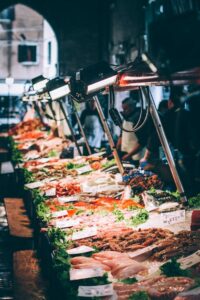 3. Sarde in saor
Although Venetian cuisine incorporates a lot of fresh seafood, it also features a number of foods that were developed in the Middle Ages by sailors and fishermen who relied on preserved fish during long sea expeditions.
Consisting of deep-fried sardine filets marinated and preserved with onions, pine nuts, raisins, and vinegar, sarde in saor is one dish that resulted from those long expeditions at sea. Its sour and sweet taste has made it a darling of Venetian cuisine over the years and can be found as a starter or snack at most Venetian bacari.
4. Baccalà mantecato
Another preserved fish found in traditional Venetian cuisine is baccala, a dried and salted cod with a long shelf life.
Baccala mantecato is a delicious whipped fish dish that is prepared by soaking and poaching baccala, then mashing it with extra-virgin olive oil until it has a fluffy, wonderfully creamy and smooth consistency ("mantecato" essentially translates to "whipped"). You'll often find it simply served, on grilled bread or toasted polenta sprinkled with fresh parsley.
5. Fegato alla veneziana
This Venetian-style liver dish has very old origins, dating at least as far back as the ancient Romans. Although the Romans preferred to prepare fegato (liver) with fresh figs, this now-classic Venetian dish uses caramelized onions to cut the strong and sometimes bitter quality of the calf liver. It's typically served with some grilled polenta or with a side of crusty bread or potatoes.
6. Cicchetti
The Venetian answer to Spanish tapas, cicchetti (a moniker allegedly derived from a Latin word meaning "nothing" or "little") are a must to eat in Venice.
There is an endless array of cicchetti on offer. You'll find everything from crostini (pint-sized sandwiches) with cured meats and cheese to polpette (fried meatballs) and a number of seafood-centric bites. These typical small plates can be enjoyed just about any time of the day, from breakfast to a midnight snack, though they're rarely absent from aperitivo hour in Venice.

7. Risi e bisi
Risi e bisi (rice and peas) is a hearty, classic Venetian dish that you'll find as a starter at trattorias across the city, but it can often be a meal in itself.
Traditionally served on the 25th of April for the Feast of San Marco and the celebration of spring, this dish features locally grown medium-grain vialone nano rice and incorporates a medley of butter, pancetta