A Little History About San Sebastian
San Sebastian, also named Donostia, is in Spain's Basque Country, which is in Northern Spain. The city was founded in 1180 by Sancho el Fuerte. Because of its location, it made a great military port. Walls were erected around the city to help protect it from outside forces. Unfortunately, during the 15th and 16th century, the city saw many wars, and between 1808 to 1813, Napoleon overtook the city. San Sebastian did not gain the popularity that it has today until 1845 when Queen Isabel II visited the city. Today, visitors go to San Sebastian to relax on the beach and soak up the hundred-year-old history of the Old Quarter.
Top Attractions in San Sebastian
Relax on the Beach at La Concha Bay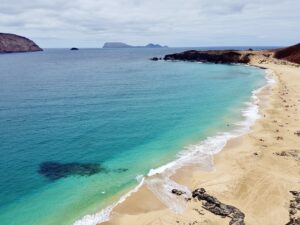 One of the most popular beaches in San Sebastian is the white sand beach of La Concha Bay. Because of its location on the Bay, the water is calm and safe for swimming. From the beach, sunbathers can take in the breathtaking views of Monte Urgull and the majestic Miramer Palace. Adventurists will enjoy the beach for the watersports that can be enjoyed. Along the beach, visitors can canoe, kayak, paddleboard, and even take fishing excursions.
Monte Urgull
Monte Urgull has some great historic sites and nature walks. At the top of the mountain sits Castillo de la Mota, a fortress from the 12th century. Atop the fort sits Sagrado Corazon or the Sacred Heart statue. This statue rises nearly forty feet overlooking the turquoise water of the bay.
Explore Parte Vieja
Parte Vieja is the old town of San Sebastian. One of the most popular highlights of the area is Plaza de la Constitucion. Many years ago, this area hosted bullfights while residents watched on from the balconies. Parte Vieja has many great restaurants serving tapas, or there is also the food market at the 19th century Mercado de la Bretxa. History buffs will enjoy the 16th century Gothic church, Iglesia de San Vicente or just strolling through the cobblestone streets admiring the older architect.
San Telmo Museoa
The San Telmo Museo is a museum that sits in a 16th century convent. Head to the museum to learn about the Basque country heritage and culture. The museum has artifacts, fine art, and cultural costumes.
Miramer Palace
The Miramer Palace was designed by Selden Wornum of England in 1888. This was an English Tudor-style residence that was built as the vacation home for the Spanish royal family. Today, visitors can tour the residence and grounds free of charge on any day there is no event.
Basilica de Santa Maria del Coro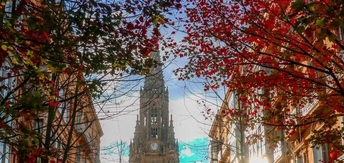 This 18th century Baroque style church is just at the bottom of Monte Urgull in the middle of Old Town. The church was built at the site of a Roman temple. Today, visitors can admire the intricate façade.
San Sebastian Aquarium
The Aquarium is situated in Old Town and is a part of the century old Oceanographic Museum. Today, visitors can explore over thirty habitats and forty different species of fish. Don't miss the Oceanarium, an underwater tunnel that allows 360 views of aquatic life.
What is the Best Tour in San Sebastian with City Experiences?
San Sebastian is known for its delicious food scene. Visitors can even reserve a spot at one of the Michelin-star restaurants in the area. It is no wonder then why the San Sebastian Ultimate Pintxos and Wine Tour is one of the best San Sebastian tours to join. Pintxos, or pincho, is similar to tapas but is usually served on a piece of bread or a cocktail stick. This tour will take guests to six different bars in Old Town with a private tour guide of San Sebastian. Guests will start at a bar that has been a San Sebastian favorite since the 70s. Here, the tour members will try some of the best mussels and Basque cider. Afterwards, the San Sebastian food tour will head to the next establishment to taste and learn about the different types of Iberian ham. On the way to the next bar, guests will learn about some of the city's history and see some of the main attractions in Old Town. The next restaurant will have guests trying marinated anchovies and sparkling wine. The grilled steak tasting is a favorite among many visitors, which pairs well with the barrel-aged red wine. The tour will end with a local dessert and sweet wine. This San Sebastian wine and food tour is a great way to see the city while tasting some of San Sebastian's best food and drink.
How Many Days Do I Need to Tour San Sebastian?
San Sebastian is a small town but has a lot to see. A long weekend of three days is a perfect number of days to enjoy San Sebastian. The city is meant to be a relaxing vacation spot, so make sure to slow down and enjoy your time in this historic city. Take a day to relax on the beach, walk through nature, and explore the rich history in Old Town.
FAQs – San Sebastian Tours
What is San Sebastian known for?
San Sebastian is a city located in the Basque Country region of northern Spain, known for its stunning beaches, delicious cuisine, and vibrant culture.
How do I get to San Sebastian from Florence?
San Sebastian is located about 500 miles from Florence and can be reached by plane, train, or bus. The quickest and most convenient way to reach San Sebastian from Florence is by plane, which takes about 2 hours.
What are some popular activities and tours in San Sebastian?
Some popular activities and tours in San Sebastian include visiting the city's beaches, exploring the historic center and the old town, trying the local cuisine, and visiting the local museums and cultural institutions.
Can I book activities and tours in advance?
Yes, it is recommended to book activities and tours in advance, especially during peak tourist season, to ensure availability and to avoid long lines.
Are tours available in different languages?
Yes, many tours in San Sebastian are available in multiple languages, including English, Spanish, French, and German.
How long do the tours typically last?
Tour length can vary, but most tours in San Sebastian last between 2-3 hours.
Kann ich eine Tour auf meine Interessen abstimmen?
Ja, viele Reiseveranstalter bieten private und individuell gestaltbare Touren an, die auf die Interessen des Einzelnen oder der Gruppe zugeschnitten sind.
Muss ich etwas für die Tour mitbringen?
Es wird empfohlen, bequeme Wanderschuhe, Wasser und Sonnenschutz mitzubringen, besonders bei heißem Wetter.
Are tours suitable for children?
Yes, many tours and activities in San Sebastian are suitable for children and families, and some tour companies offer special tours and activities for kids.