Ah…Sacramento, where the American and Sacramento Rivers cross in this city known by many names including the Big Tomato, The Camellia Capital, City of Trees, The River City, and Sactown, amongst others. Sacramento is an eclectic city filled with endless things to do, some of the best weather in the country, and a welcoming population like no other. Ranked as one of the best cities to live in California, with a lower cost of living than the California average, it's no wonder that more people are leaving big cities and opting for a quainter and more comfortable lifestyle in the state capital. Sacramento is chock full of trendy eateries (with more farm-to-fork food than you can imagine) shopping in abundance, picturesque suburb living, and a job market that is thriving. So, with a vast (and rapidly growing) workforce in town, companies want to retain their best talent. So, how do you go about doing just that? Hosting corporate events that will leave your team feeling rejuvenated and refreshed is a great place to start.

Thinking outside of the cramped office spaces and conference rooms is key to keeping employees happy and feeling appreciated. Hosting your next corporate event on the water in Sacramento will get even the most reluctant team members on board. Experience the city from the Sacramento River, and take in views of the Tower Bridge, the Delta King, the I Street Bridge, and more all while strengthening your team, entertaining clients, or celebrating company successes with more than just an event-but rather an experience to remember!
"Seas" the Day with Sacramento City Cruises
City Cruises stands above the crowds with our unique and fun floating venues. We want to help you create not just an event, but an experience that will provide you and your guests with a great time while enjoying our amazing hospitality. Soak in exceptional views of the Sacramento skyline all from the Sacramento River, while bonding with your coworkers or networking with clients. Choose from flexible packages and customizable options to suit any size from a small and intimate gathering to a huge blowout event. If you can imagine it, we can make it happen. We aim to make your corporate event a success that will become a treasured memory for years to come.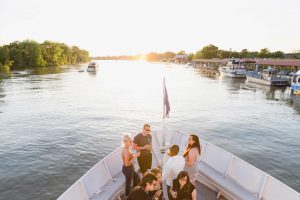 Corporate and Private Events That Will Float Your Boat
City Cruises can accommodate a variety of corporate events, each with a stunning backdrop of the city's iconic landmarks and skylines. The following are just some of our offerings:
Employee Outings/Team Building – Host your next company celebration on a unique floating venue and show your employees a new side of Sacramento! While onboard, you'll enjoy an unforgettable dining experience with light bites, all-inclusive packages, and spectacular views from the water. City Cruises offers all-inclusive packages designed to help make planning a breeze. 
Holiday Outings- Holiday outings are the perfect opportunity to spend time with your family, friends, or employees, and enjoy the most wonderful time of the year! City Cruises serves as a unique company or social holiday party venue – with chef-prepared menu options, full bar service, and all-inclusive packages customized to fit your budget and party size. Your guests will love our distinctive hospitality, climate-controlled interior and open-air outdoor decks, and incredible views from the water!
Client Entertainment- Show your clients a new side of the city and impress them with dinner, drinks, and a view! Our all-inclusive packages, light bites, and distinctive hospitality help make planning any event a breeze. Experience Sacramento from the water on a unique floating venue.
Meetings & Events- Host your next event on a floating venue and experience Sacramento from the water! With light bites, distinctive hospitality, and unbeatable views from our climate controlled-interior and open-air outdoor decks, our team will help customize a package specific to your needs.
Unmatched Corporate Event Experiences
We want to ensure you and your guests have a comprehensive experience. Leave the details to our dedicated event planners to create an event that everyone will remember. Along with our beautiful venue, we offer chef-prepared menus, fully stocked bars, climate-controlled interiors for comfort, and open-air outdoor decks for fresh air and stunning views of Sacramento. We can customize the entertainment to suit your needs to create a lively and fun atmosphere, so all you have to do is enjoy the venue.
Sailing Through Sacramento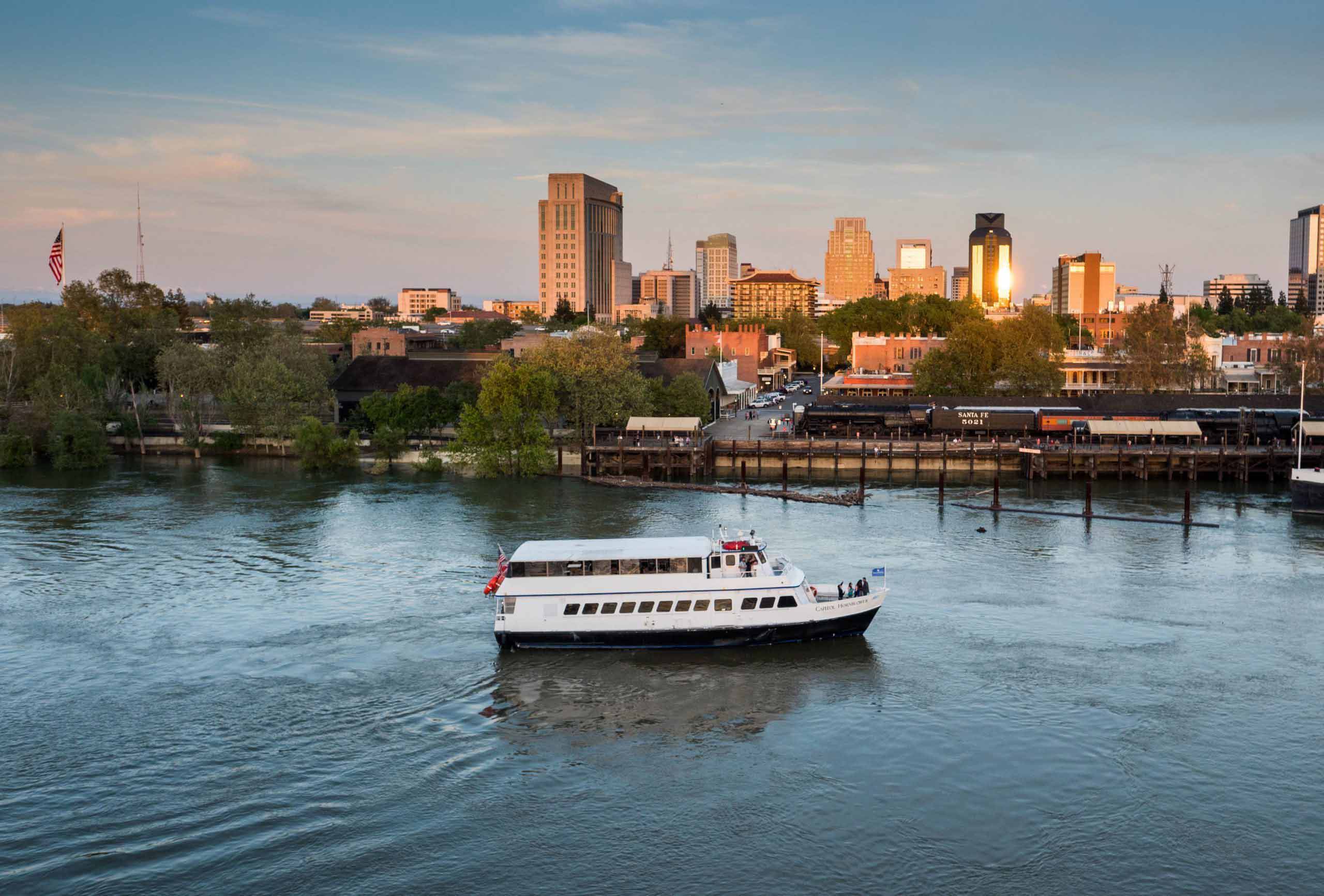 There is a feeling of relaxation that being on the water provides to people, and will make your event feel extra special. We can tailor the event however you imagine it to be, all while providing outstanding hospitality to ensure things run smoothly from invitations to the outing itself.
With City Cruises you get a unique perspective of the Sacramento skyline while cruising through the water. You will elevate your event to the next level with flexible packages, unparalleled amenities, and our remarkable fleet. We are ready to make your next corporate event an incredible journey and as the Sacramento locals say, "A Hella good time!" Fill out this form and one of our event planners will contact you to create the event of a lifetime.
Erkundigen Sie sich noch heute!
Infos anfordern
Um eine Gruppenveranstaltung zu buchen, kontaktieren Sie uns bitte.
Formular anzeigen